Edge Trading is a Forex signals service that promises 'trading at your fingertips'. The developers of this trading tool claim that with Edge Trading traders can earn extra income from anywhere in the world. The team behind this signals service provider boasts 25 years' experience in Forex trading. They try to convince us that they have enough skills and knowledge to provide an effective trading tool, which would provide every trader with 'stable, sensible signals that have the highest success rate in the industry'. Can we trust them? Is Edge Trading a good choice for t traders? In this Edge Trading review, we will analyze all the important aspects around this signals provider: trading strategy, performance, vendor transparency, price, customer reviews, and more to see how this service performs in the current market condition.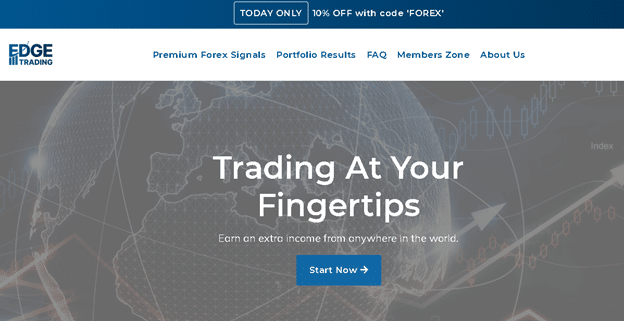 Product Offering
About the team that stands for this signals service, we know that it was founded by 2 traders from the UK. They expanded their team of traders in the United States, Canada, Tokyo, and 'other parts of the world' (what exactly?). The devs failed to introduce us to any of these traders. Why? What are they hiding? If the story is trustworthy, then why are the devs not 100% transparent with us? It seems that the story they tell us is a little exaggerated.

They also claim that they have talented analysts that 'assist with identifying trends and upcoming action to trade on'. They boast 2000 premium members of their community which is hard to believe (this info was written when the services started, thus, it is nonsense as nobody launches a brand-new service as soon as it appears on the Forex market). Most signals services require years of effort and hard work to acquire over two thousand clients. Therefore, a new signals service that launched 5 months ago cannot be anywhere near that number.
This signals service was launched on August 14, 2020. The Edge Trading team tells us that they offer from 2 up to 5 signals daily, over 1500 pips monthly, 83% success rate, and full-time customer support. Although these numbers sound great, we cannot trust them, as there is no proof provided to back them up.

Edge Trading signals are provided via their Telegram channel, providing notifications as soon as a new trade opportunity appears.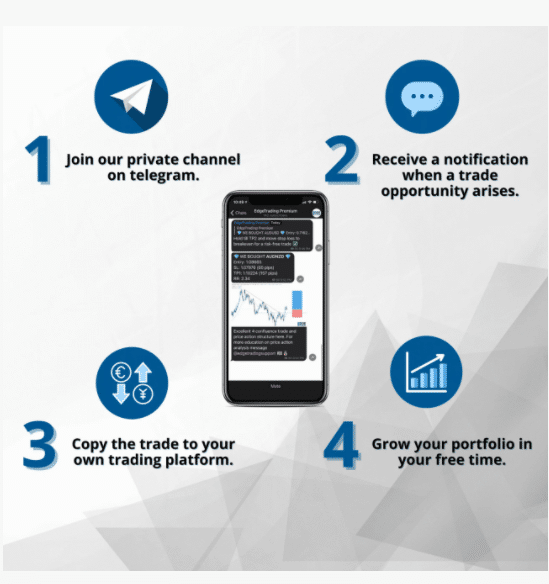 As you can see the Edge Trading package costs 29.90 GBP.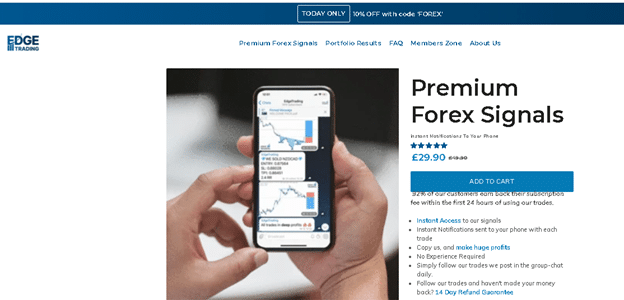 The developers want us to know that: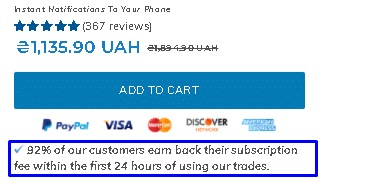 Edge Trading package includes: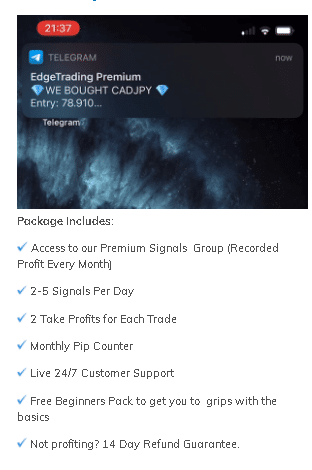 Trading Strategy
The developers of this signal service do not go into details to tell us about the trading strategy their product uses. They tell us that to provide traders with an 83% success rate they use: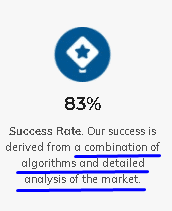 Unfortunately, it is all we know about the trading approach and methodology that their signals service uses.
On their frequently asked page, we have found that the devs offer educational materials, but only to the subscribed clients. Only when you subscribe to these courses you will get detailed information about the strategies. Is it odd? Yes, for sure. Without seeing this info, it is difficult to say that this group is a team of experts in Forex trading. If the developer wants to gain reputation and trust among traders, he or she needs to be more transparent and provide more information about the trading strategy Edge Trading uses.

Trading Results
The dev failed to provide backtests to share the performance of their product. However, they share portfolio results on their sales page. The portfolio results started in January and ended in September 2020. Taking into account that it is January 2021, the lack of trading results info on the official website of the developer looks odd and suspicious. Does it mean that this signals service stopped providing signals? Well, let's analyze what we see.
On their portfolio results page, the vendor shares 2 different charts: one shows monthly profit in pips, while the other one shows accumulated returns over the same period.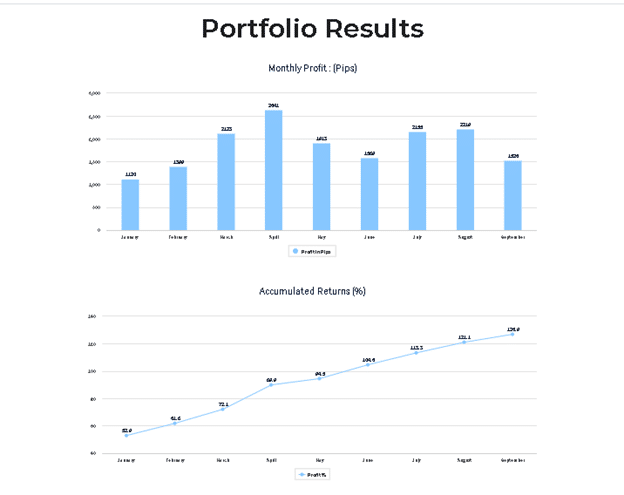 Firstly, we find its trading results strange. The signals service was launched in August 2020, but the dev provides us with portfolio results that started from January 2020.  Possibly, they were testing their algorithms, but it is only our suggestion, not a likelihood.
On the first chart, we see a monthly gain in pips with the highest result in April – 2641 pips. The results we see are impressive, but once again, we have no reason to trust them, as they cannot be verified by any third party website like myfxbook, fxblue, or fxstat. The results the dev provides could easily be simple images with impressive numbers to attract traders' attention. The vendor could easily fabricate these results. Without any real proof, we can't trust the results we see on these charts.
Customer Reviews
The team that stands for this signals service provides customer reviews on their website. All of them are positive ones. However, we cannot get in touch with these customers. Their reviews are simple screenshots that cannot be verified. The dev could easily manipulate or concoct them. Therefore, we prefer to analyze customer reviews written on third party websites (e.g: FPA, Trustpilot, Quora, etc.)

PROS
The 14-day money-back guarantee provided
CONS
No backtests provided
No verified trading results provided
Undisclosed trading approach and methodology
Lack of vendor transparency
Verdict
The devs of Edge Trading do need to be more transparent in terms of their identity and product presentation. They failed to provide backtests or verified trading results. All these aspects need to be addressed and when they are, we will go back to this review and update our rating.