Elemental EA is a multicurrency robot that comes with few parameters. Therefore, inexperienced traders can easily access it. Users are advised not to trade many currencies on a single chart. This is because a broker can provide quotes/ticks for every individual pair at different periods. As a consequence, the robot can delay in making trading decisions. 
Product offering
The system's features are outlined below:
The EA trades on EURUSD, USDCHF, USDJPY, USDCAD, AUDUSD, EURJPY, EURCAD, CHFJPY currency pairs.

The working time frame is M5, while the supported trading terminals are MT4 and MT5.

Any broker with small spreads and fast order execution is appropriate for trading.

It works with a recommended deposit of $100.

It does not work with martingale, grid, or arbitrage.

Positions are always safeguarded by StopLoss and DD parameters.
Evgeniy Machok is the author of this robot. According to his profile, Machok has been trading in this market for more than 8 years now, and so far, he has developed 15 products. The demo versions of these systems have been downloaded 1867 times. 

Elemental EA is available at a one-time price of $199. Apparently, this is a Christmas offer that will see you save 50% of your money should you decide to buy the service. There are no other pricing packages or a money-back guarantee offer.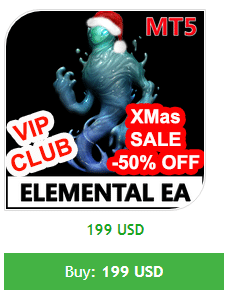 Trading strategy
Elemental EA is a night trader that relies on the trend. The chief assumption of this approach is that all trends have current boundaries, after which the price attains equilibrium. The robot utilizes dynamic levels of resistance and support, which are upgraded at each candlestick, to establish the trend's boundaries. Trading is implemented using pending "limit" orders, which offer additional protection from slippage. This is done to address the limited market liquidity associated with night trading. 
Trading results
The vendor has supplied us with the backtest results for this EA.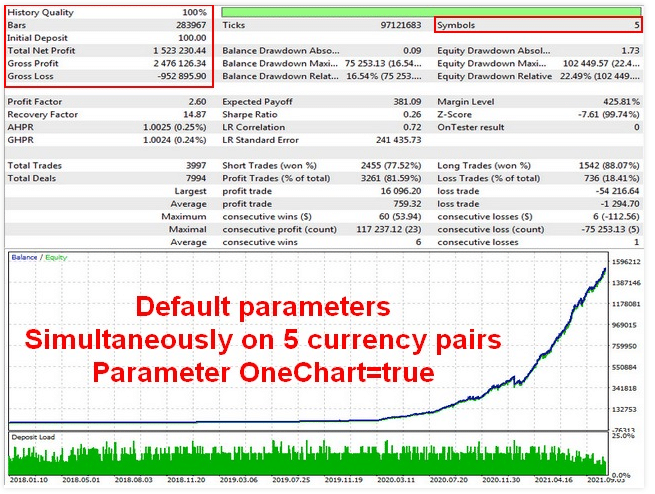 The data above informs us that during backtesting, the robot traded 5 currency pairs simultaneously using a deposit of $100. By the end of the trading period, a total net profit of $1,523,230.44 was realized. The generated relative drawdown was 22.49%, and a sign that the strategy applied was safe. From 3997 trades conducted, the win rates for short trades and long trades were 77.52% and 88.07%, respectively. The EA made losses frequently as it recorded a higher average loss trade (-$1294.70) than the average profit trade ($759.32).
Live trading results for Elemental EA are available, but they are not verified.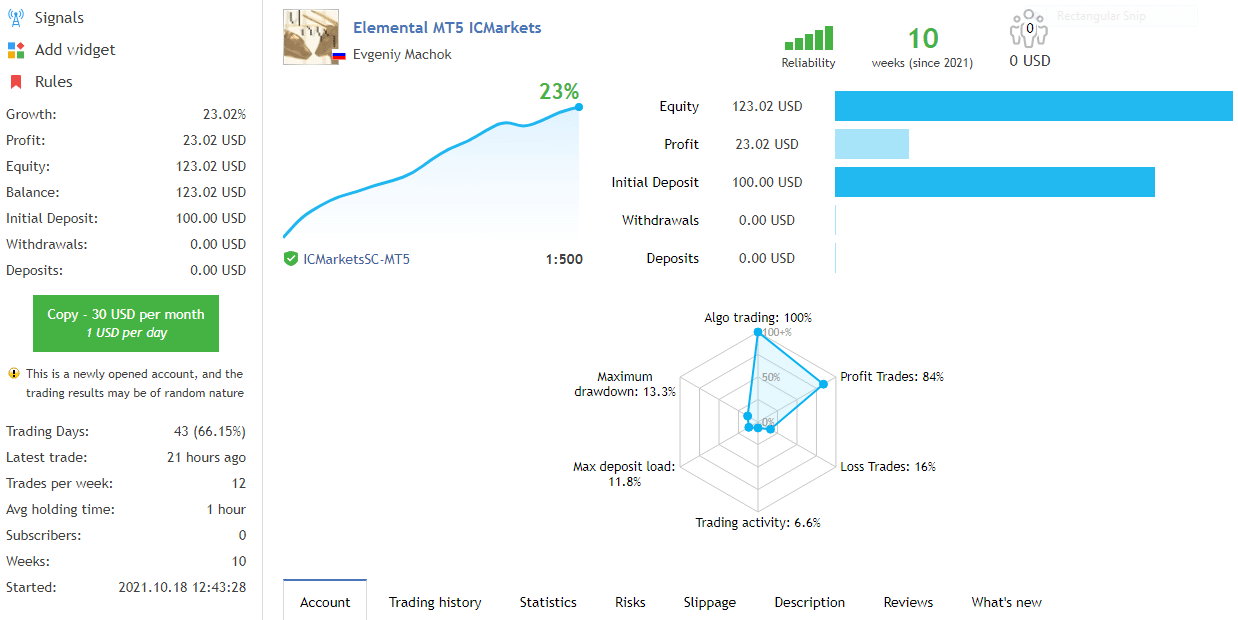 According to the above stats, the account was launched on October 18, 2021, and deposited at $100. To date, only $23.02 has been made, increasing the capital to $123.02. The drawdown of 13.3% indicates that the robot trades with low risks. Twelve orders are conducted weekly.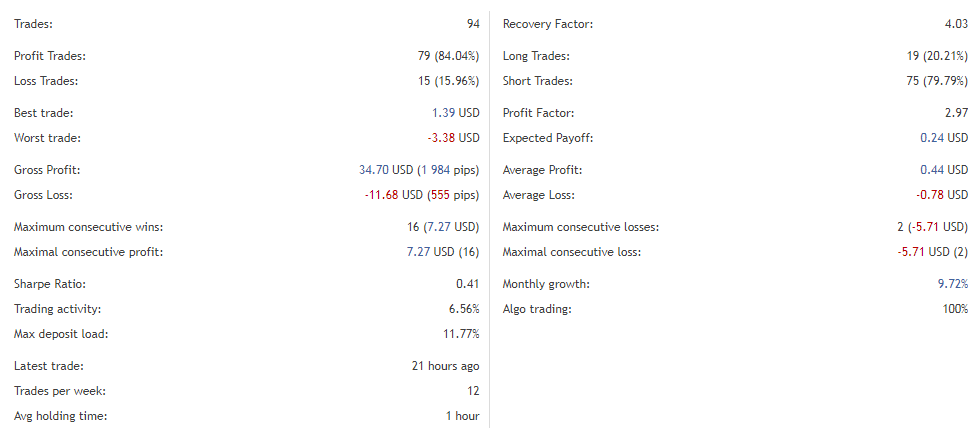 Out of the 94 trades implemented, 84.04% have been successful. So, the loss rate is much lower — 15.96%. There's a profit factor of 2.97, which means that the EA obtains greater rewards for every dollar invested. However, the win rates for long trades are very poor — 20.21%. The short trades (79.79%) perform much better. The average profit is $0.44, while the average loss is -$0.78. 
Customer reviews
Elemental EA has a handful of reviews on mql5. All the traders are satisfied with its services. They say that the robot is earning them good profits. The developer is also commended for responding to questions.  

PROS
Protection systems are available
Small capital needed
CONS
Short trading history
No refund policy
Unverified live trading results
Verdict
The EA comes with a stop loss and DD parameter, meant to protect your deposit from losses. Also, if you have $100, you can activate it to start trading on your behalf. Nonetheless, the robot lacks verified trading data, and you can't ask for a refund if it fails you. Even if we were to pay serious attention to the live results on mql5, the trading history is too short. The data sample is very small as well.