Today's review will be about an Elite Forex Scalper robot that was designed by an Elite Forex company. This is a well-known firm among the Forex-related community. It's introduced as #1 Forex Automated Trading Solutions. From the box picture, we know that the EA runs a scalping strategy, cutting little profits from trading the trend moves.
Product Offering
The website looks good and professional. If we talk about vendor transparency, we'd like to notice that Elite Forex is a well-known company among the Forex-related community. They have some respect from people if we talk about education first of all.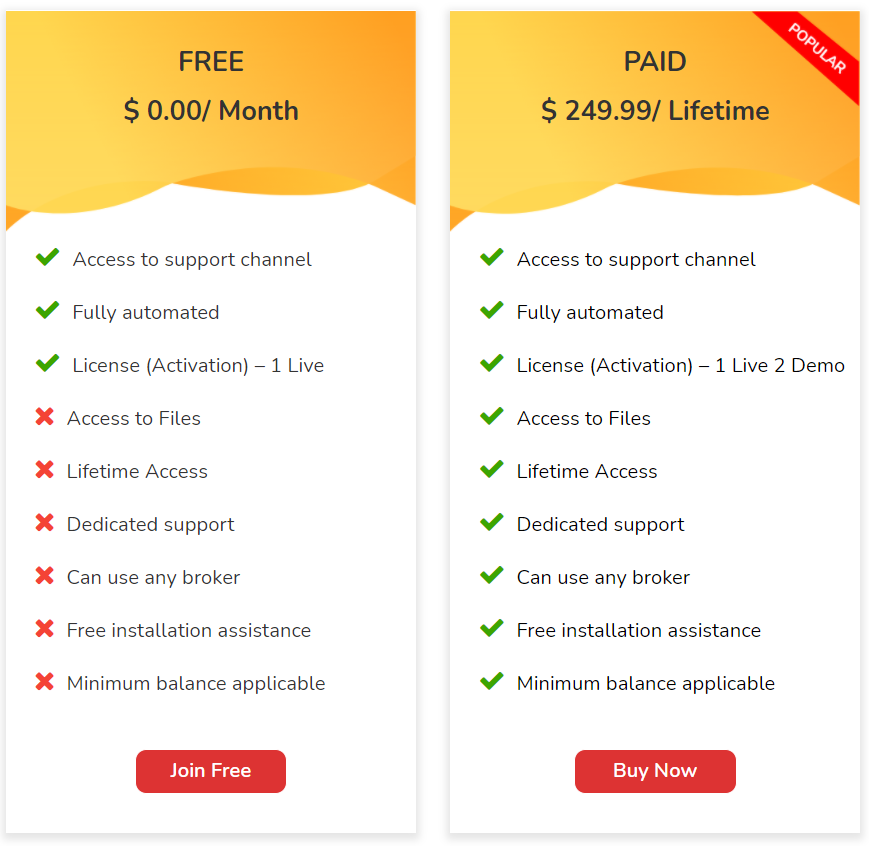 There are two packages: "free" and paid one. The paid pack costs $249.99 for a lifetime license and includes access to a support channel, a fully-automated expert advisor, access to all files, and desiccated support. There are no restrictions by brokers or a deposit size.

The free EA is not quite free. For receiving the robot without paying for it directly, we have to register a Standard or Cent (?) account using their referral link and make a deposit of at least $3000.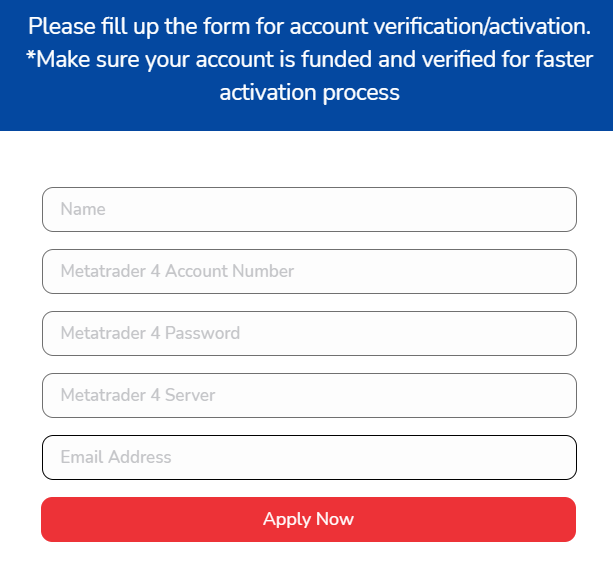 We have to fill this form and send them waiting for approval.
Elite Forex Scalper has a big list of features: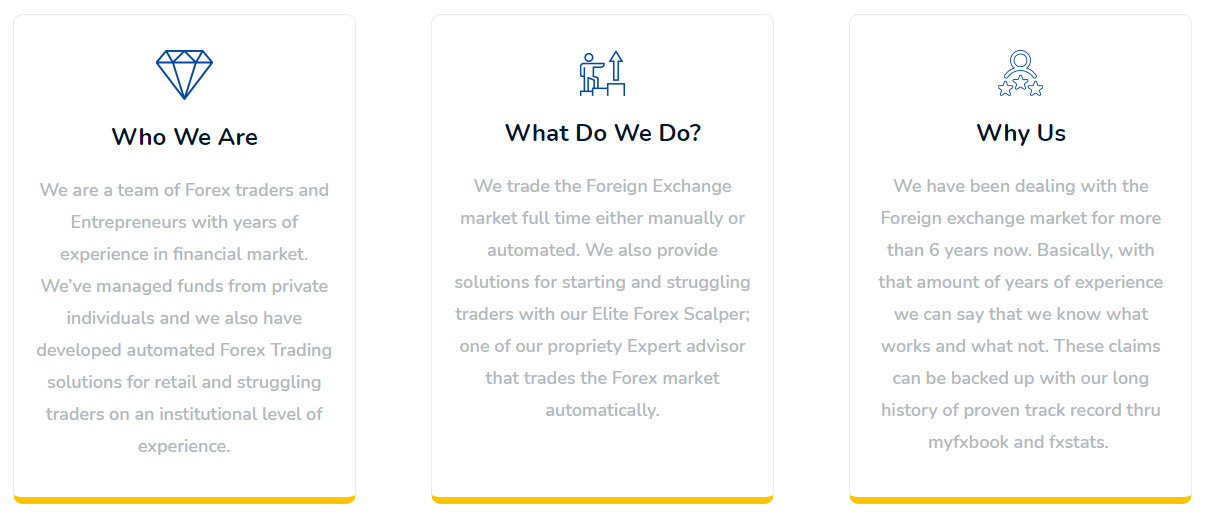 The EA was designed only for trading on the Metatrader 4 platform.

The robot is beginner-friendly software.

There's no broker restriction.

It trades fully automatically for us.

It removes human emotions away from trading.

There's protection from periods of high-impact news.

The robot requires a minimum of $300 up to $500.

For a standard account, we have to have $1000 to $3000 on a balance.

We ought to run Elite Forex Scalper on a VPS service.

The leverage should be 1:500.

There's a Telegram channel for clients to be in touch with developers.

The developers didn't feature the pack with a refund policy.
Trading Strategy
The EA runs the Scalp, Hedge, aggressive Grid, and conservative Martingale strategies.

It works with EUR/USD, GBP/USD, and NZD/USD, USD/CAD, and USD/CHF pairs.

The system can work well only on the M5 time frame.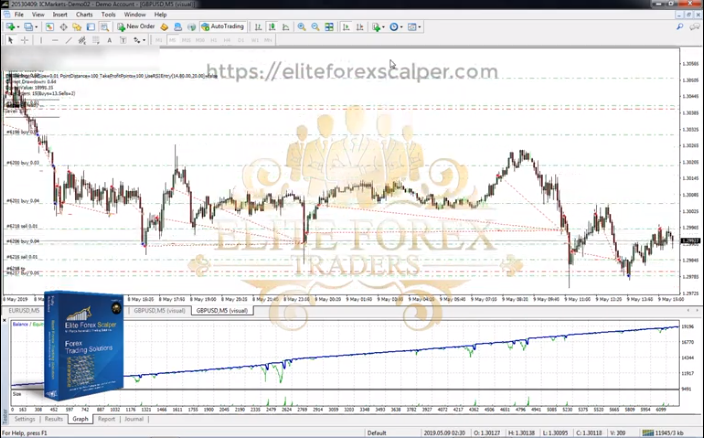 We have only a video of the backtest performing in the MT4. It was EUR/USD on the M5 time frame. From it, we can see how the EA used a Grid of orders to close it with profits.
Trading Results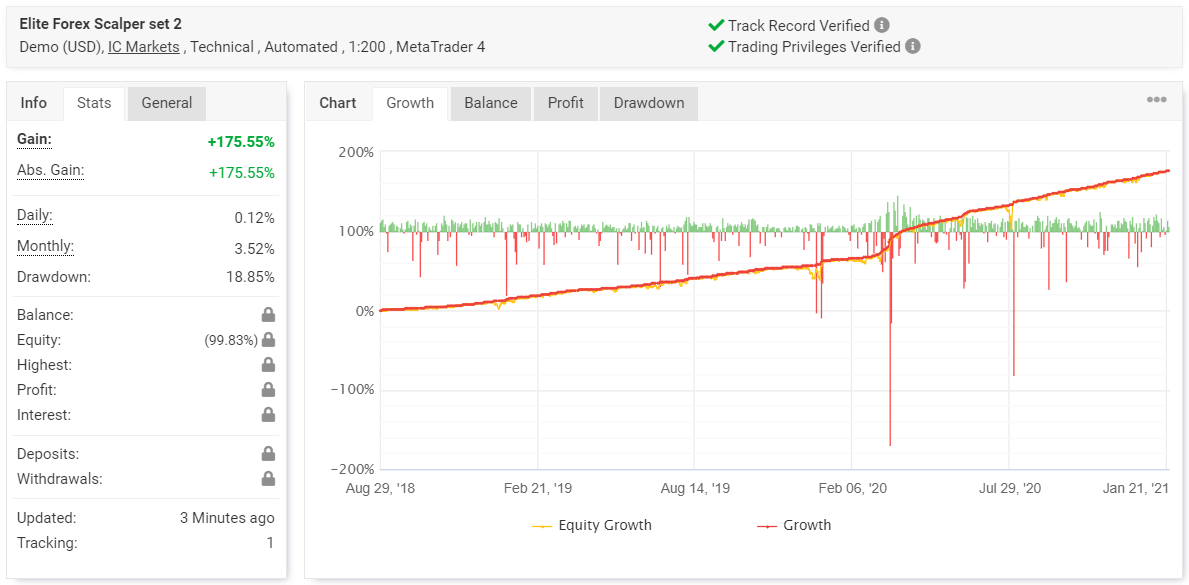 Elite Forex Scalper set 2(?) runs a demo USD account on IC Markets automatically. It uses technical indicators from MT4. The leverage level is set at 1:200. The account has a verified track record. It was created on August 29, 2018. The absolute gain is 175.99%. An average monthly gain is 3.52%. The maximum drawdown is high and equals 18.85%.

The robot has closed 52831 deals with 47265 pips. An average winning deal is 16.46 pips when an average losing deal is -38.65 pips. The win-rate is 71% for both: Longs and Shorts. An average trade length is one day. The Profit Factor is 1.68.

The most frequently traded symbol is GBP/USD – 18709 deals. The most profitable one is EUR/USD – $20195.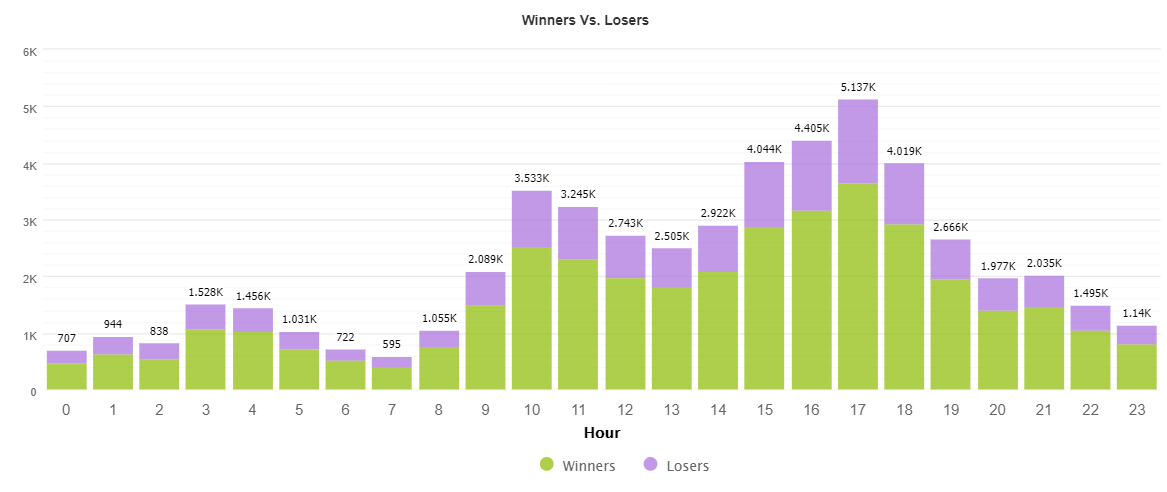 Elite Forex Scalper works during European trading hours.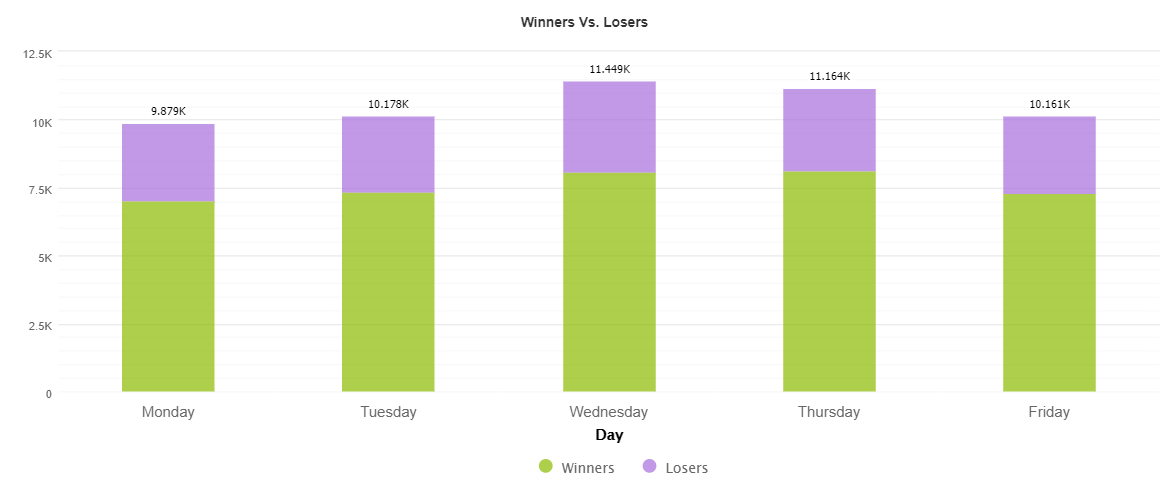 The robot trades equally all day long. 

It runs the account with little risk to the account balance.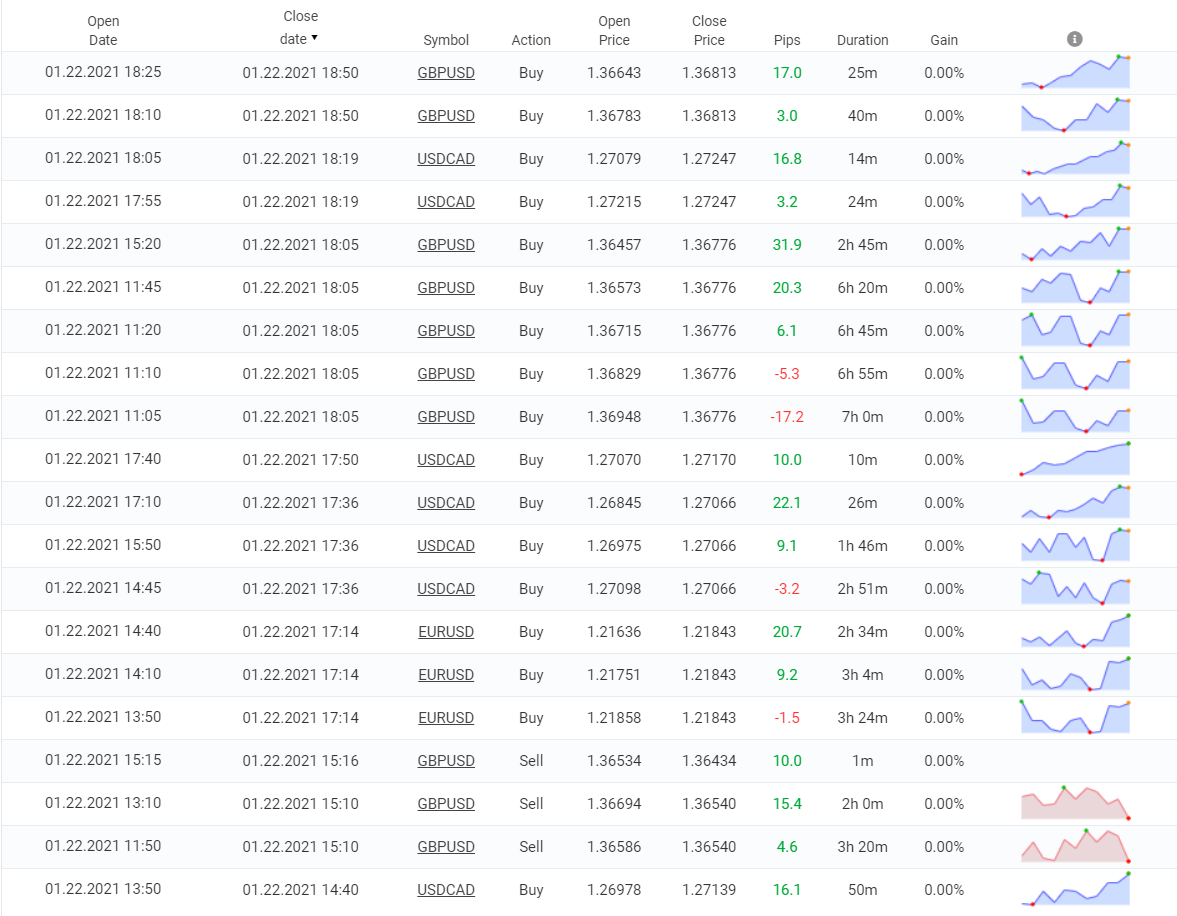 According to each deal's gain, the robot trades with a fixed Lot Size.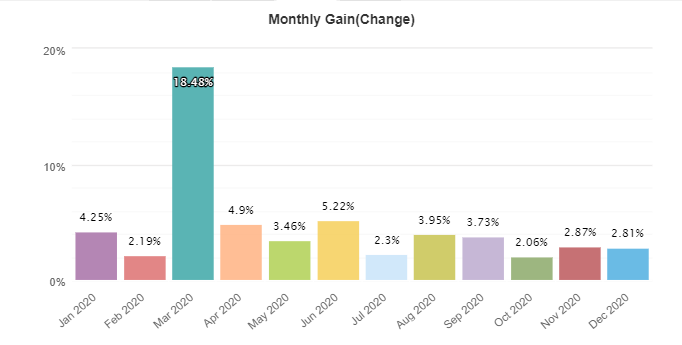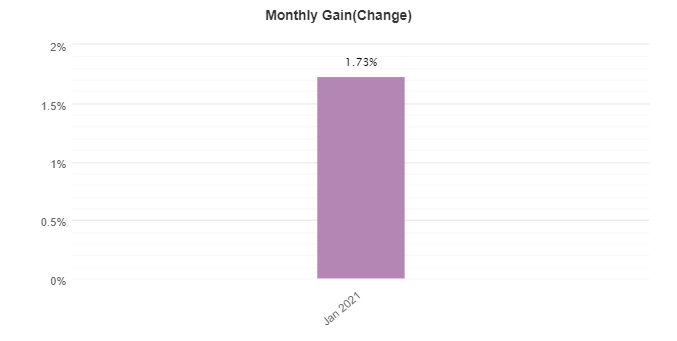 In 2020 and at the start of 2021, the EA handles the market, making profits.
Customer Reviews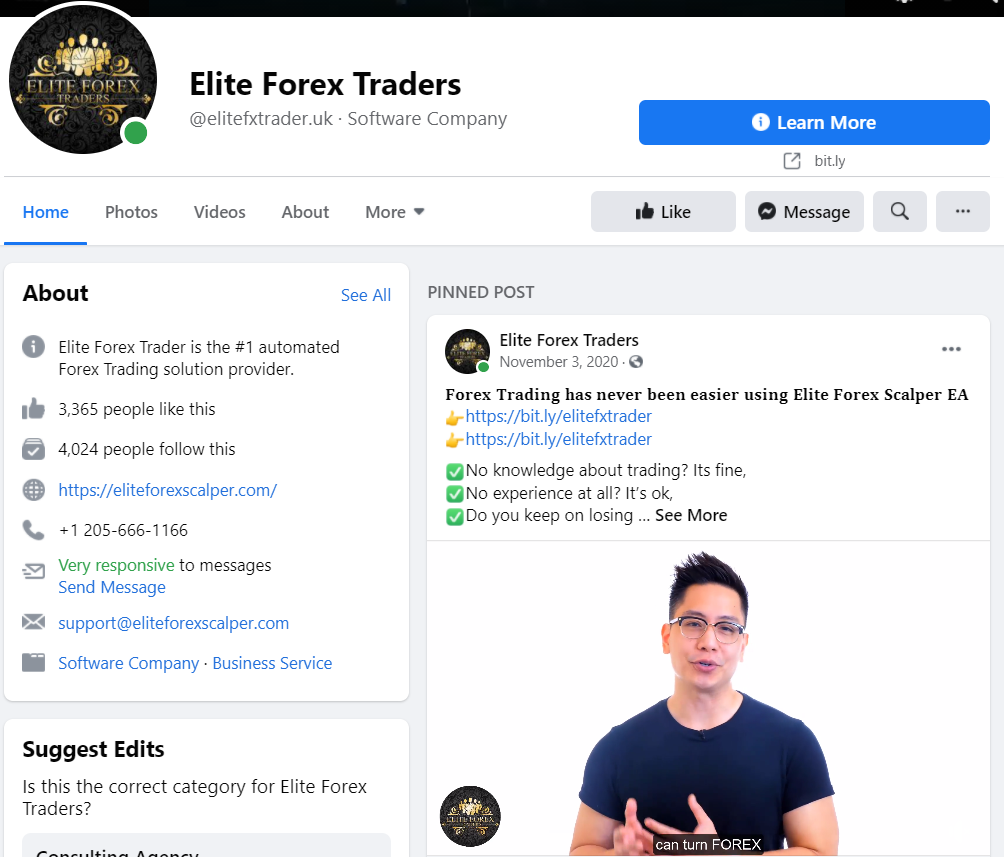 There are no pages of Elite Forex Scalper on Trustpilot or Forex Peace Ary. 
Mother company has a profile on Facebook with 3364 likes and 4024 followers.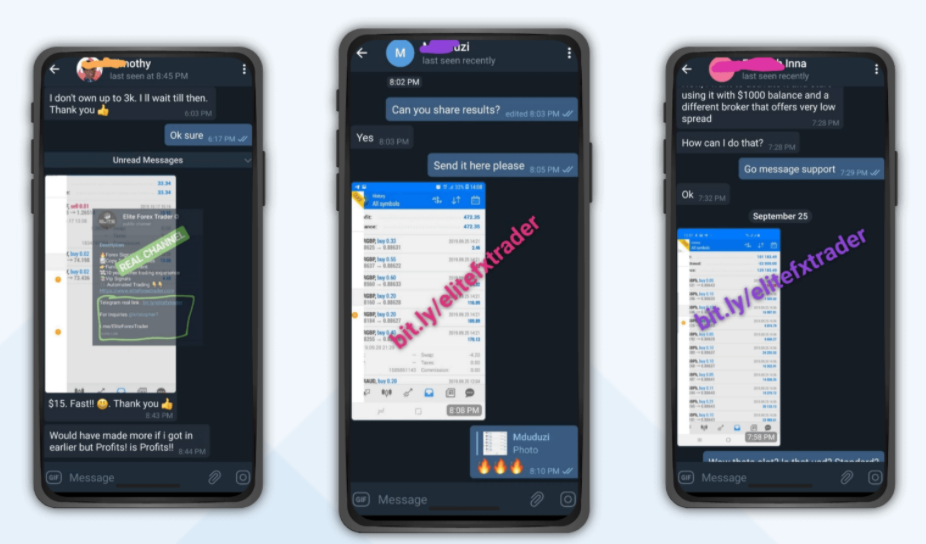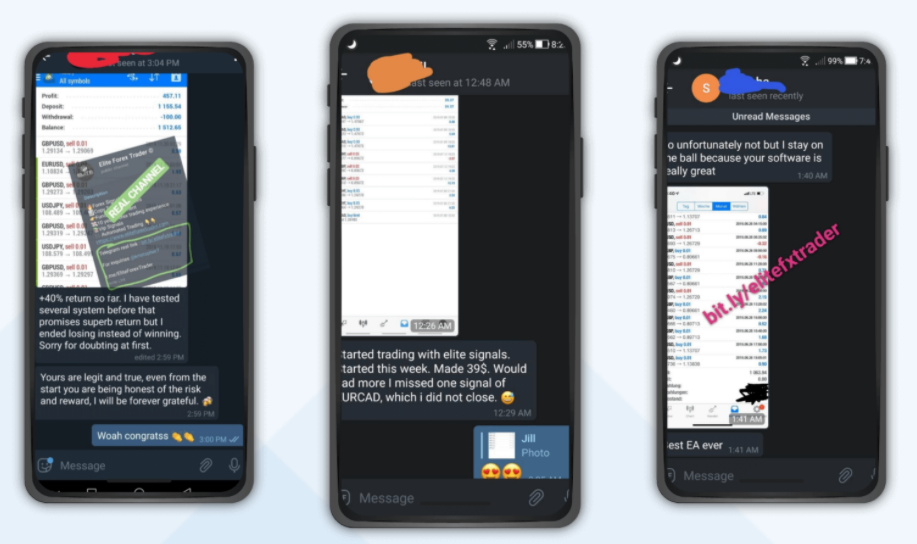 The presentation is featured by several screenshots of feedback from Telegram.
PROS
Strategy explanations provided
Money-management advice given
Demo-account trading results
Acceptable pricing
CONS
No backtest reports provided
The developers don't make money using it on the real account
No money-back guarantee
Medium pricing
No feedback provided
Verdict
Elite Forex Scalper is software based on Scalp, Hedge, Grid, and Martingale trading strategies. The robot was stopped on both actual accounts during Brexit. So, it 100% sure can't handle all market conditions. Of course, the mix of risky strategies doesn't fit all types of traders.