FX Blaster Pro is a brand-new robot that has a little presentation with myfxbook-verified results. The developers introduced it as a "Consistent and Profitable" trading solution. There's a "Great Performance" that's verified by Myfxbook.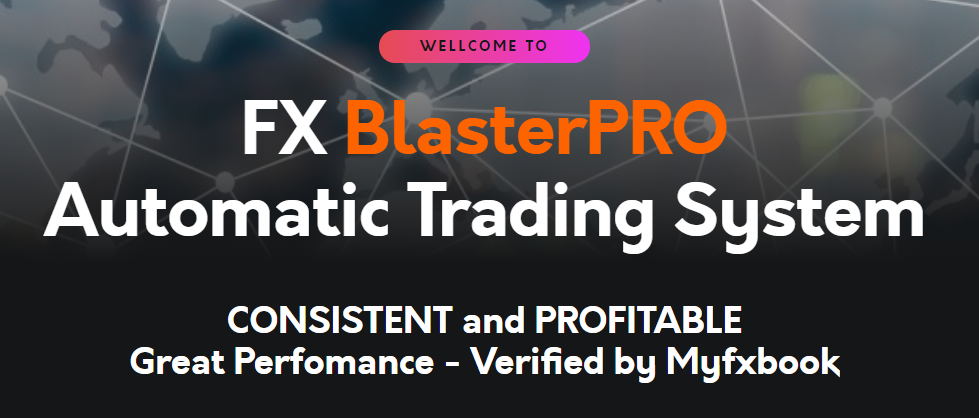 Product Offering

FX Blaster Pro is sold in two packages: Standard and Advance. The Standard pack is available for $299 and allows trading on one real account. The Advance pack costs $459 and allows using the robot on three real accounts. The packs include free updates, support and don't include a money-back guarantee.
The presentation has little features explanations:

FX Blaster Pro runs an account fully-automatically.

We don't need to intervene in the EA performance.

The robot is fully customizable.

The system is broker-free.

The robot is a consistently profitable trading solution.

There's a money-management system. The developers didn't provide any explanation of what it's up to.

The system includes a recovery algorithm.

There should be a Martingale strategy on the board because recovering is increasing Lot Size for the next deals after a lost one (for each symbol apart).

There's protection from high slippage and high spreads.

The system sets SL and TP levels for each open trade.

There are four levels of possible risk low, mid, high, and combined. We can choose any we want.
Trading Strategy
There are several strategies on the board that work apart from each other.

It runs a trend strategy as the main one and Grid, Hedge, and conservative Martingale as the support strategies.
Trading Results
The developers didn't provide backtests. It would help us to get how the EA works with that mix of four strategies.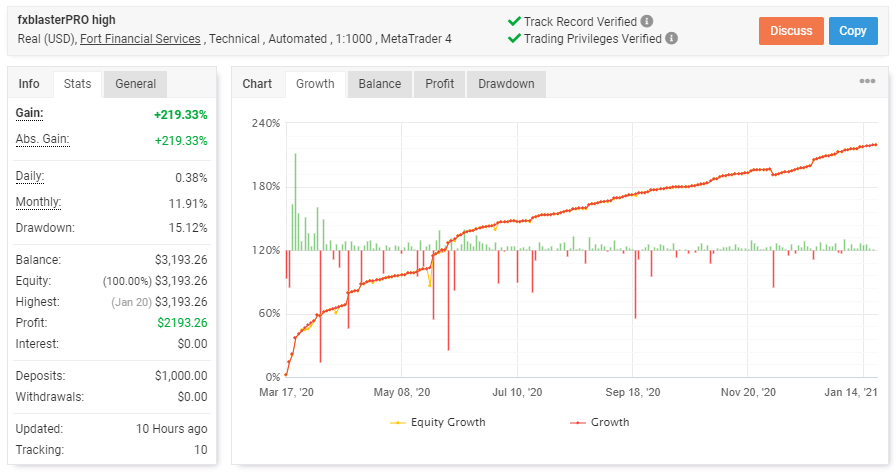 It's a fxblasterPRO high account on Fort Financial Services. It's a real USD account. The robot runs it automatically using technical indicators on MT4. The leverage is set at 1:1000. The account has a verified track record. It was created on March 17, 2020, and deposited at $1000. The absolute gain is +219.33%. An average monthly gain is 11.91%. The maximum drawdown is 15.12%. It's acceptable as for a Grid and Martingale EA.

FX Blaster Pro traded 2985 deals with 602.5 pips. An average win is 10.65 pips. This is twice less than an average loss of -21.37 pips. The win-rate is low as for a Martingale robot – 66%-67%. The average trade length is almost three hours. The Profit Factor is 1.63.

The robot works with six currency pairs: AUD/USD, EUR/GBP, EUR/JPY, EUR/USD, GBP/USD, and USD/CAD. The most-traded is EUR/USD with 632 deals when the most profitable is USD/CAD with $549.63.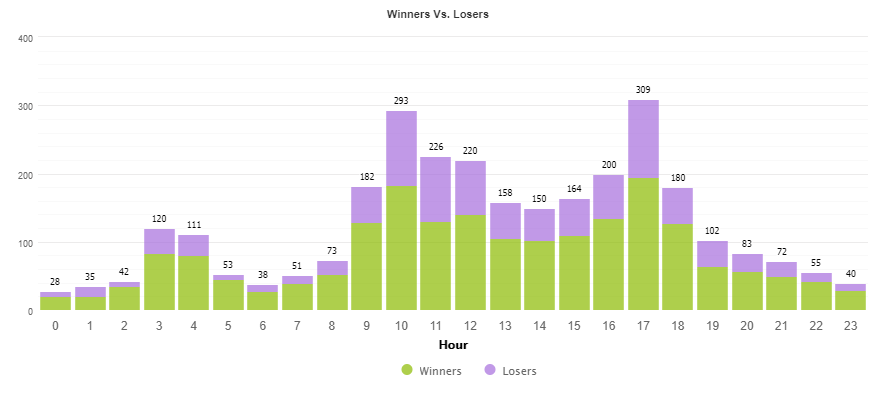 The robot trades mostly during European trading hours.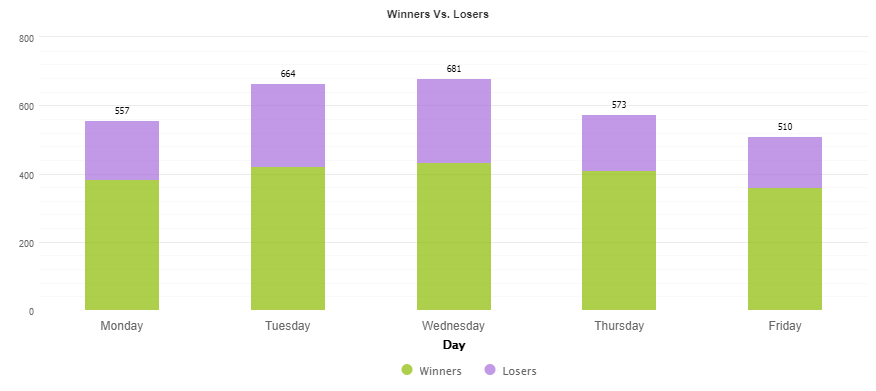 Tuesday (664 deals) and Wednesday (681 deals) are the most frequently traded days.

It runs the account with little risk to the balance. 

As we can see, there's an insane martingale if one pip of the gain almost covers (+0.11%) -43.0 pips of the loss (-0.13%). It's so dangerous to use this EA.
Customer Reviews
We couldn't find any testimonial on Forex Peace Army and Trustpilot. It's a huge con because we won't be able to compare people experienced using the EA with what we see on trading results and our expectations.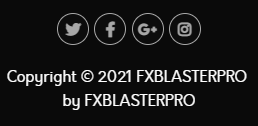 There are icons of social networks without pages connected to them. 

Click2Sell is a well-known reseller and paid service company. This firm supports a refund policy.
PROS
Real account trading results provided
The EA is sold through Click2Sell
CONS
No team revealed
No settings explanations provided
No money-management advice given
There are many risky strategies on the board
There's insane Martingale
No margin requirement given
No backtest reports provided
High pricing
Nothing was told about the refund policy
No people feedback provided
Verdict
FX Blaster Pro is an expert advisor that uses a conservative Grid of three-four orders with the insane x40 Martingale. This not only puts the account at high risk, but also can increase drawdowns, and, most important, it requires a huge amount of margin to keep these Grid orders on the market.