Elite Tactics is a fully-automated Forex EA launched on 24th May 2020. It claims to identify the vital levels in the market and use pending orders for swift trade executions. You can use this system on both MT4 and MT5, but before that, you need to know whether it ticks all the boxes that are important for a serious Forex trader.
Product Offering
Elite Tactics does not have an official website, but it does have an MQL5 page where the features and recommendations are outlined, along with a short video about the Forex EA, backtesting data, and trading results. The developer behind this system is a person called Radek Reznicek who is based in the Czech Republic. 
By checking his MQL5 page, we can see that this developer has created several indicators and Forex EAs in the past and this increases our confidence in the software. But, it would be nice if the developer revealed some further details about himself and the team working under him. 
We don't think you can expect much in terms of vendor transparency from a new system that doesn't even have a website. It is priced at $245, but there are rent options available as well. You can choose to rent it for 1 month at $99 and 3 months at $145, thus saving 51%. 
While no money-back guarantee is provided by the vendor, you have the option of trying out the demo version of the software for free. The absence of a money back guarantee again raises questions about the system's legitimacy.
Elite Tactics
Type

Fully-automated EA 

Price

$245

Strategy

Not disclosed

Compatible Platforms

MT4 and MT5

Currency Pairs

All

Timeframe

All

Recommended Min. Deposit

$100

Leverage

Not disclosed
Trading Strategy
Not much is revealed about the actual trading strategy employed by Elite Tactics. The vendor mentions that the Forex EA does not use risky strategies like arbitrage, grid, or martingale, but there is no reason why further details couldn't have been provided. This EA uses advanced filters combined with slippage and spread protection and there is a stop loss for every trade.
Although you can use this Forex EA for trading any pair in any timeframe, the vendor recommends the EUR/USD pair for the H1 timeframe, since the default settings are optimized for this pair. The recommended minimum deposit is $100.
As per vendor claims, the system has passed tick data strategy tests with variable spread and simulated delays. You have the option of adjusting the risk level and lot size, but you can also choose to automate the lot size and select a risk as a percentage of your balance. 
Every trading chart is assigned a Magic number, and you need to make sure this number is unique. The vendor recommends using an ECN broker with low spread and low VPS server latency.
Trading Results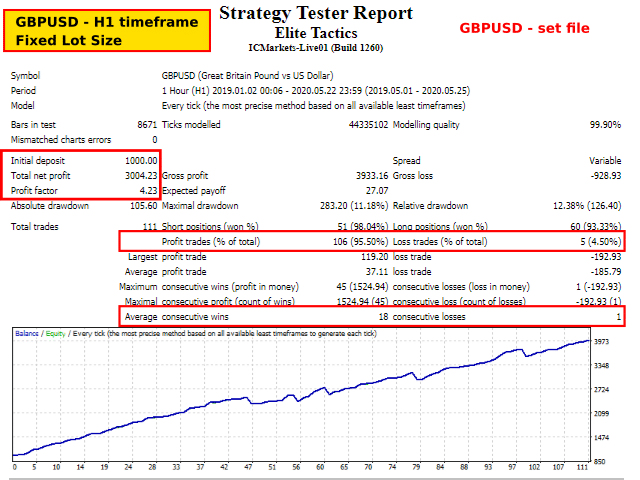 Here we can see the backtesting data provided by the vendor for the GBP/USD pair. As per this result, the system managed to generate a total net profit of $3004.23 with an initial deposit of $1000, bringing the profit factor to 4.23.
The backtesting consisted of 111 trades, where Elite Tactics won 98.04% of short positions and 93.33% of long positions. It should be said that 95.5% of trades placed by the system were profitable while only 4.5% of trades were closed in losses. Moreover, it had 18 consecutive wins and only 1 consecutive loss.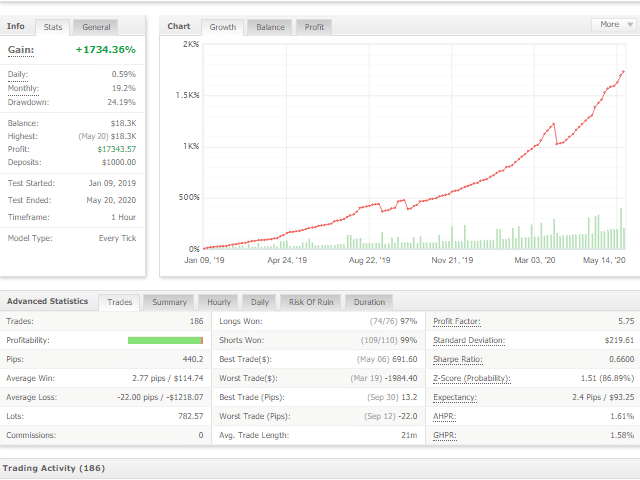 Although live trading results are available and it looks similar to a Myfxbook account, we couldn't find it on the website. The results show an incredible profit of $17343.57 being generated from a deposit of $1000, and this is exceptional, even for the topmost Forex EAs in the market.
Moreover, we can see that it has won the majority of the trades placed and that the profitability is way above 90%. The profit factor of 5.75 seems fake and it would be great if the same could be verified. If true, these results look quite promising, and it tells us that Elite Tactics is certainly capable of generating large profits.
Customer Reviews
We couldn't find any customer reviews concerning Elite Tactics on third-party websites. Considering the highly profitable trading results and backtesting data provided by the vendor, we expected to find some reviews from real users who have profited from this software. Although some reviews are available on the MQL5 page, they could easily have been manipulated.
PROS
Live trading results are provided
Backtesting data is available
Compatible with MT4 and MT5 platforms
CONS
Lack of information about trading strategy
Lack of vendor transparency
No customer reviews
Verdict
We think this is a system that shows quite a lot of promise, but it still has a long way to go before we can call it trustworthy. While the trading results are impressive, there should be more information about the strategy and developers provided.