Expert Advisors and FX Robots are on the rise in the Forex trading market, allowing even novice traders to trade professionally with the help of an automated application. Evestin Forex is one such EA, which is the focus of this review. They offer four different Forex robots, each with a unique strategy.
Evestin Forex provides its users with a set of 4 efficient trading robots named Satoshi, Satoshi Gold, Satoshi FB and Gunner. The creator of the program, Ivo Luhse is also known for his work with another popular trading robot called DaraTrade. Initially launched back in 2015, the project still hasn't gained the reputation or the popularity that some of its competitors have.

Product Offering 
Type: FX Robot
Price: $99 per Month
Strategy: Multiple 
Timeframe: Undisclosed
Currency Pairs: AUD/USD, USD/JPY and GBP/USD
Evestin Forex at a Glance
The system promises professional grade risk management, with only a small percentage of the user's account being used on each trade. The risk level can be adjusted according to the user's risk tolerance. The main website is very appealing and professionally designed. The Evestin team has also included detailed explanations of the components involved, as well as the trading strategy. It even provides a PDF that serves as guide for its users. 
There are two important aspects about the robot that the developer wants the community to be aware of. The fact that the user has full control over the robot and its activities and that they have a proven strategy, is mentioned multiple times in the website.
Trading Strategy
As mentioned before, the Evestin team provides a free pdf that serves as a strategy guide for its users. This level of transparency and assistance is certainly a breath of fresh air when trading robots are concerned. 
For instance, the Satoshi robot uses four high probability reversal patterns for its strategy; the Hammer, Shooting Star Bearish Engulfing and Bullish engulfing. The strategies of the other robots are further explained in detail in the PDF they provide. 
---
---
Evestin Forex Trading Results
Prospective users usually look for proven test results from authoritative sites such as myfxbook or fxblue. However, in this case, detailed statistics are provided in the PDF they offer. It includes details such as win rate, average reward, to risk ratio, average trades per month and positive expectancy. They have also included some back testing results for each of the robots in a separate PDF. 
The fact that Evestin Forex does not provide a verified myfxbook or fxblue account raises questions about the legitimacy of the figures provided by them. 
Customer Reviews
Evestin Forex has received both positive and negative reviews on various forums and review sites. Some examples are attached below.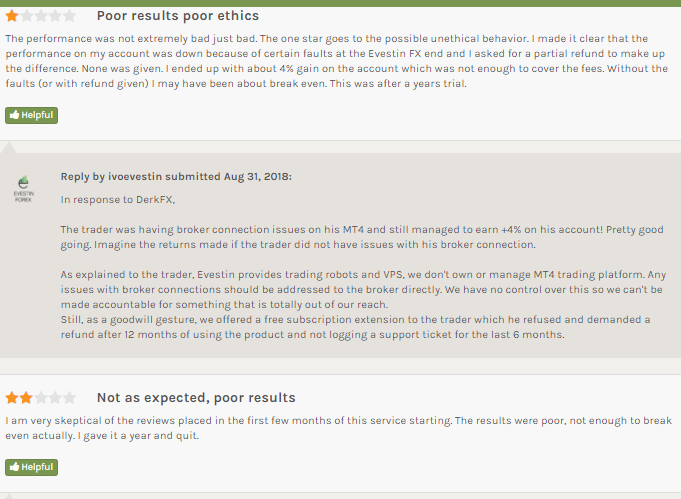 Evestin Forex Pros and Cons
| | |
| --- | --- |
| Pros | Cons |
| Very Detailed Explanation of Components | Unverified Trading Results  |
| Developed by a proven Developer | Customer Feedback is mostly negative |
| Includes four separate robots with unique strategies | |
| Provides a 30 Day free trial  | |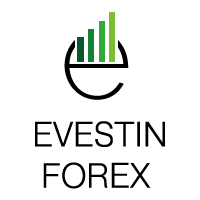 Verdict
Evestin Forex offers professional risk management and a fully automated robot to its users. After going through what they have to offer, Evestin definitely impresses in some areas, especially with the level of transparency it provides. However, on the flipside, the fact that they haven't included verified trading results from authoritative sites, raises a lot of question with the figures given. This is definitely a red flag for most users in the Forex trading market. Overall With the price involved, Evestin seems generally unimpressive as there are many other alternatives available with proven results.