GRAVITY FX is a forex robot that helps traders carry out trading activities. This unique and universal advisor works with any broker, currency, index, and metal. And at the same time, it is showing stable and good results.
The official website of GRAVITY FX contains only verified information. Here you can find the latest news, data, expert opinions, cutting-edge research and much more. But the developers noted that the data provided on the website are not instructions for action, but rather general information for development. The company has official accounts on the following social networks: VKontakte, Twitter, Facebook, Instagram, as well as a YouTube channel.

GRAVITY FX support team is ready to assist the customer 24/7. You can contact them in the following ways:
Phone number +7 (928) 513-49-89 or +1 (305) 600-09-09;
Email

[email protected]

;
Skype

[email protected]

;
Online chat on the official website;
In one of the social networks.
The cost of production ranges from $ 99 to $ 299.
GRAVITY FX Offering and Key Features
3 items are available for purchase:
GRAVITY FX version 1.0, 2500 pips per month, cost $ 99;
GRAVITY FX version 3.0, full control over transactions, costs $ 199
GRAVITY FX version 5.0, the best performance on live accounts, priced at $ 299.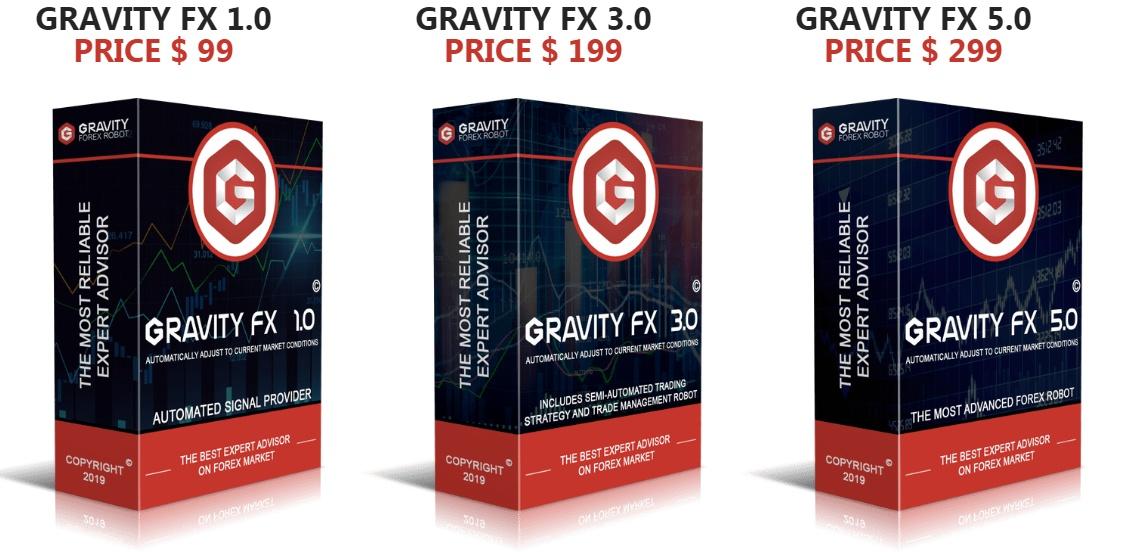 The system has built-in broker protection, which is the best among peers. Of course, GRAVITY FX operates legally and has all the necessary documents and licenses.
This robot was developed specifically for the most liquid spread currency pairs: EUR / USD, USD / JPY, USD / CHF, and AUD / USD. These currency pairs are the most stable, despite the floating spreads. This means that the trader can receive income sequentially, and not to worry that the broker who decides to expand his spread will miss the most profitable deals.
Trading Strategy
The trading strategy was developed and optimized by professional traders. Developers increased the frequency of trading and reduced risks to a minimum. The profit protection system was also improved, and a more advanced exit trading logic was developed.
On the official website, developers warn that trading in foreign currency and CFDs is fraught with high risk, and it is not suitable for everyone. First of all, a trader should assess their capabilities, experience and risk appetite. It is not recommended to immediately invest all your savings.
Trading Results
The robot passed all kinds of tests with real accounts, which confirmed its profitability. Recent additions made it possible to achieve a profit of 82.17%. These results are proven and confirmed by Myfxbook.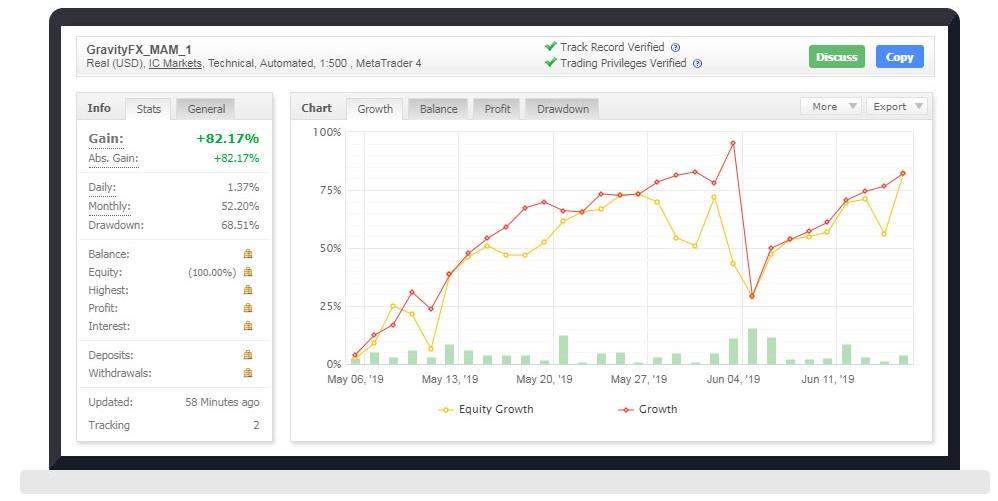 GRAVITY FX Customer Reviews
On the official website of the company, there are no comments from users of this software.
---