Forex Combo System is a 100% automated Forex EA that uses 4 autonomous trading strategies and is based on 10 years of proven profits in the live market. It claims to have generated 245.18% profit for a live trading account and is said to be capable of delivering predictable, accurate, and growing profits. However, an objective assessment of the various system aspects is necessary to conduct, before we can pass a judgment on the robot's reliability.
Product Offering
On the official website of Forex Combo System, we have the main features highlighted by the vendor. We have screenshots for a couple of live trading accounts showing high profits, as well as brief explanations for each of the trading strategies utilized by the Forex EA. Additionally, the vendor has provided multiple backtesting results for different currency pairs. 
The vendor seems focused on trying to sell the product to potential investors, explaining how the robot can help traders improve their profit outcomes. This system has been developed by the FXautomater team. On the website, we can see that this company has developed other Forex robots in the past, like BF Scalper Pro, Gold Scalper Pro, Smart Scalper Pro, Forex Diamond EA, Forex Trend Detector, etc. The identities of the traders and developers have not been revealed.
To us, the overall presentation looks quite detailed and professional. We certainly expect this to be a legitimate system generating real profits consistently. The robot is available for a price of $137, which is not excessive, compared to other systems in the market. This product is offered at a 20% discount, and the promotional offer is valid for a limited period of time. If the performance of the robot is not satisfactory, you can ask for a refund within 60 days of purchasing it.
Forex Combo System
| | |
| --- | --- |
| Type | Fully-automated  |
| Price | $137 |
| Strategy | Scalping, Trend-Detection, Market Corrections, Range Detection |
| Compatible Platforms | MT4  |
| Currency Pairs | EUR/USD, GBP/USD |
| Timeframe | Not disclosed |
| Recommended Min. Deposit | Not disclosed |
| Leverage | Not disclosed |
Trading Strategy
Forex Combo System is a 100% automated robot that trades in the highly liquid GBP/USD and EUR/USD pairs. It is compatible with all brokers and sends periodic notifications for open and closed positions. You can also use other robots in combination with this one. 
Support is provided by the vendor on a 24/7 basis and updates and new versions are provided without any additional cost. It can be used with 1 live and multiple demo accounts simultaneously. Users are also provided with a detailed user guide where you can find information on how to set up and configure the robot.
Forex Combo System uses four strategies namely Scalping, Trend-detection, Range detection, and Market Corrections. The Scalping technique involves matching trades with a high probability of success and low risk. This way, the overall gain is boosted by adding small profits consistently. 
In the Trend-Detection strategy, the data offered by the currency market is accurately analyzed and visualized as trends from which market forecasts can be made. When a trend reverses in a market, it opens up opportunities for making a high profit. This system captures the corrections at the precise moment the trends lose steam. 
With this Forex robot, it is possible to make profits from a market that is not trending. The trade detection of the system is adjusted upon encountering a ranging market.
Trading Results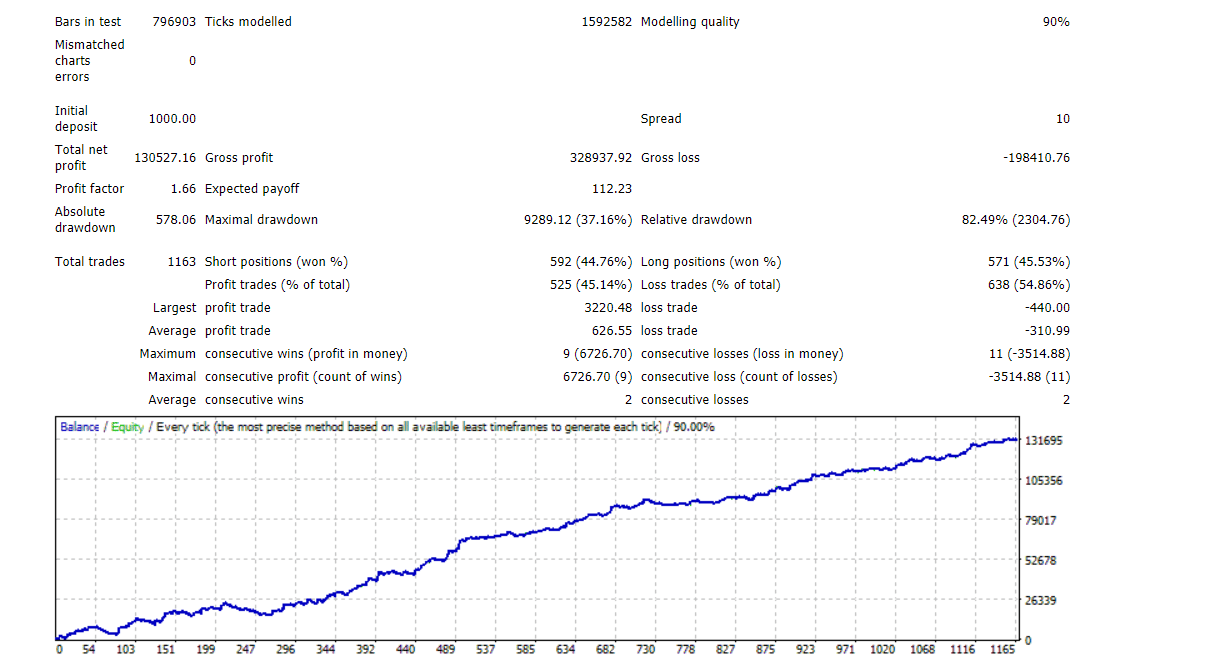 This backtest was conducted for the EUR/USD pair from 2017 to 2018 with a modeling quality of 90%. The initial deposit was $1000, from which a total net profit of $130527.16 was generated. During the backtest period, 1163 total trades were placed, out of which the robot managed to win 45.14%, which is a moderate win rate at best. The profit of 1.66 is decent, but nothing exceptional.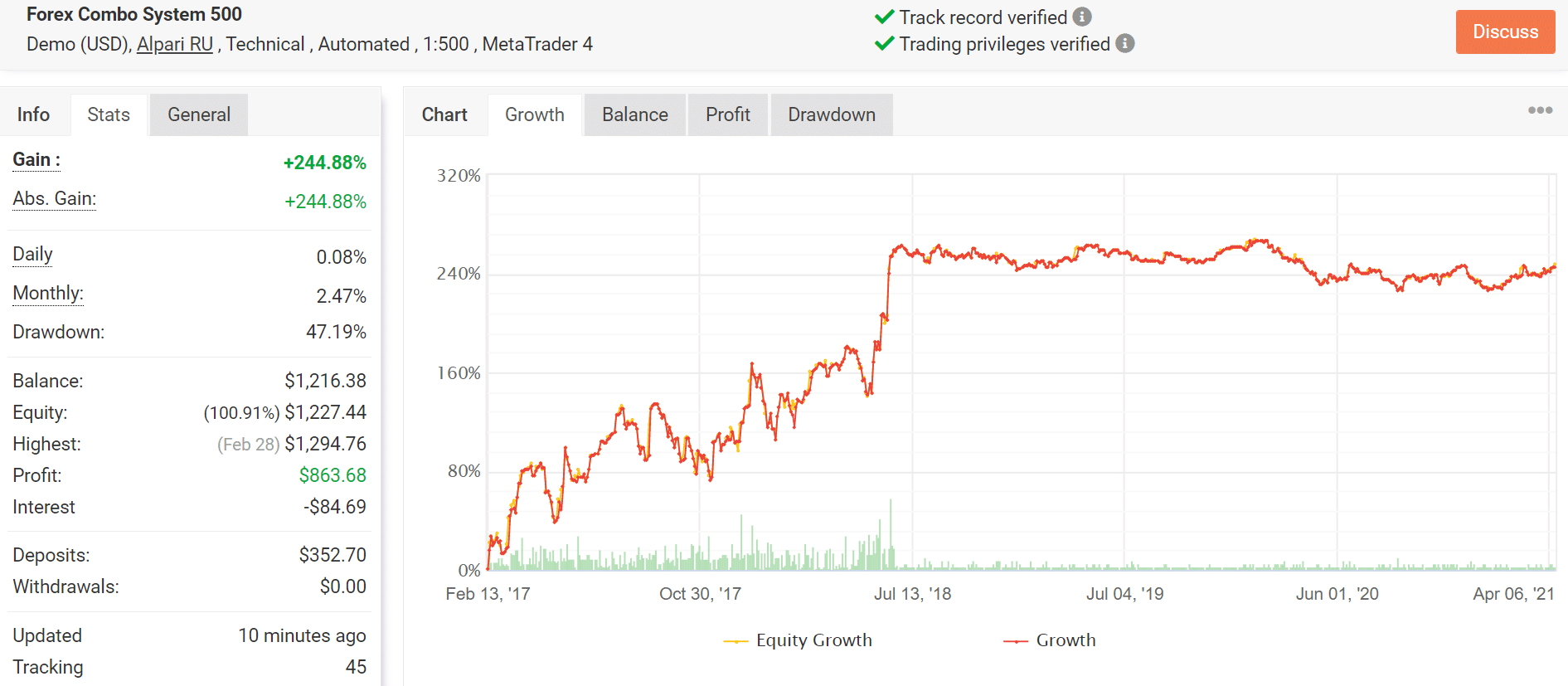 Here we have a live trading account for the Forex robot that was launched on 2nd December 2015. To date 873 trades have been placed through this account, all for the EUR/USD pair. Out of these, 521 have been won, which represents profitability of 60%. This is a noticeable improvement from the win rate seen in the backtesting data.
This account has made daily and monthly gains of 0.08% and 2.47 respectively, but it has a high drawdown of 47.19%. The profit factor of 1.25 is decent, but it is a bit low compared to the backtest.
Customer Reviews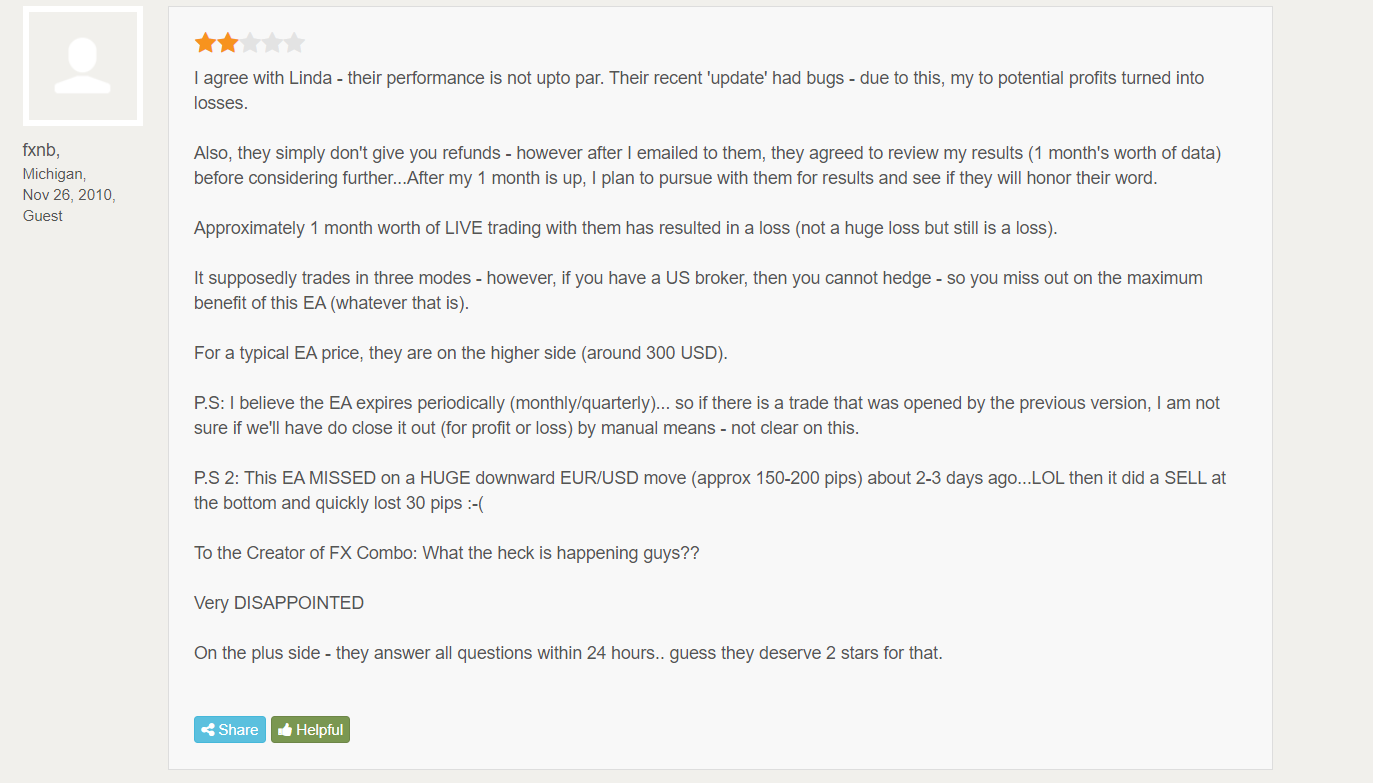 On the FPA website, we found a few user reviews for this Forex EA, and many of them are negative. Here, a user has complained about the below-par performance and has stated that the company refuses to give refunds.
PROS
Verified live trading results
Backtesting data
Strategy explanation
CONS
Negative customer reviews
High drawdown
Insufficient information on vendor
Verdict
While Forex Combo System is not a scam, it is not the perfect system that you can blindly trust. The trading results show a high drawdown and the customer reviews are not too positive.