Forex Olympus is an automated trading software that is actually part of a serial scam run by Green Forex Group that is powered by Rita Lasker. The main claim is "HOT NEWS: FOREX OLYMPUS IS GENERATING INSANE PROFITS DURING THE CORONA PANDEMIC. Covid-19 forces the market to make extremely powerful price movements that you can use to make a profit." It can catch the attention of only those who know absolutely nothing about Forex. So, we immediately marked it as unprofessional and scam-like software.
Product Offering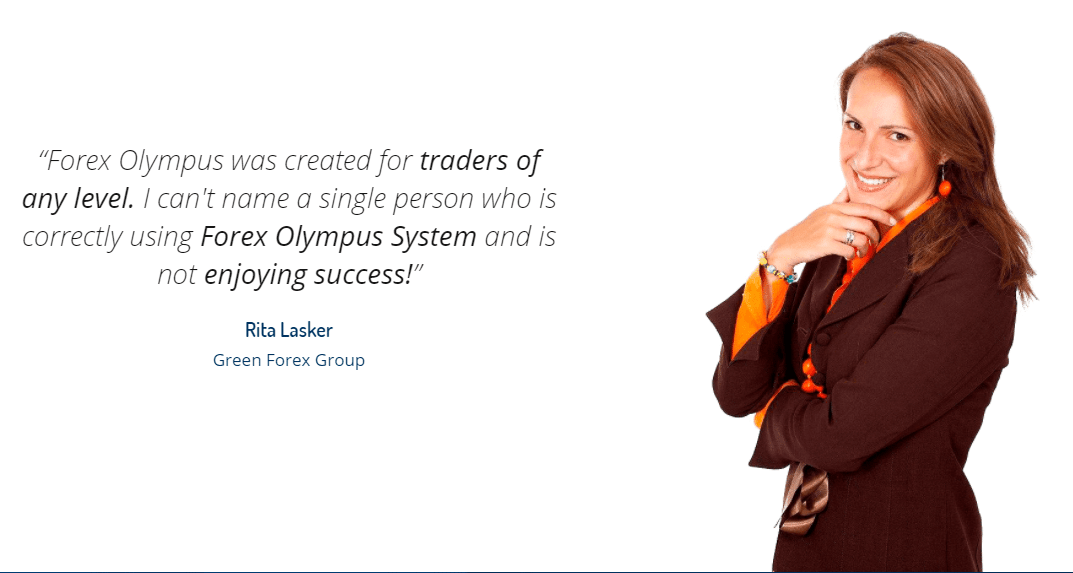 We have Rita Lasker as the CEO of Green Forex Group. This person is fake. She doesn't exist. There are no profiles in social networks like Facebook or LinkedIn that convince us this person is real. Real developers use a picture of a female as a CEO to convince women and people who don't know what Forex is to buy this scam robot. We have asked her real profile with real-live photos many times. We've got no answers back.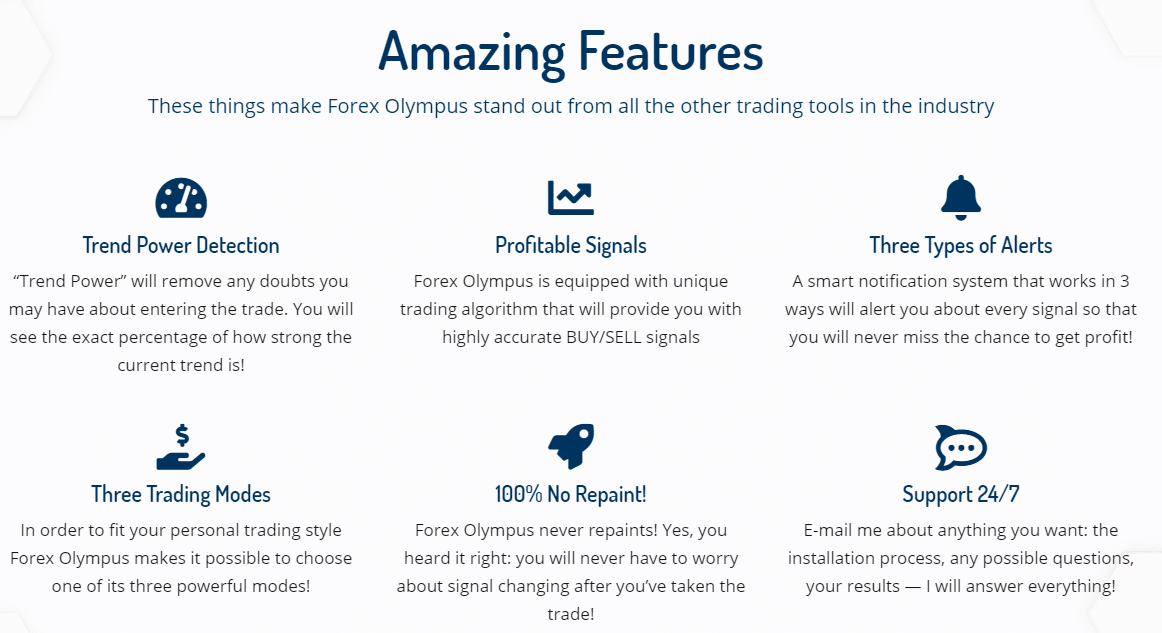 There are several features explained:
The robot executes deals automatically.

There's a Trend Power Detection feature.

The system has a unique trading algorithm.

The system provides several types of alerts.

There are three powerful trading modes.

The robot doesn't repaint signals after providing.

The company provides full 24/7 support.

The minimum deposit should be $100.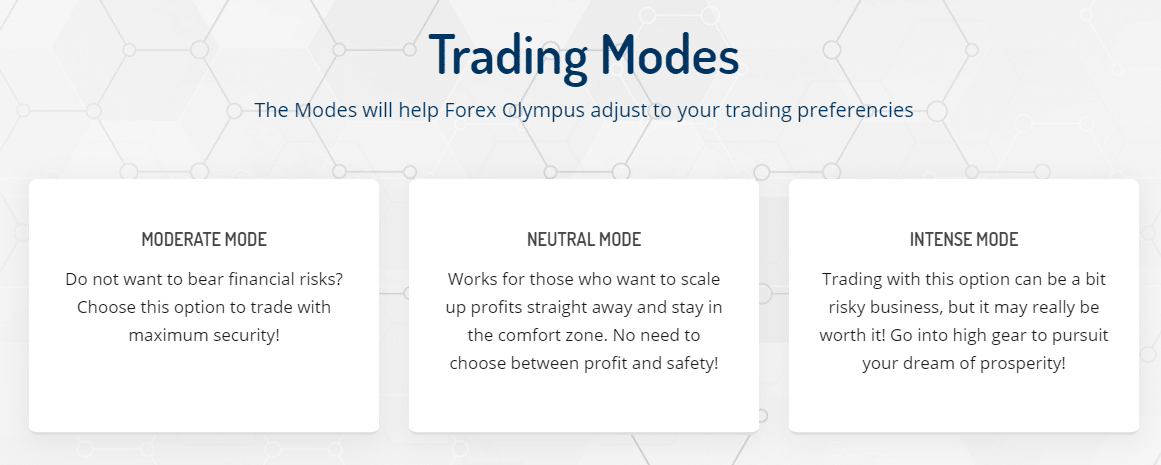 A moderate mode allows trading with low risks to the balance.

A neutral mode is a bridge between low and high-risk trading.

An intense mode lets us trade with high risks.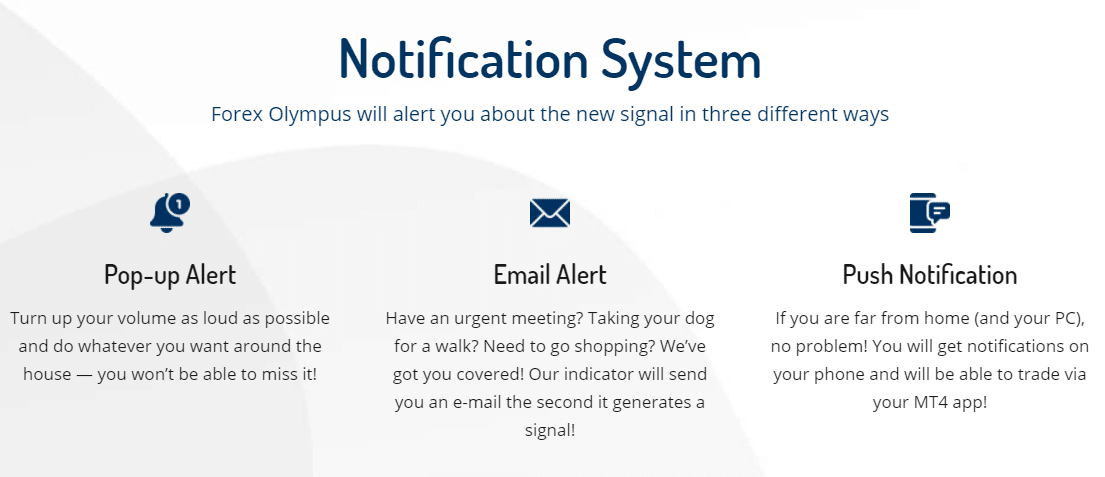 We can receive notifications via a pop-up, email alerts, and push notifications.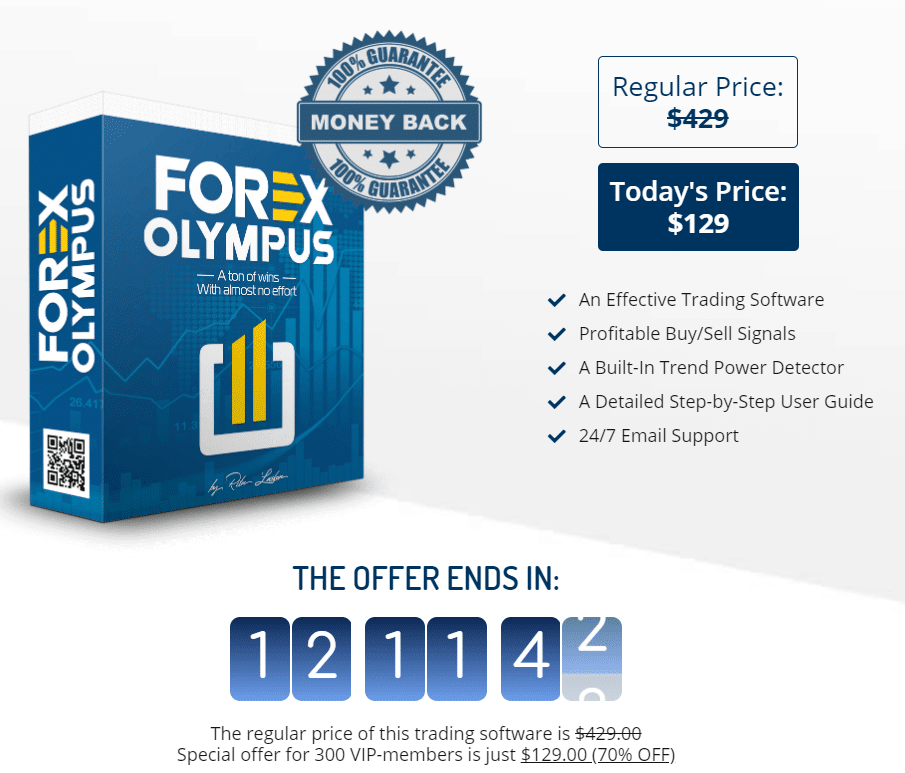 Forex Olympus is sold for $129 instead of $429. Both prices are scams because there are no trading results provided. The package includes a copy of the software, profitable signals, Trend Power Detector, user guide, and 24/7 email support. So, the offer will end soon when 300 copies of the robot are sold.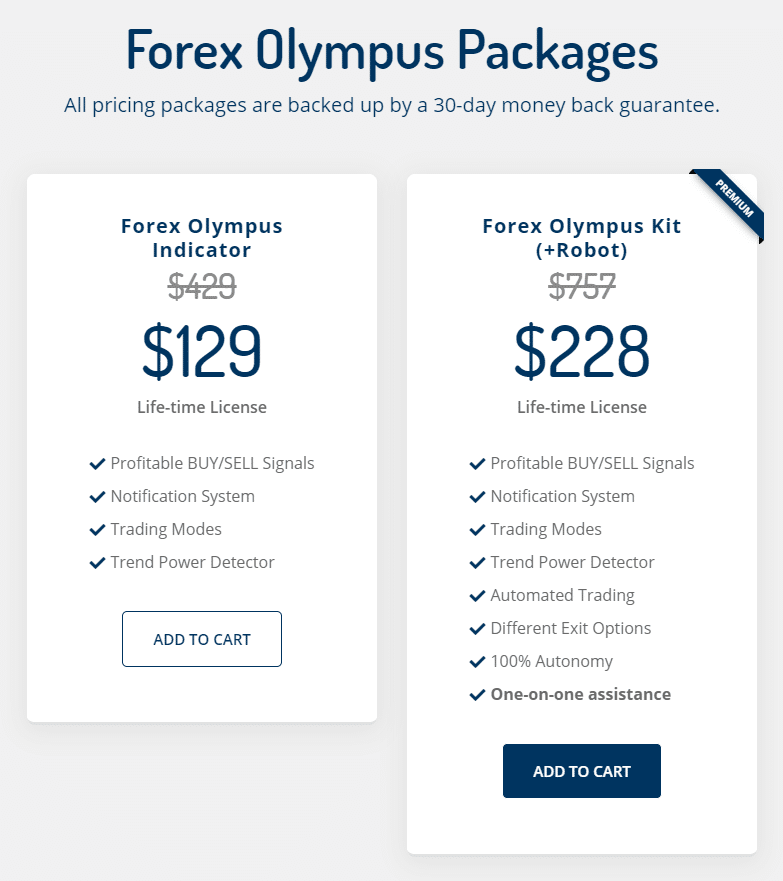 There is another package that unites features with a copy of a robot. This pack costs $228. There are automated trading, different exit options, automatic trading, and one-to-one assistance.
Trading Strategy
It looks like this system trades trends.

We can use it on M15, M30, H1, and H4 time frames on all major currency pairs.

We have no settings details to provide additional explanations.
Trading Results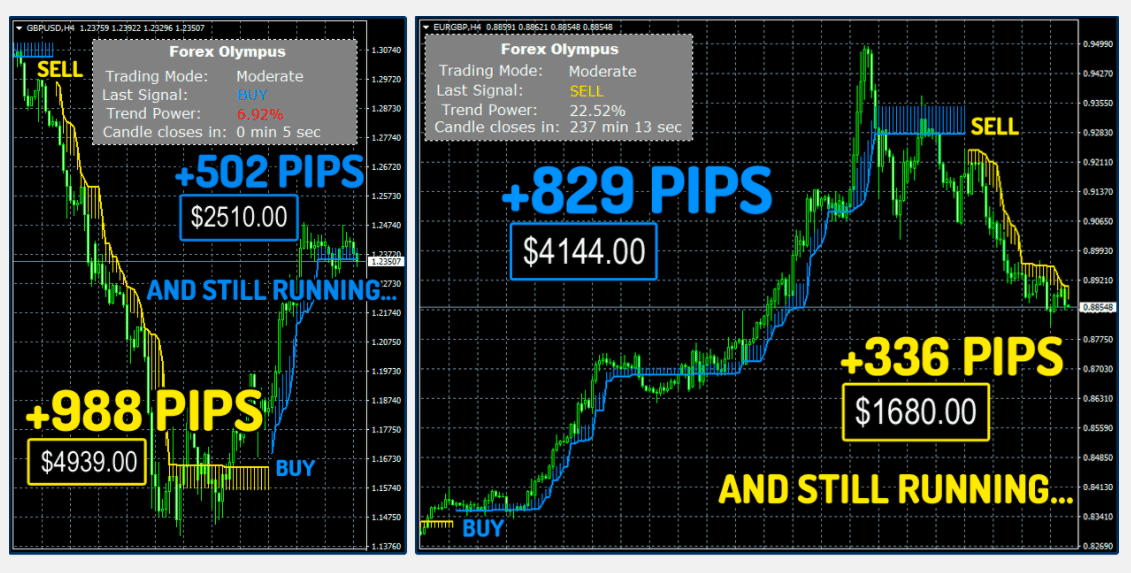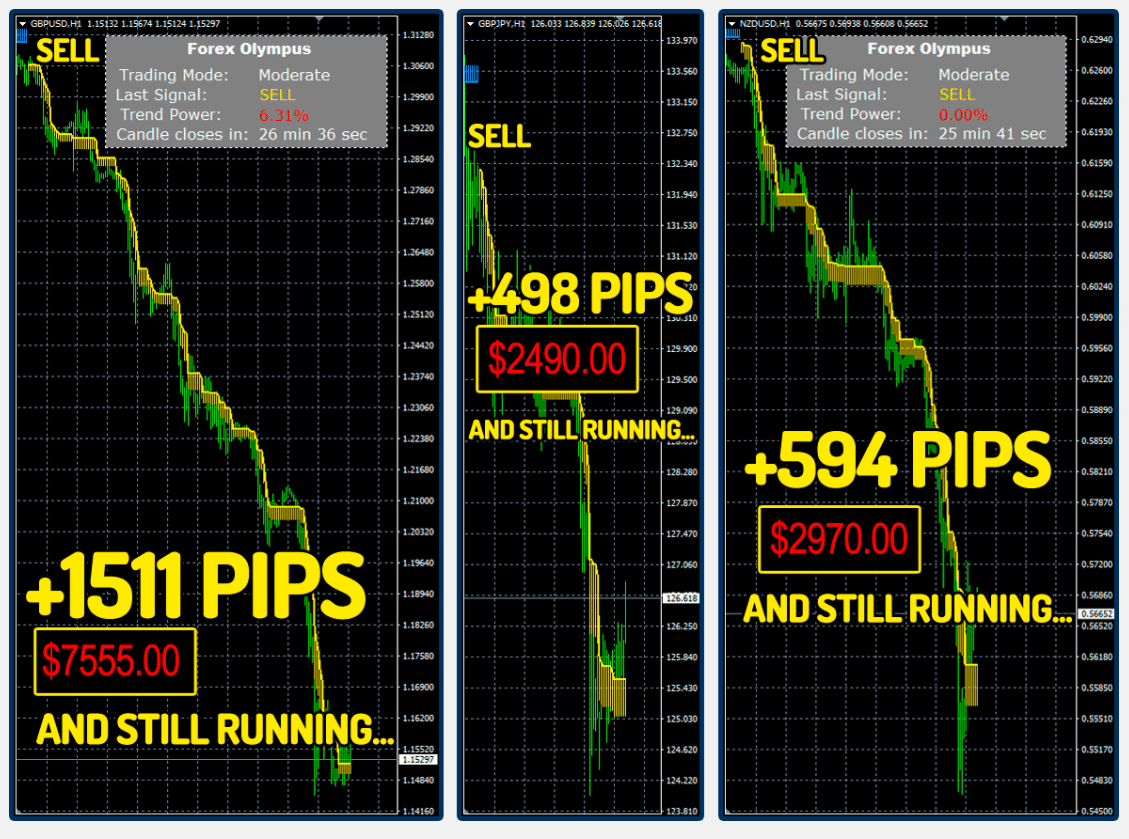 Commonly for these presentations, there are no trading results provided. Everything we have is only photoshopped screenshots of how many pips the system could gain if it was true. Anyway, to catch more people, the developers started not only to draw gained pips because it's unclear for people who don't know anything about Forex but also profits in dollars. All of this is one big scam. We'd like to see how the robot makes profits on the real or demo accounts. The most important part of accepting the robot for usage is to check all details:
The absolute gain

Drawdowns

Leverage

Broker

Win-rate

Monthly gain

Drawdowns

Lot Sizes

Trade length

Profit Factor

and much more.
Customer Reviews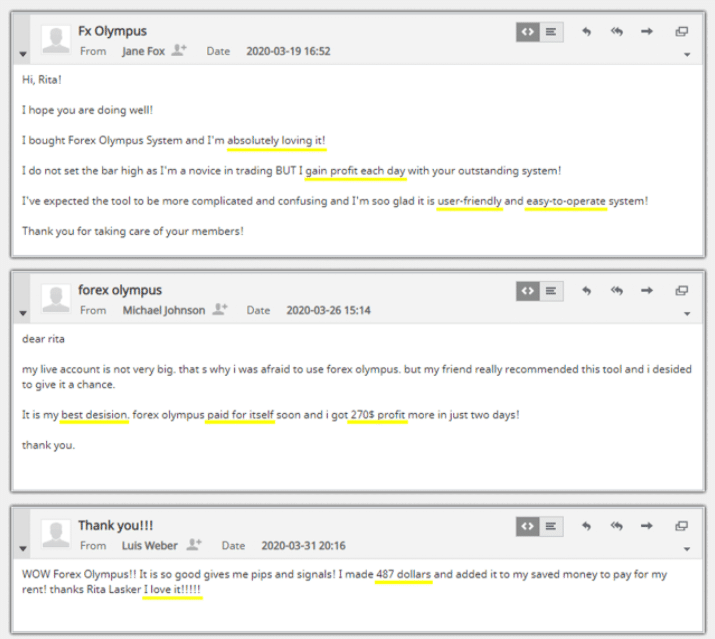 The presentation includes some fake feedback that could be found nowhere on the web. We'd like to see testimonials on the verification platforms like Trustpilot or Forex Peace Army. If no feedback is published, most likely, the one on the site is fake.
PROS
Indicator requires manual trading
CONS
No team revealed
No settings explanations provided
No money-management advice given
No monthly pips expectations provided
No backtest reports provided
No verified trading results provided
No money-back-guarantee provided
No real people feedback provided
No link on the "developer" provided
Verdict
Forex Olympus is a scam trading solution. The developers used a common and well-known template of the site to publish a presentation that is absolutely useless. There's nothing to read or pay attention to. The developers, as usual, carefully avoided telling something about indicators behind the strategy, pips expectation, publishing backtest, and verified trading results. They avoided disclosing themself, providing a refund policy, sharing social network profiles, and so on. There are no people's testimonials published on Forex Peace Army or Trustpilot.