Leprechaun is a Forex EA launched on 1st September 2020 that is capable of modifying the trading positions according to the changes in the trend. It trades consistently and claims to perform well even in volatile and unpredictable markets. As per vendor claims, both novice and experienced traders can work with this system without facing any problems. 
Product Offering
Leprechaun is sold on the MQL5 website, and here the vendor has provided a detailed explanation of how the robot functions and what advantages it provides to Forex traders. We also have a link to the official website, and to the tech support chart. The vendor recommendations for the system have been clearly outlined, and finally, we have the screenshot of a backtesting result and a video showing how the robot functions.
The developer of Leprechaun is a Russian trader called Aleksei Zaitsev. He maintains a YouTube channel, where there are several videos about the Leprechaun Forex EA. We don't know if he has developed similar robots in the past, and there is no information available on him. So from a vendor transparency perspective, we are not impressed by what Leprechaun has to offer.
Since this is a relatively new system, our expectations are not too high for this robot. We can see that the vendor has attempted to share as much information as possible about the Forex EA, which makes us think that it is unlikely to be a scam.
You can purchase Leprechaun for $100, although a free demo version is also made available by the vendor. Compared to other robots on the market, this is quite cheap, but it makes sense considering it is a system with only a few months of trading history. There is no mention of a money-back guarantee by the vendor.
Leprechaun
| | |
| --- | --- |
| Type | Fully-automated  |
| Price | $100 |
| Strategy | Martingale |
| Compatible Platforms | MT4  |
| Currency Pairs | XAU/USD |
| Timeframe | H1  |
| Recommended Min. Deposit | $10 |
| Leverage | 1:2000 |
Trading Strategy
Leprechaun uses the Martingale strategy, but unlike most robots using this strategy, the trade order grid is not anti-trend. Once the trend shifts, the trading position balances are reversed in the direction of the trend and the entire grid of orders is closed. It is recommended to trade pairs having high volatility with this robot. 
The vendor recommends not trading with this system on flat markets and holidays and running it during the American trading session. No indicators are used by the Forex EA, and the price acts as the only indicator. Although it can be used for any pair, the default settings are best suited for the XAU/USD pair.
After entering the market, the robot opens a grid of orders on the basis of the trend and then closes the grid, standing by for the next day. The vendor promises a daily profit of 1% and monthly refinancing exceeding 25%. You can trade with this robot on a timeframe of H1 with a minimum lot size of 0.01 for a cent account.
While you can start with a minimum balance of $10, the vendor recommends starting with $100 for best results. It is not a broker-sensitive robot, so you have the option of choosing any broker of your liking.
Trading Results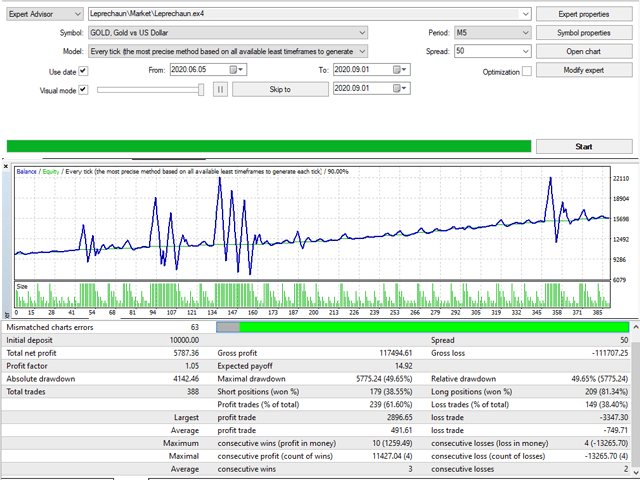 This backtest was conducted over three months in 2020, during which 388 trades were placed using Leprechaun. From an initial deposit of $10,000, a total net profit of $5787.36 was generated by the robot. We can see a moderately high win rate of 61.60% and a decent profit factor of 1.05. It should be noted that the relative drawdown is too high (49.65%) for this backtest.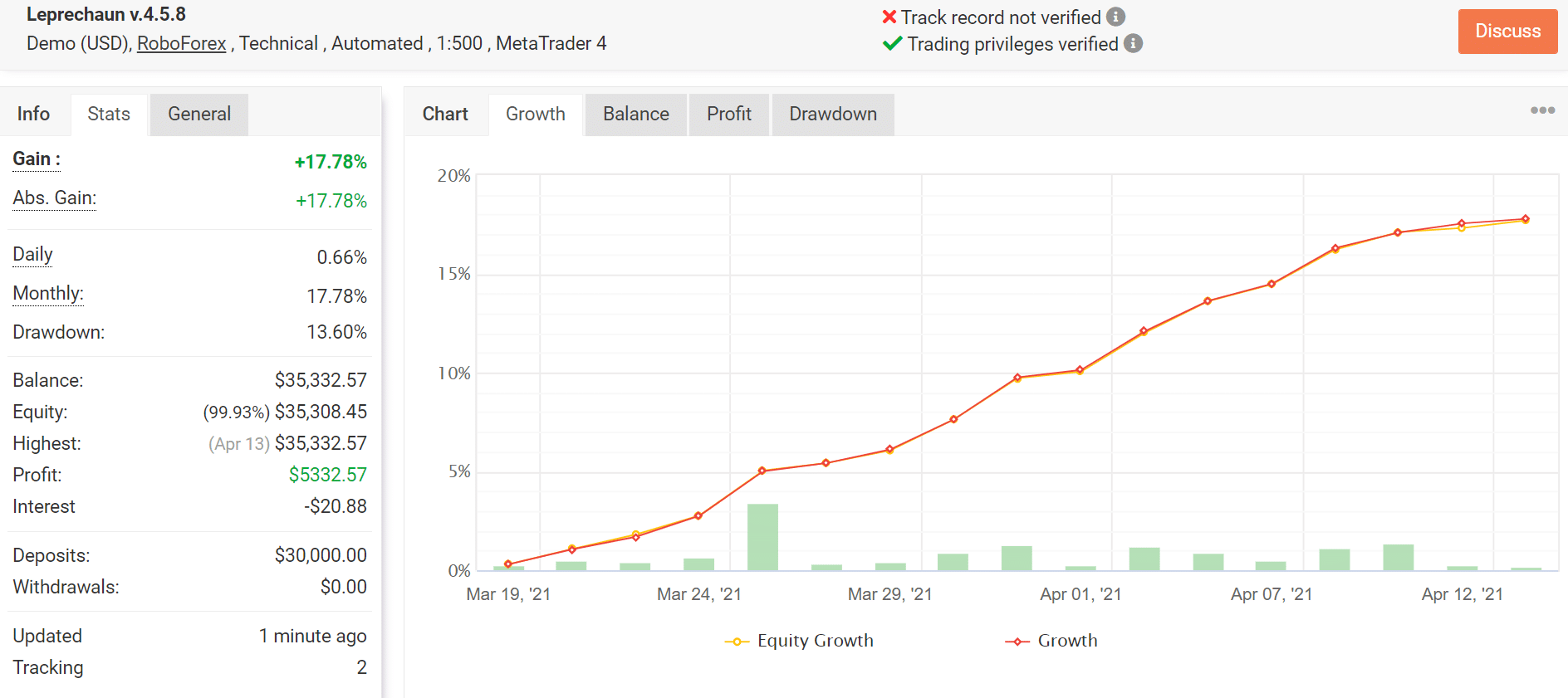 Here we have a live trading account of Leprechaun verified by Myfxbook. It has been active since 19th March 2021, and to date, 986 trades have been placed through it. Out of these, 704 trades have been won by the system, which represents profitability of 71%. This is significantly higher in comparison to the backtest.
Currently, the daily and monthly profits for this account are 0.66% and 17.78% respectively, while the drawdown is low at 13.60%. We take it as a good sign that the live trading results show a lower drawdown compared to the backtesting data. The profit factor is also more than decent at 2.43.
Customer Reviews
We couldn't find any user reviews for Leprechaun on popular review websites like Quora, Myfxbook, Forexpeacearmy, and Trustpilot. Since this is a relatively new introduction in the market, it is quite natural that it doesn't have much of a reputation as of now.
PROS
Verified live trading results
Backtesting data
Affordable price
CONS
Lack of vendor transparency
No customer reviews
Short trading history
Verdict
Leprechaun is a Forex EA that shows quite a lot of promise if the live trading results are anything to go by. But that being said, it is a new system launched by a vendor that we don't know much about, so you must exercise caution while working with it.