Purpose of a Forex Robot
Forex Robot Plus is designed to act as a professionally developed robot advisor for trading forex CFD trading. It is available as a free Software-As-a-Service (SaaS) and is not owned by a particular broker. The trading software demonstrates several options for customizations as it claims to be designed by veteran developers who are skilled in algorithmic trading systems. To make the automated robot work, a user has to make use of the abundance of options provided in the software.
Forex Robot + Website Overview
The official website of Forex Robot Plus seems like the most decent one out there as it clearly doesn't include even a hint of unprofessionalism. There are no video testimonials with obvious fake actors in it. Robot Forex Plus does not claim or guarantees to make its users a millionaire overnight. but instead, it pitches the simplicity of its platform and its security, which makes any new trader create a free account, makes a deposit to a dependable broker safely and gets profit by making auto-trades. A user may chat for assistance at any point whenever required via the contact page.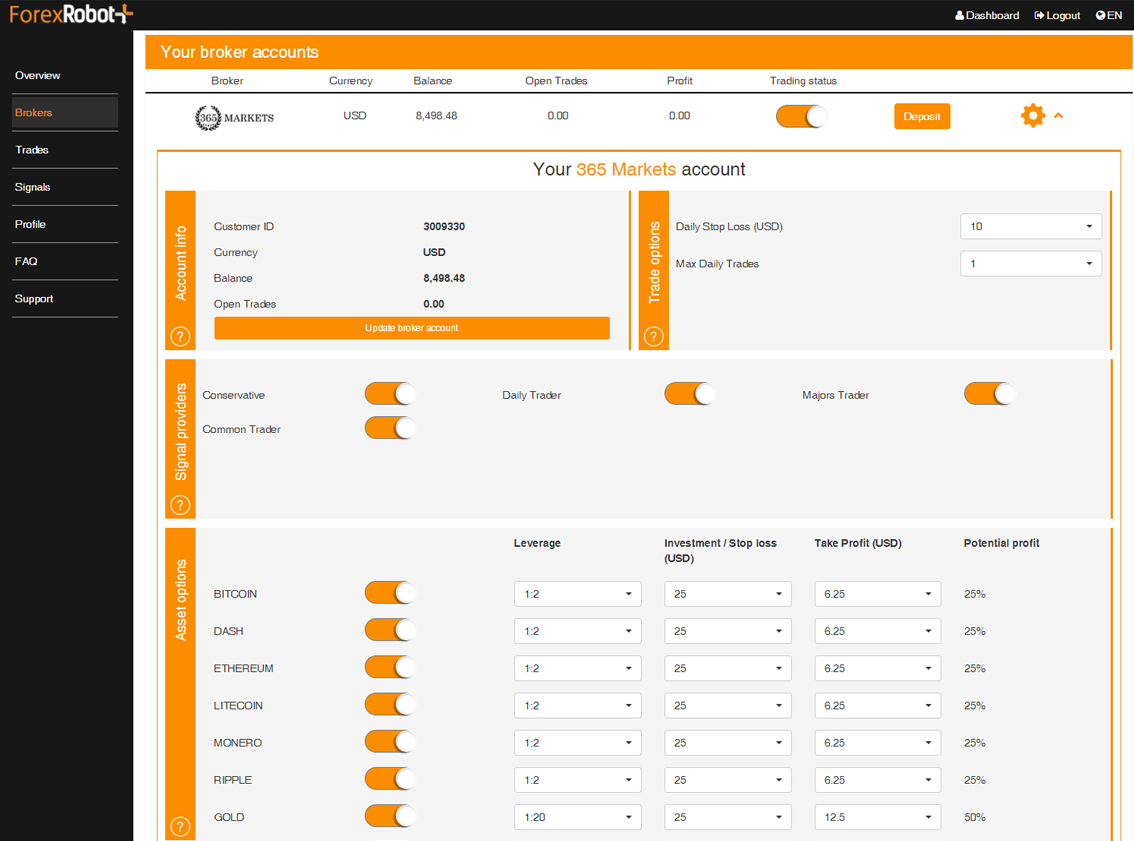 Settings and Parameters
The Forex Robot Plus comprises of five sections which are:
Trade Options
Traders can select the amount of trading, a maximum number of trades, reverse trading and daily stop loss to start.
Signal Providers
Users are offered 4 types of signal providers namely, Trading Euro, Trading US, Conservative and Daily Trader to choose from.
Risk Level
This forex robot provides 4 different risk levels. Choosing any of these means going from "All Signals" to just "Few Signals".
Asset Options
One gets a wide range of asset options for trading and it includes not only currency pairs but also few famous cryptocurrencies.
Signal Time Frames
This function is for determining the CFD durations before it is traded.
Trading Strategy
As for the trading strategy, Forex Robot Plus discloses very fewer details same as any other forex robot. To begin using this software, users are prompted to make a free account by submitting their details such as Name, e-mail Address, phone number, choice of currency, etc. After setting up a trader's broker account, one doesn't have to do anything. There is no need for the user to be online because Forex Robot Plus performs auto-trade from their secure data center which is directly connected to all of the available brokers. The developer/endorser clearly admits that Forex Robot Plus cannot predict a trader's gain by making use of their software and that it is not a license holder.
Currency Pairs
Available assets that are said to work best for Forex Robot Plus are;
AUD/JPY, AUD/USD, EUR/USD, GBP/USD, USD/CHF, USD/CAD, DASH, BITCOIN, ETHEREUM, LITECOIN, GOLD, Silver etc.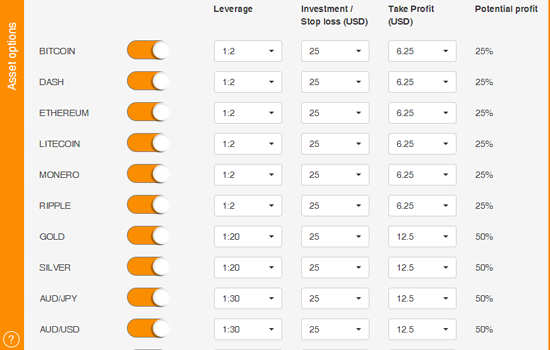 Disadvantages of this Forex Robot
Let's not forget that forex trading is a highly speculative and risky trading environment. The website and few "overly-positive" online reviews claim that it is available for traders from all countries, including U.S. traders are not allowed to trade with pre-selected brokers and must choose from a list provided which includes 24 Options and BinaryCent.