Forex Trend Hunter is an automated Forex trading tool that supports five currency pairs: EUR/USD, EUR/JPY, GBP/JPY, USD/CAD, and USD/JPY. The robot was updated to the 5.3 version being advertised as the one showing 'better results'. The developers of this MT4 tool claim that Forex Trend Hunter was 'developed especially for the needs of ordinary forex traders yet also used successfully by many professional traders.' The Automated Forex Tools group believes that this EA is the best trend-following and long-term profitable EA on the market. Is it true? Let's check it out.

Product Offering
The Forex Trend Hunter website consists of a homepage, a list of expert advisors the company offers, Forex VPS plans page, video tutorials, FAQ, About and Contact pages. On the homepage of Forex Trend Hunter, the developer provides us with a detailed product presentation, live performance results, key features of the robot, backtesting reports, pricing details and more.
The team that stands for this EA is the Automated Forex Tools group, who despite having a professionally organized website design failed to provide us with any information about their identity of corporate headquarter location. They represent themselves as an experienced team of Forex traders and developers with some having over 12 years of experience in Forex trading. 

Let's jump to the list of key features of this expert advisor:
Fully automated and customizable trading without the need for human interference

The robot runs on the MetaTrader4 terminal

It is an easy to use software, so both experienced and ordinary traders can enjoy trading with Forex Trend Hunter

It is said that this EA  is the 'best trend-following and long-term profitable Forex robot on the market'

The robot promises over 300 profitable pips per one transaction

The robot has in-built money management and loss recovery systems

It is compatible with all brokers which offer MT4 terminal, including US-based brokers

The robot is equipped with a broker protection system that protects traders' account from unfair brokers and their deception techniques

It comes with lifetime customer support and free updates and updates of the system

The robot can be tested for 1 month on a free Demo account

A stable Internet connection is a must

The EA trades 24/5
Interested in the robot traders can buy it for only $55. The regular price of this EA is $69. This one-time payment does not include any additional fees in the future. Each digital copy of Forex Trend Hunter comes with 1 real and 2 Demo accounts, free lifetime updates, and full-time customer support. In addition to this, traders are provided with a 60-day money-back guarantee. Thus, in case of necessity users can ask for a refund within 60 days after the purchase date. Every purchase is performed via ClickBank. Thus, we can be sure our funds will be refunded if we ask.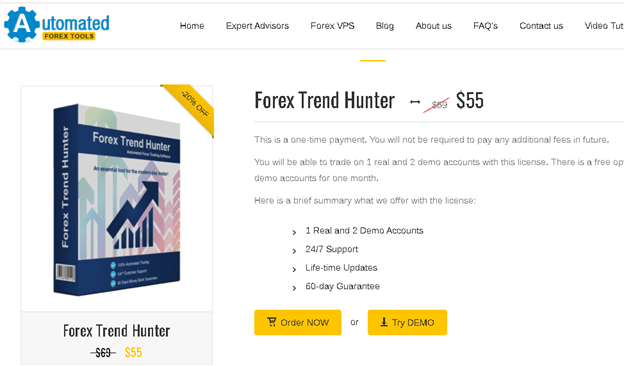 Trading Strategy
This is a scalping EA that trades 5 currency pairs: EURUSD, EURJPY, GBPJPY, USDCAD, and USDJPY

The minimum account balance to start is $500

Traders can test the robot on a free Demo account for 1 month. The recommended minimum amount for running the EA on the Demo account is $5000-$10000

It works on the H1 timeframe

Market trends remain the key strategy for Forex Trend Hunter. It uses market movement for its long and midterm trades.
Trading Results
The dev provided multiple backtest reports for each currency pair on their website. It is the EUR/USD symbol at the H1 timeframe. The robot traded with a 10% risk. Backtesting results are based on five years of trading activity data beginning from 2013 to 2018. The modeling quality was 90%. There were 35670 bars in the test. The initial deposit was $10K. For 5 years of trading, the robot could generate $54950.06 of the total net profit. It traded 280 trades and won 206 out of them, which represented a win rate of 73, 57% with a profit factor of 1, 47. Maximal drawdown was high – 40.37%.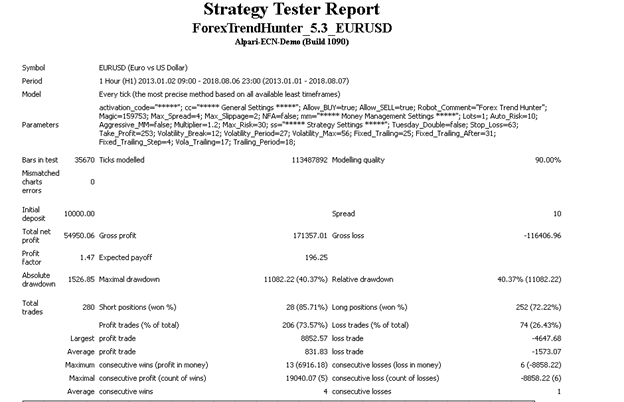 We are shown a live demo (USD) trading account working under IC Markets brokerage on the MT4 platform. Its leverage is set at 1:500. The account launched myfxbook on July 15, 2019. Its track record is not verified.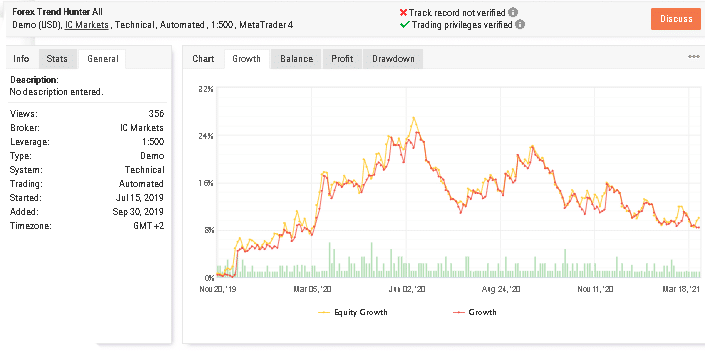 It was deposited at over $4,5K. For less than 2 years of trading, its total gain has grown to only 8, 43%. Its daily and monthly gains are insignificant (0, 02% and 0, 49%). It has brought $380 of profit. There is nothing to talk about. As you can see on the growth chart below, the profitability of this trading account has been constantly dropping down since the beginning of June 2020.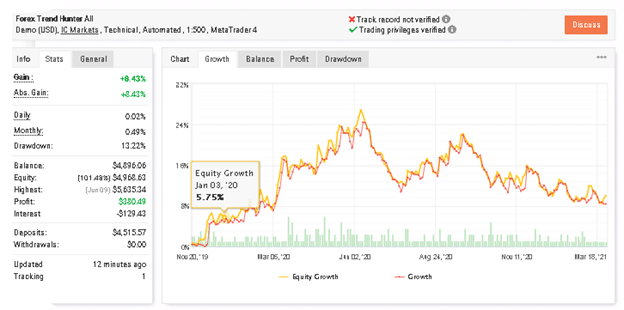 The peak drawdown was 13, 22%, which is too much as for EA generating 0, 49% monthly.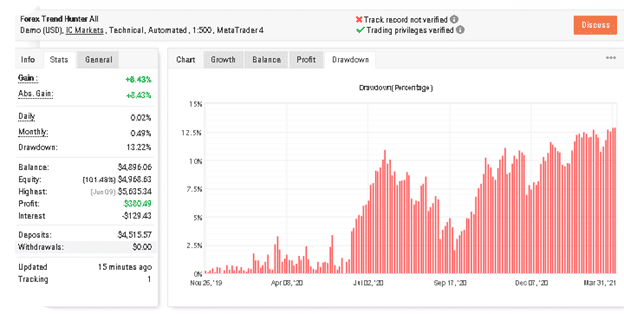 The robot has traded 302 trades, but only 129 out of them were profitable. Its win rate for both long and short positions is low – 43% and 41% respectively. The profit factor is lower than the one we see on the backtesting report – 1, 09.

It trades 5 currency pairs, but only 3 of them bring profits: EURJPY, EURUSD, and USDCAD. The most profitable symbol is EURJPY – $1061, 78.

It trades with high risks to the account balance.

The 2021 trading results are nothing to talk about.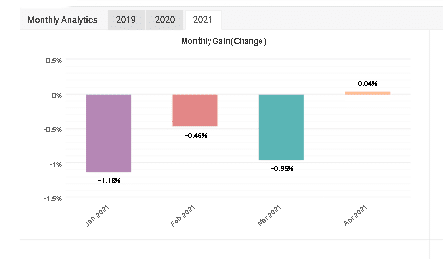 Customer Reviews
Unfortunately, we couldn't find any review on the web.
PROS
Well-known trading agency
Backtesting reports provided
The live trading account provided
Low pricing
60-day money-back guarantee
Ability to try the EA on a free Demo account
CONS
The minimum deposit to run the EA on the Real account is $500
The minimum deposit to run the EA on the Demo account is $5K - $10K
The robot trades with high risks to the account balance
Extremely low win rates
Undisclosed trading strategy
No setting details provided
Poor trading results in 2021
No customer reviews
Verdict
Despite very attractive price and 60-day money-back guarantee, this EA is not the best trading solution to invest now. The system is not as effective as it used to be in the past. Its win rate is low. The robot trades with high risks to the account balance. The 2021 trading results have brought nothing, but losses. Nevertheless, the final decision depends upon you. You can try the robot on a free Demo account, but be ready to deposit $5000.