FTMO, or Forex Traders Money Office, is a renowned proprietary trading firm based in the Czech Republic. They offer a unique opportunity for individuals to become professional traders by providing them with financial backing. By passing FTMO's rigorous Challenge and Verification process, traders can manage accounts up to $400,000, keeping 70% to 90% of their profits. This introduction will delve into a comprehensive review of FTMO, examining the firm's offerings, the pros and cons, and how it compares to other prop trading firms in the market.
What is FTMO?
FTMO is a proprietary trading firm that offers a unique pathway for aspiring Forex traders to achieve professional trading status. The firm provides necessary financial support, allowing individuals to trade without risking their capital. To qualify for this backing, traders must successfully pass the firm's Challenge and Verification process, which is designed to assess their trading skills and risk management abilities. Once approved, traders are entrusted with FTMO accounts, with capital up to $400,000, and they can keep between 70% to 90% of the profits they make. By providing such opportunities, FTMO aims to discover talented traders worldwide and help them succeed in the competitive Forex trading market.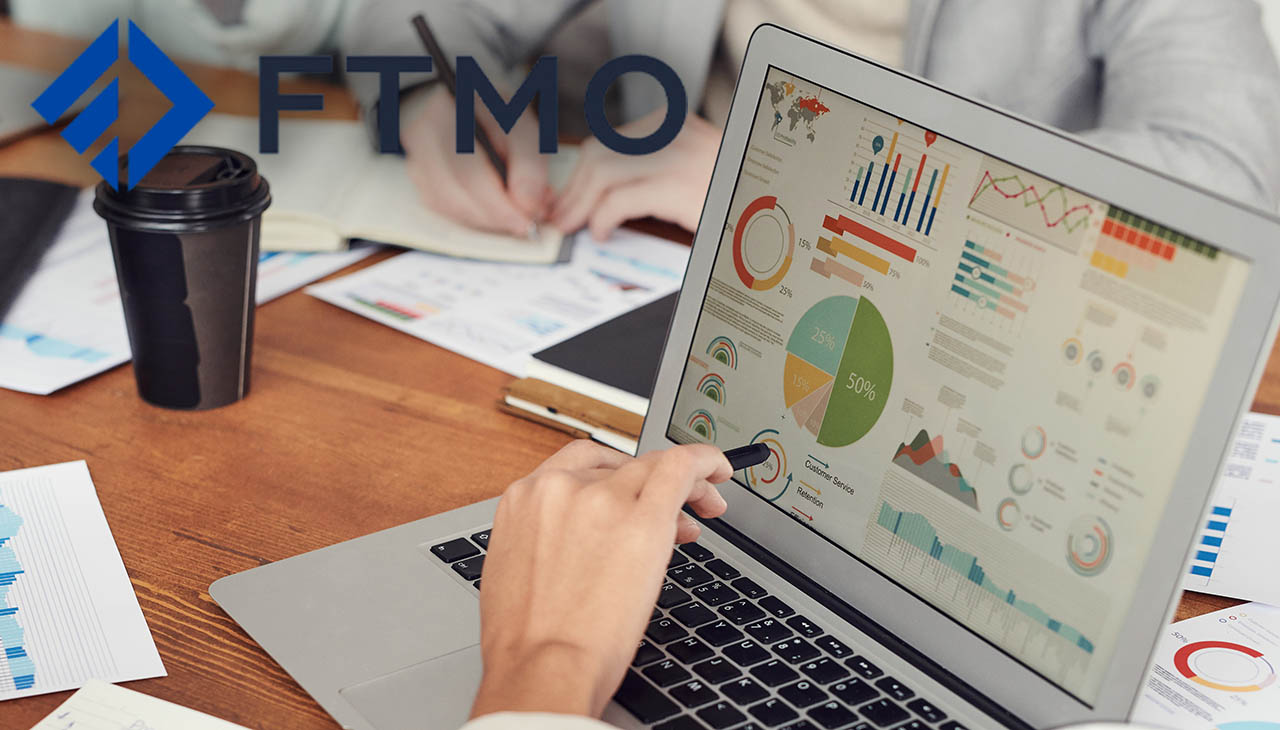 How does FTMO work?
FTMO operates in a simple yet effective manner. The first step to becoming an FTMO trader is to take on their Challenge, a simulation of real trading, but with virtual money. The Challenge aims to assess a trader's ability to generate profits while managing risks effectively. Upon passing the Challenge, traders move to the Verification stage, a less strict process to confirm a trader's skill set gleaned from the Challenge.
Once traders successfully pass both the Challenge and Verification stages, they become eligible to manage one of FTMO's funded accounts. Trading activity occurs through the MetaTrader 4 or 5 platforms. FTMO provides its traders with full flexibility in terms of trading strategy, style, and time frame, with no restrictions on stop loss/take profit levels or scalping and high-frequency trading.
Traders can keep 70%-90% of their profits, and withdrawals can be made monthly. In case of losses, FTMO carries the risk, and the trader is not liable. The trader's only financial obligation is the initial fee for the Challenge. This unique model allows traders to profit from the Forex market while minimizing their financial risks.
Features of FTMO
FTMO offers several key features that make it a popular choice for traders looking to get funded and grow their trading careers. Here are some of the notable features of FTMO:
Funding for Traders: FTMO provides funding to traders who pass their evaluation process. Traders can receive a funded account with capital ranging from $10,000 to $300,000, depending on their chosen account type.

Real-Time Evaluation Process: FTMO's evaluation process is conducted in real-time, meaning traders can start trading with their strategies immediately. This allows traders to showcase their skills and potentially earn a funded account without any delays.

Profit Sharing Model: Once traders become funded by FTMO, they can keep a significant portion (usually 70-80%) of the profits they generate. This profit-sharing model allows traders to benefit from their successful trades and encourages them to achieve consistent profitability.

Trading Challenge: FTMO's Trading Challenge is designed to evaluate traders' skills and assess their ability to manage risk. Traders are required to meet certain profit targets and drawdown limits within a specified trading period to complete the challenge.

Account Types: FTMO offers different account types to cater to traders with varying experience levels. They have a Beginner Account for novice traders, an Advanced Account for intermediate traders, and a Professional Account for experienced traders.

MetaTrader 4 Platform: FTMO supports trading on the popular MetaTrader 4 platform, which offers a wide range of tools and features for technical analysis, order execution, and risk management.

Risk Management Tools: FTMO emphasizes the importance of risk management and provides traders with risk management tools to help them control and mitigate potential losses. This includes daily loss limits and maximum drawdown limits.

Personal Guidance and Support: FTMO provides personal guidance and support throughout the evaluation and funding process. Traders have access to dedicated account managers who can assist them with any questions or concerns they may have.
It's worth noting that these features are based on the information available at the time of this writing and may be subject to change. For the most accurate and up-to-date information, it is recommended to visit FTMO's official website or contact their support team.
Trading Challenge
The FTMO Trading Challenge is the first step for aspiring traders to secure funding from the firm. This challenge serves as a test, evaluating traders' skills, strategies, and ability to manage risk. It's conducted on a demo account with virtual money, mimicking the dynamics of the Forex market. The challenge duration is 30 days, during which traders must meet specific profit targets and abide by certain restrictions to keep drawdowns at a minimum.
Traders can choose from various challenge levels, each with different initial balances and profit targets. Regardless of the chosen level, all traders have to adhere to a strict maximum loss limit. Traders who successfully meet all challenge criteria advance to the Verification stage. FTMO's Trading Challenge is a unique and fair way to assess a trader's capability to manage a live-funded account responsibly and profitably.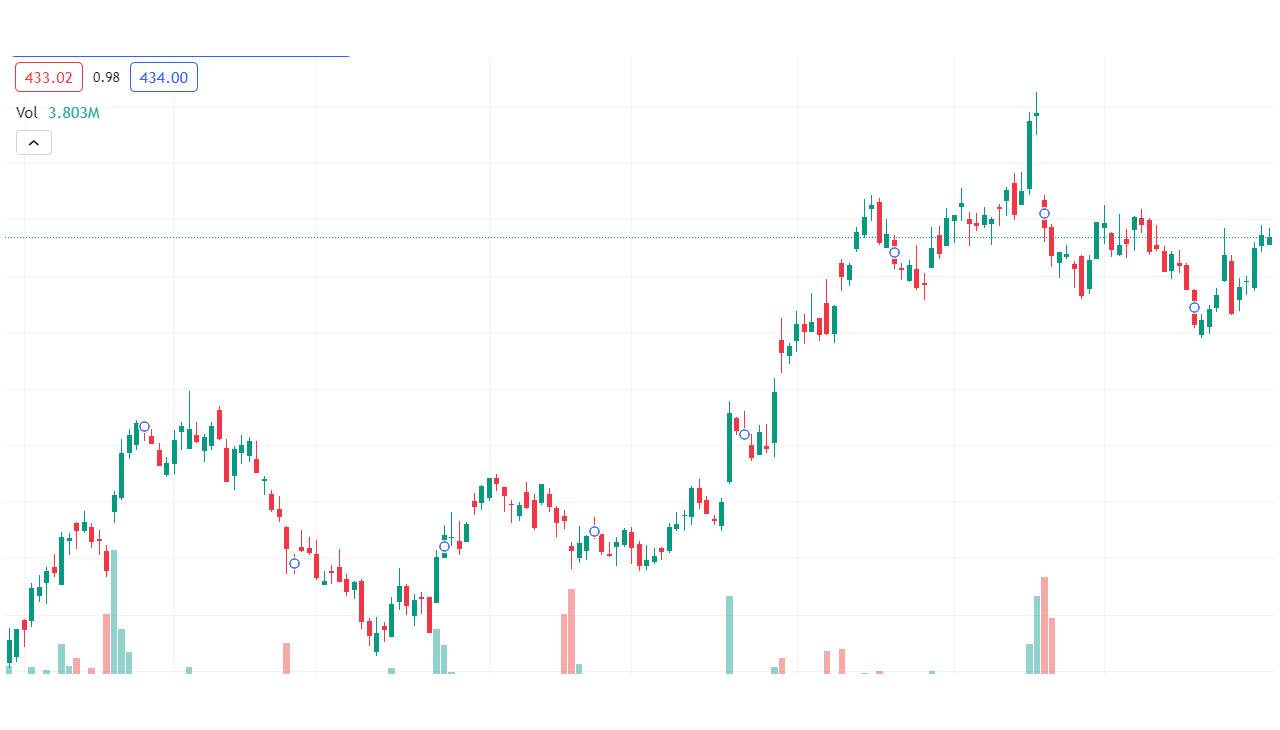 Account Types
FTMO offers three different account types to cater to traders with diverse experience levels and trading styles:
Beginner Account: Ideal for those new to Forex trading, the Beginner Account provides traders with an opportunity to test the waters and learn the basics of trading. With a manageable funded amount, the account allows traders to gain experience without the stress of large financial risk.

Advanced Account: This account type is tailored for traders who have some experience and are looking to expand their skills further. The funded amount is larger, and the profit target is slightly higher, providing more room for growth and profitability.

Professional Account: Designed for skilled and seasoned traders, the Professional Account comes with the highest funded amount. Traders are expected to meet more challenging profit targets, thus offering a chance to significantly increase earnings.
Each account type has a specific set of rules and conditions that traders must adhere to. FTMO ensures that traders have the flexibility to trade according to their strategies and style, regardless of the account type they choose. The goal is to provide an environment that fosters learning, growth, and profitability for traders at all experience levels.
Trading Tools and Support
FTMO equips traders with an array of trading tools and robust support to ensure they can trade effectively and efficiently. A key tool is the proprietary FTMO App which allows traders to monitor their trading progress, access account analysis, and receive important notifications. The app is designed for convenience, ensuring that traders can keep track of their trading activities at all times.
Additionally, FTMO provides educational resources and materials to help traders better understand the dynamics of Forex trading. This includes webinars, articles, and e-books covering various trading topics. Traders also have access to the FTMO Market Research tool, which provides insights into market movements and helps traders make informed decisions.
In terms of support, FTMO prides itself on providing exceptional customer service. Traders can reach out to the FTMO team via email, live chat, or phone for any inquiries or issues. Dedicated account managers are also provided to guide traders through the funding process and help them navigate any challenges they may face. FTMO's emphasis on providing excellent trading tools and unwavering support makes it an ideal platform for aspiring and experienced Forex traders.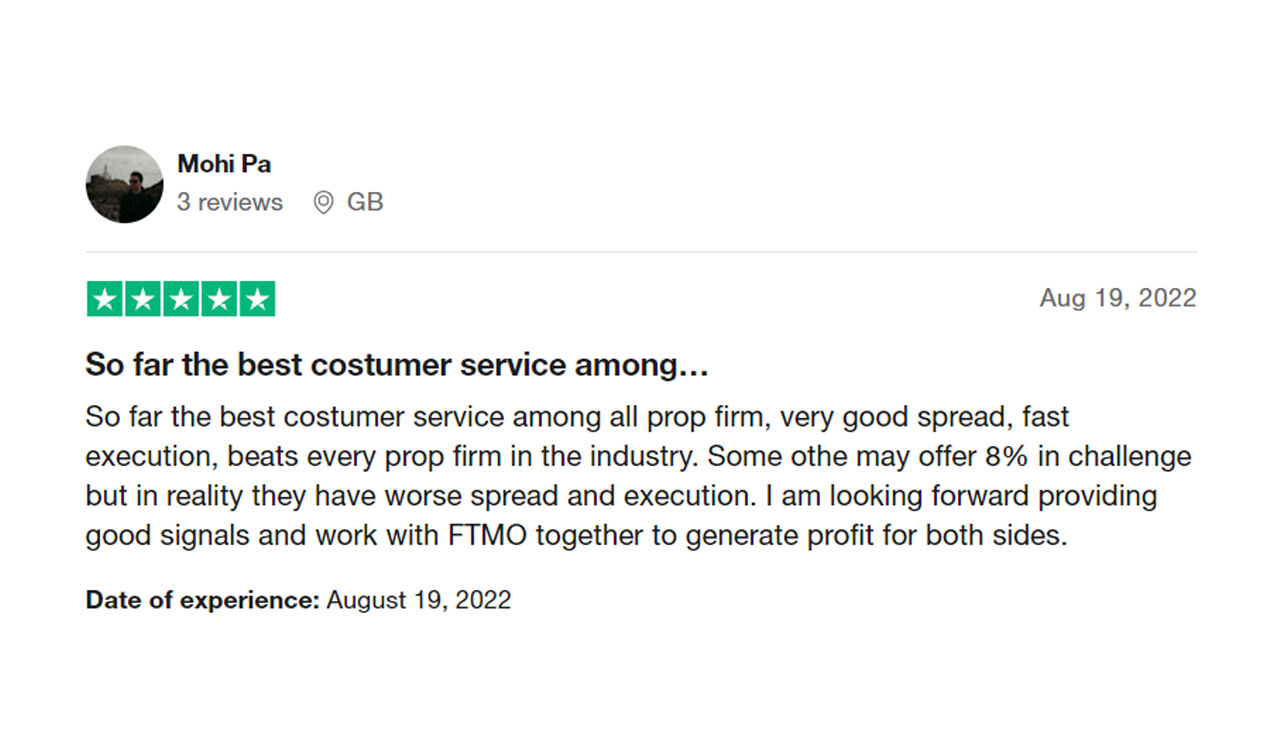 Reviews and Testimonials
FTMO has garnered a significant amount of feedback from its users, much of which is positive. Users appreciate the transparent and fair evaluation process, professional customer service, and the firm's dedication to supporting its traders. Here are a few testimonials from actual FTMO traders:
"FTMO has been a game changer for me. The challenge and verification stages helped me hone my trading skills and strategies. The support team was there for me every step of the way, and their guidance was invaluable. Now, as a funded trader, I'm able to trade without the stress of risking my capital." – John S., Funded Trader.

"I'm impressed with the range of tools and educational resources available at FTMO. The proprietary app is a stand-out feature, making it easy to keep track of my trading progress anytime, anywhere." – Emily K., Advanced Account Trader.

"As someone new to Forex trading, I found FTMO's Beginner Account perfect for learning the ropes. The manageable funded amount and the support provided by the FTMO team have been critical to my growth as a trader." – Robert D., Beginner Account Trader.
Please note that trader experiences can vary, and past performance is not indicative of future results. It's essential to do your research and ensure that FTMO's trading model aligns with your trading style before taking part in the challenge.
Transparency and fairness
6
Range of tools and resources
7
Unique and fair Trading Challenge for assessing traders' risk management
Three account types designed to suit different trading styles
Proprietary app with comprehensive features
Robust selection of educational resources
Exceptional customer support
Positive user reviews and testimonials
Potential to incur losses due to market volatility and risk associated with trading
No guarantee of success in the Trading Challenge due to the evaluation process
Unsuitable for those looking for passive income or those without a solid understanding of Forex trading
Not all countries are eligible to take part in the challenge
Summary
FTMO offers an outstanding trading platform for aspiring and experienced Forex traders. The firm's Trading Challenge is a unique way to assess a trader's capability to manage risk while securing funding if successful. FTMO provides three different account types, each tailored to meet the needs of diverse trading styles. Additionally, the company offers a varied selection of tools, resources, and support to ensure traders have the best experience possible. Reviews and testimonials from FTMO's users are overwhelmingly positive, highlighting the firm's commitment to providing an enjoyable and profitable trading experience. Before taking part in the challenge, it is important to do your research and make sure that FTMO is right for you. With a comprehensive suite of tools and services, FTMO provides an unparalleled trading experience for all levels of traders.