FXConstant is a new powered by Forex Store expert advisor, that is advertised as a 'constant key to profitable automated trading for every day. This ATS promises to provide profitable automated trading services daily. The robot has 20 different patterns, which are constantly being compared to market conditions. The vendor also claims that FXConstant can be used in combination with other EAs, allowing it to keep the drawdown to a bare minimum.
Product Offering
At the very beginning on the FXConstant website, the vendor provides us with live trading results of his EA. He also provides us with a brief explanation of how the EA works and tells us about its different 20 patterns that adjust to the market conditions.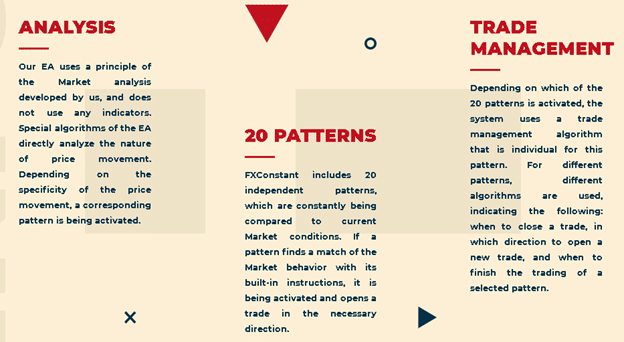 Backtesting reports for both aggressive and normal modes are presented separately, after which pricing details are outlined. As usual, we are not told who the vendor is. We know nothing about the Forex Store team. It is disappointing.
To get in touch with the support we need to fill out an online contact form on their website.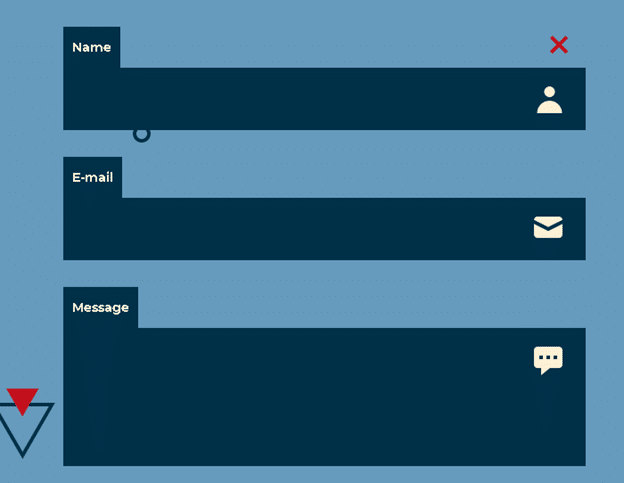 The vendor points out that this EA suits experienced traders as those who are new in FX trading. They claim you can make significant profits even without having the necessary skills. They claim that with the help of real statistics, fast trading, and capital protection maneuvers, this EA can provide stable income in any market condition.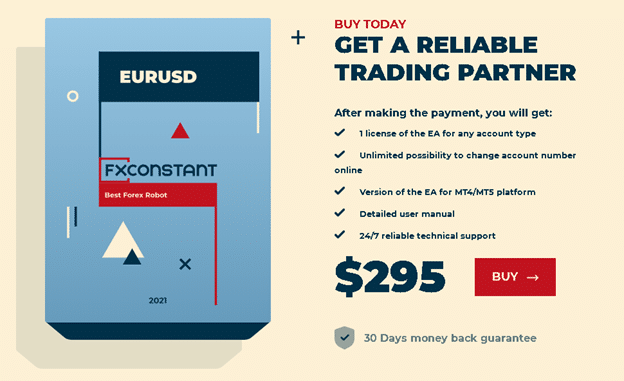 Interested in the FX EA traders can purchase a digital copy of FXConstant for $295. The package includes one license for any account type, unlimited possibility to change account number online, MT4 and MT5 versions of the EA, a user guide, and full-time customer support. A money-back guarantee of 30 days is also present.
Trading Strategy
The vendor failed to provide detailed strategy information used by this EA. The one thing we know is that the robot does not use any indicators and utilizes a market analysis principle developed by the company. Special built-in trading algorithms of this EA analyze the nature of price movement.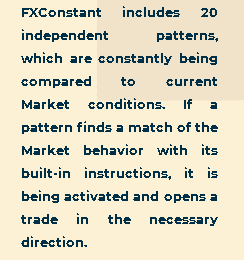 Trading Results
There are 2 backtesting results for both normal and aggressive modes provided. Let's analyze the normal trading mode in detail.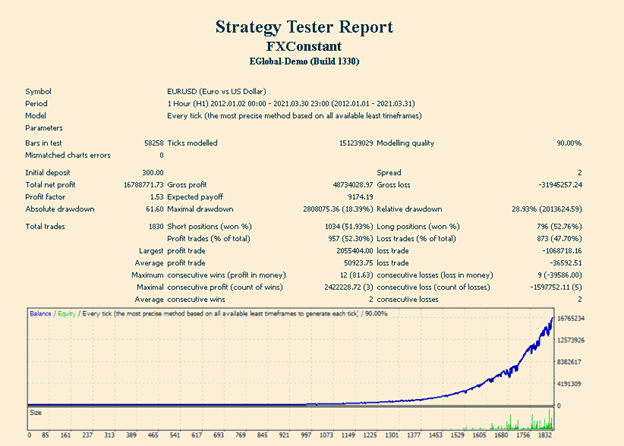 The backtesting started in 2012 and ended in 9 years, on March 30, 2021. The modeling quality was only 90%. We prefer the modeling quality to be 99, 9%, as it gives more insight into the system's slippage, commissions, and other important stats. The robot was trading on the H1 timeframe with $300 on its balance. For nine years of trading activity, it could generate over $16M of profit. It trades both Long and Short directions equally: 52, 76% and 51, 93% respectively. It traded 1830 trades and won only 957 out of them. The profit factor was 1, 53. The maximal drawdown was 18, 39%.
The live trading results of the robot show a gain of 357, 74%, and a monthly gain of 7, 79%. The robot trades on the real (USD) account under FXOpen brokerage and trades with 1:500 leverage on the MT4 platform. It works automatically using technical indicators data. Being deposited at $1K, the robot generated over $3K of income for 1 year and 10 months of trading history.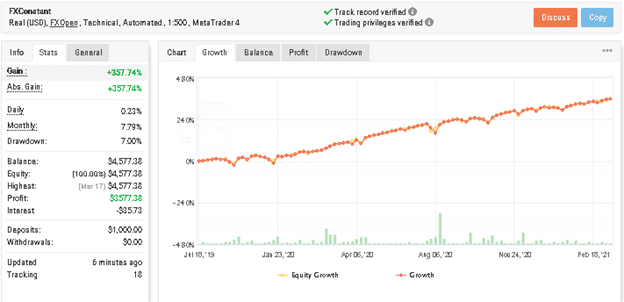 The win rate for Short and Long trading positions ((53% and 60%) and the profit factor (1, 65) are mostly the same we see in the backtesting report. The robot trades with a low drawdown of 7%, which is good for trading.
It trades with high risks to the account balance. There is a 25, 82% chance of losing 10% of the account balance in case of 5 consecutive losing deals in a row.

It uses Martingale to recover after losses, increasing its Lot size from 0.15 to 0,25 or even 0, 45.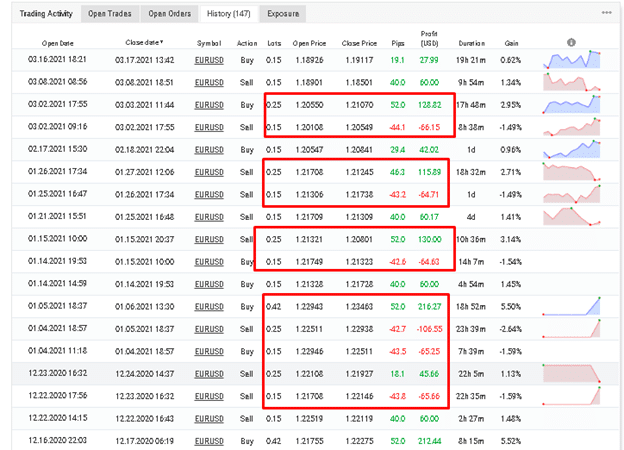 It looks odd that the trading account stopped trading on March 16. What is the reason? Why has there been no trading activity since that time? It looks odd and suspicious.
Customer Reviews
Unfortunately, we couldn't find any customer reviews on FPA, Trustpilot, Quora, or other reputable websites.
PROS
Live trading results revealed
Backtesting reports provided
Money-back guarantee offered
Affordable pricing
CONS
Lack of vendor transparency
Undetailed trading strategy
Martingale on the board
Few trades placed through the live trading account
The last trading activity was on March 2021
No customer reviews
Verdict
Although the vendor didn't mention this information in the FXConstant presentation, we've found that the EA uses Price Action with low Martingale to make profits. The last trading activity of the robot was 2 months ago. Why? If the EA is so good, then why was it stopped? Why does the vendor not hurry to update this info? It looks weird and suspicious. We cannot trust our funds this EA.