Lucky Gold Scalper is a robot trading exclusively in Gold that promises a high win rate with its trades. It was launched on 12th March 2021 and is based on high-quality backtesting data. However, whether it can truly win profits consistently in the live market remains to be seen. Thus, it becomes necessary to conduct a thorough analysis of this system from an objective standpoint. 
Product Offering
There is no official website for Lucky Gold Scalper, and all the information available on it can be found on the MQL5 page. Here, the vendor has given us a rough idea of what the robot is about, and has also shared the link to a page on the website showing its live performance. Next, we have a set of recommendations, followed by a screenshot of the backtesting result.
This Forex EA has been developed by Nguyen Hang Hai Ha. He is a Vietnamese trader who has been trading in the Forex market since 2012. Apart from Lucky Gold Scalper, he has developed other systems like Defender Scalp, Mandala, Cullinan, Monster Scalper, Dragon Pip, Dharma, Immortality, Sagittarius, etc. No other information is available on this person.
Taking a quick look at the presentation, we cannot find any verified live trading results. The information provided on the robot seems insufficient. Thus, at this moment, we do not have high expectations from this Forex EA.
You can purchase the software for $399, which is not a cheap price for a newly-launched robot. Fortunately, there are several rent plans you can choose from. The plans for 1 month, 3 months, 6 months, and 1 year are priced at $97, $197, $257, and $297, respectively. A free demo version of the robot is available for download, but no money-back guarantee is offered by the vendor.
Lucky Gold Scalper
| | |
| --- | --- |
| Type | Fully-automated  |
| Price | $399 |
| Strategy | Scalping |
| Compatible Platforms | MT4  |
| Currency Pairs | XAU/USD |
| Timeframe | All |
| Recommended Min. Deposit | $2000 |
| Leverage | Not disclosed |
Trading Strategy
Lucky Gold Scalper is a fully automated EA that can work on any timeframe. As per vendor recommendation, you ought to use it with a VPS having low latency. This robot only trades in gold, for which you should use default settings and an initial capital of $2000. It is mentioned that a balance of $3000 will generate better results. 
The EA uses a scalping strategy, relying on price action volatility to seek out trading signals that have higher chances of success. If it comes across positions having floating losses, the positions with the least losses will be closed after compensating for the gains. 
The vendor advises against using this robot with others on the same account and against depositing or withdrawing funds when open positions exist. It is further recommended to use a broker with 2 decimal places.
Trading Results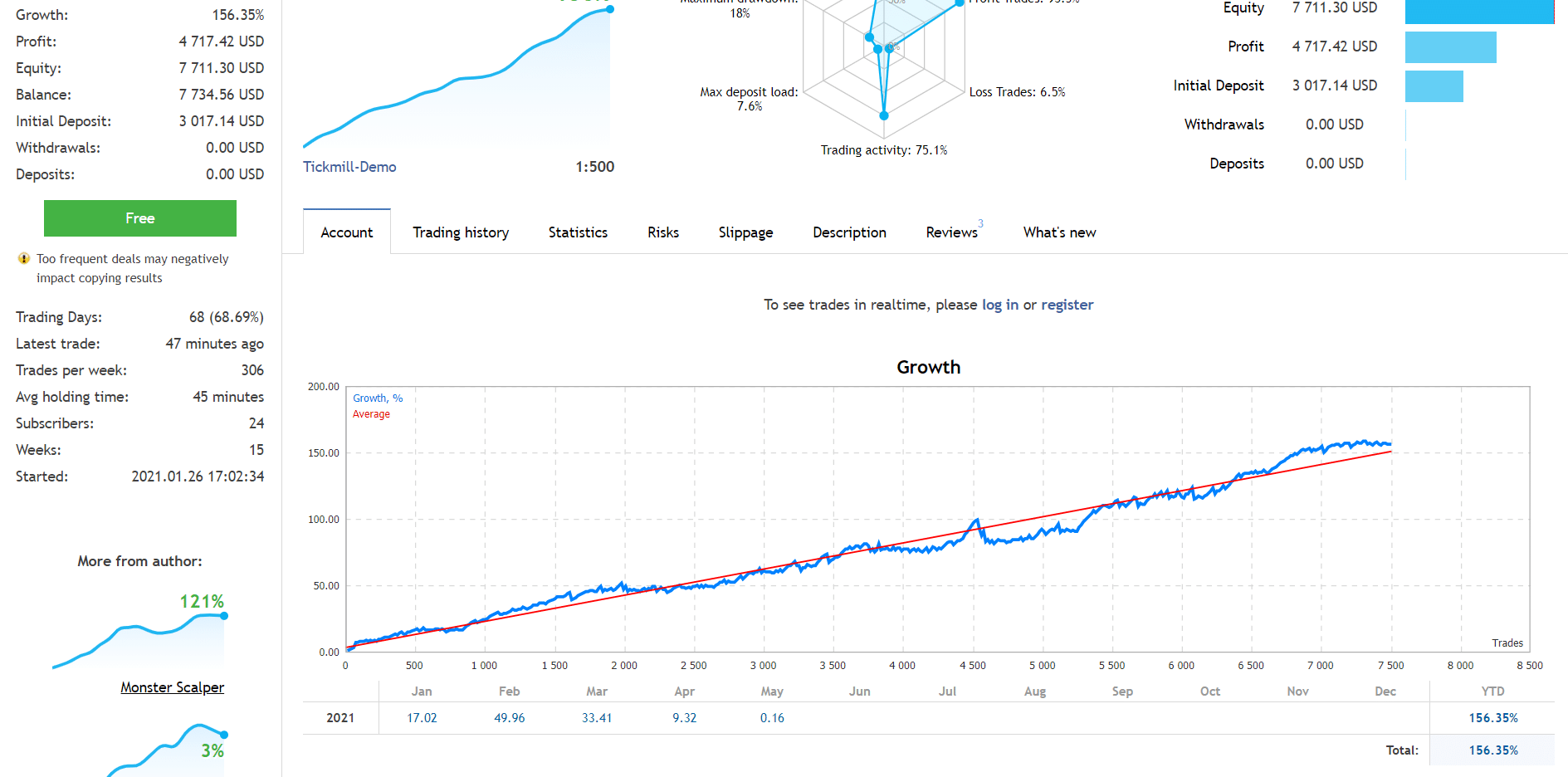 Here we can see the live trading results for Lucky Gold Scalper. It has a trading history of 68 days, during which it has placed 306 trades per week. Currently, the total profit generated through this account is $4717.42, and this has been achieved using an initial deposit of $3017.14. The maximal drawdown for this trading account is 18%, while the profit factor is 1.27.
Now, we must keep in mind that these results are not verified by a third-party website. Experienced Forex traders usually look for a robot that shares verified statistics of its trading outcomes. When the results are verified by websites like Myfxbook and FXBlue, you know that the results have not been manipulated by the vendor and they reflect the true performance of the EA.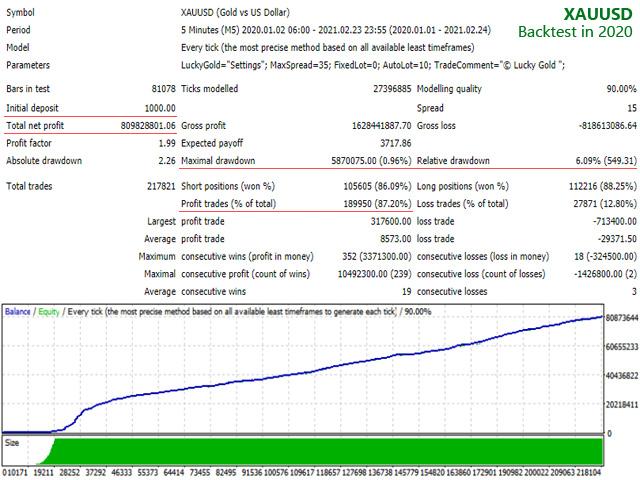 This backtest was carried out from January 2020 to February 2021. During this time period, a total of 217821 trades were placed by the robot, out of which 189950 trades were won. This represents a high win rate of 87.20%. While the largest profitable trade was $317600, the largest loss was $713400. 
On average, the robot had 19 consecutive wins and only 3 consecutive losses. The relative drawdown was quite at 6.09%, while the profit factor was 1.99. 
Customer Reviews

On the MQL5 page, there are a few customer reviews on this Forex EA. Several users have complained about the robot making tiny profits and huge losses. One user has mentioned that the high drawdown results in the profits getting wiped out in no time. Thus, it is quite evident that this EA does not deliver a decent performance in the live market.
PROS
Backtesting data available
CONS
Unverified live trading results
Negative customer reviews
Expensive for a newly-launched robot
Verdict
We have reached the conclusion that Lucky Gold Scalper is not worth your time and money. Since the vendor does not share the verified live trading results, we simply cannot trust this robot to make us profits at a steady rate.