The presentation of Galileo FX doesn't look professional because there's a lack of information and we have only text backtest reports. The widget with real account trading was removed from the site but we memorized it's name. The main statement is:  "Galileo FX: 100% automated trading software."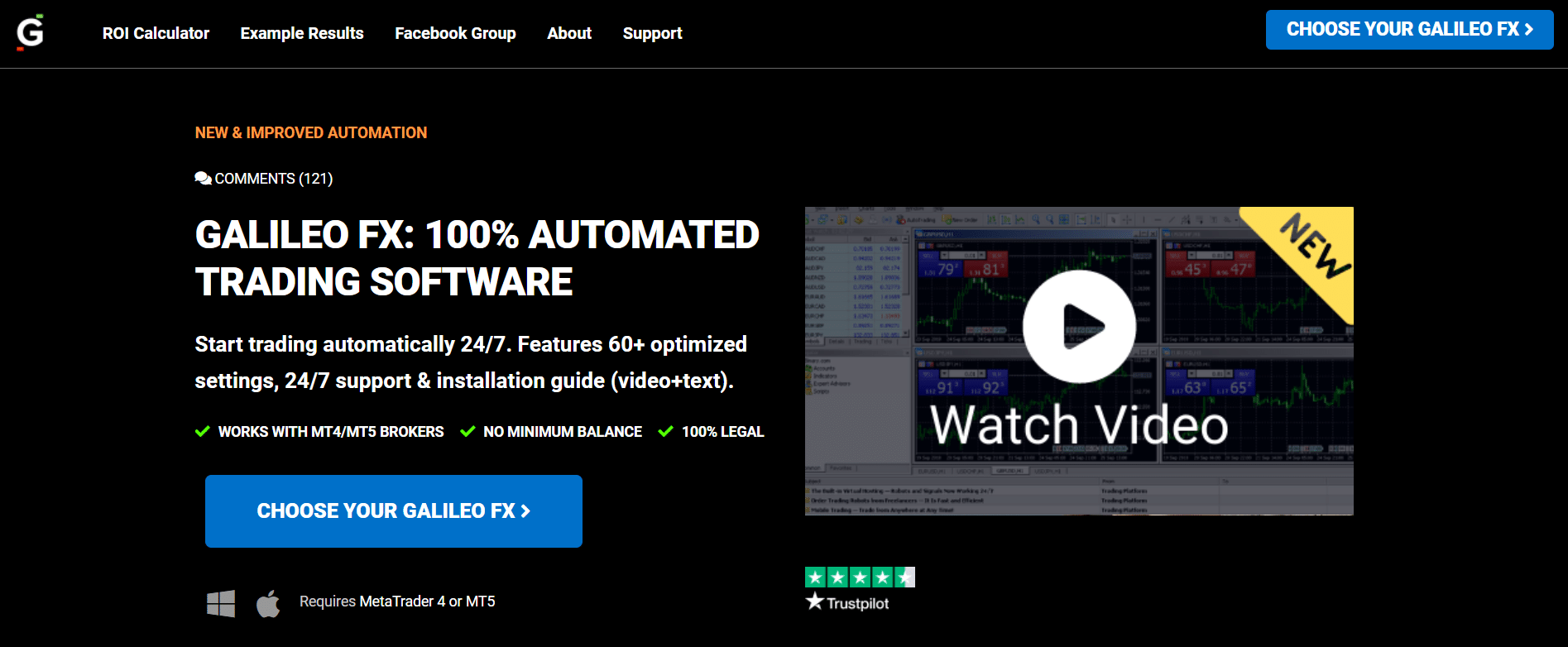 Product Offering
There are two lines of icons with the shortest possible descriptions:

The advisor executes orders automatically for us. 

There are over 60 various setting options that we are free to download. 

We are not sure that an average person can customize the EA. 

We have a user guide. 

The developers provide support for us. 

The robot delivers in both MT4 and MT5 versions. 

The system is not sewed to a proper broker. 

The robot doesn't waste margin. 

The accuracy rate can be up to 96%. 

The money-management system places Stop Loss and Take Profit levels. 

We can also trade and close deals manually.

The system was tested on broker data received from 12 houses.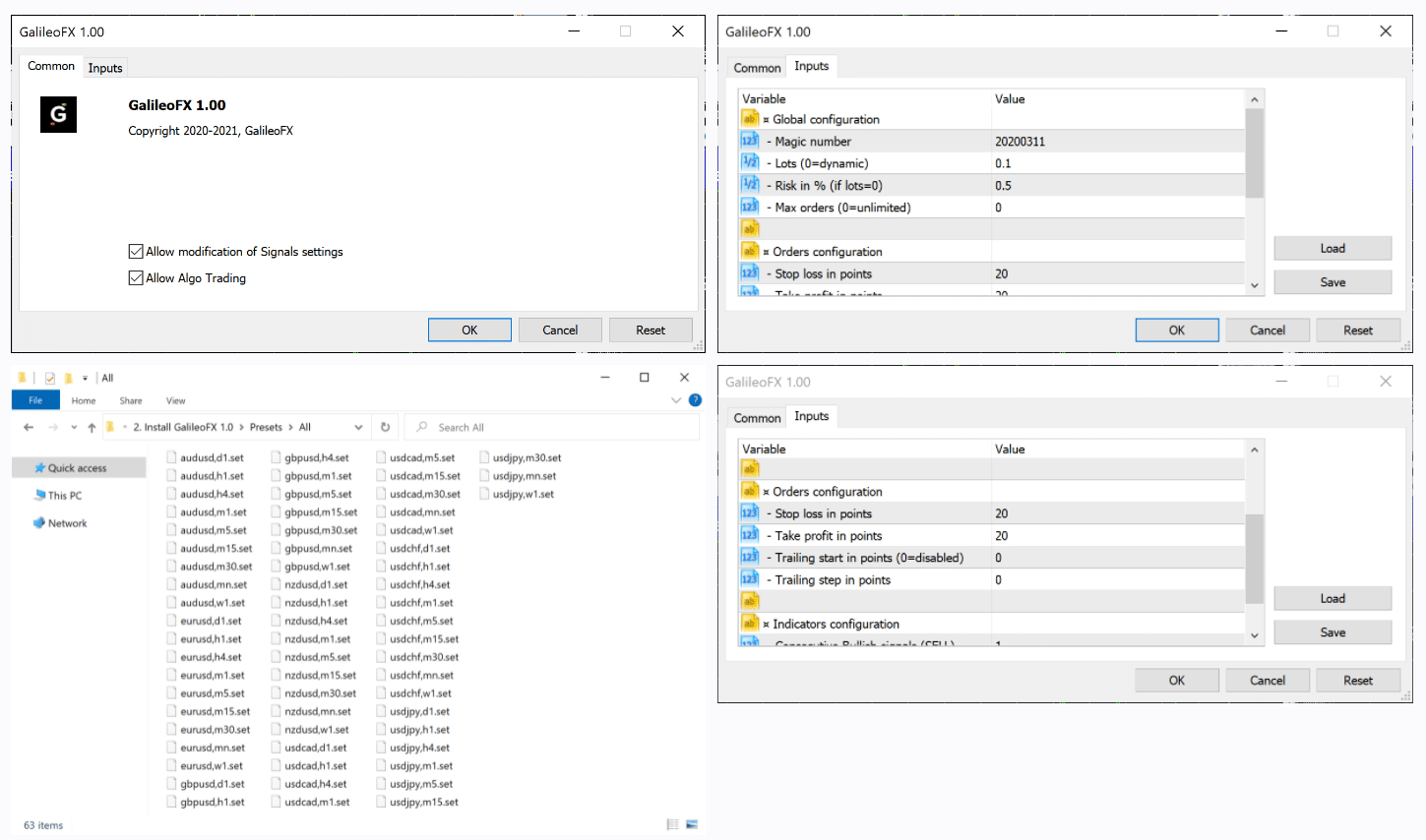 We can use the robot on the following currency pairs: Micro, Mini, and Standard. 

The robot doesn't care about execution speed or spreads.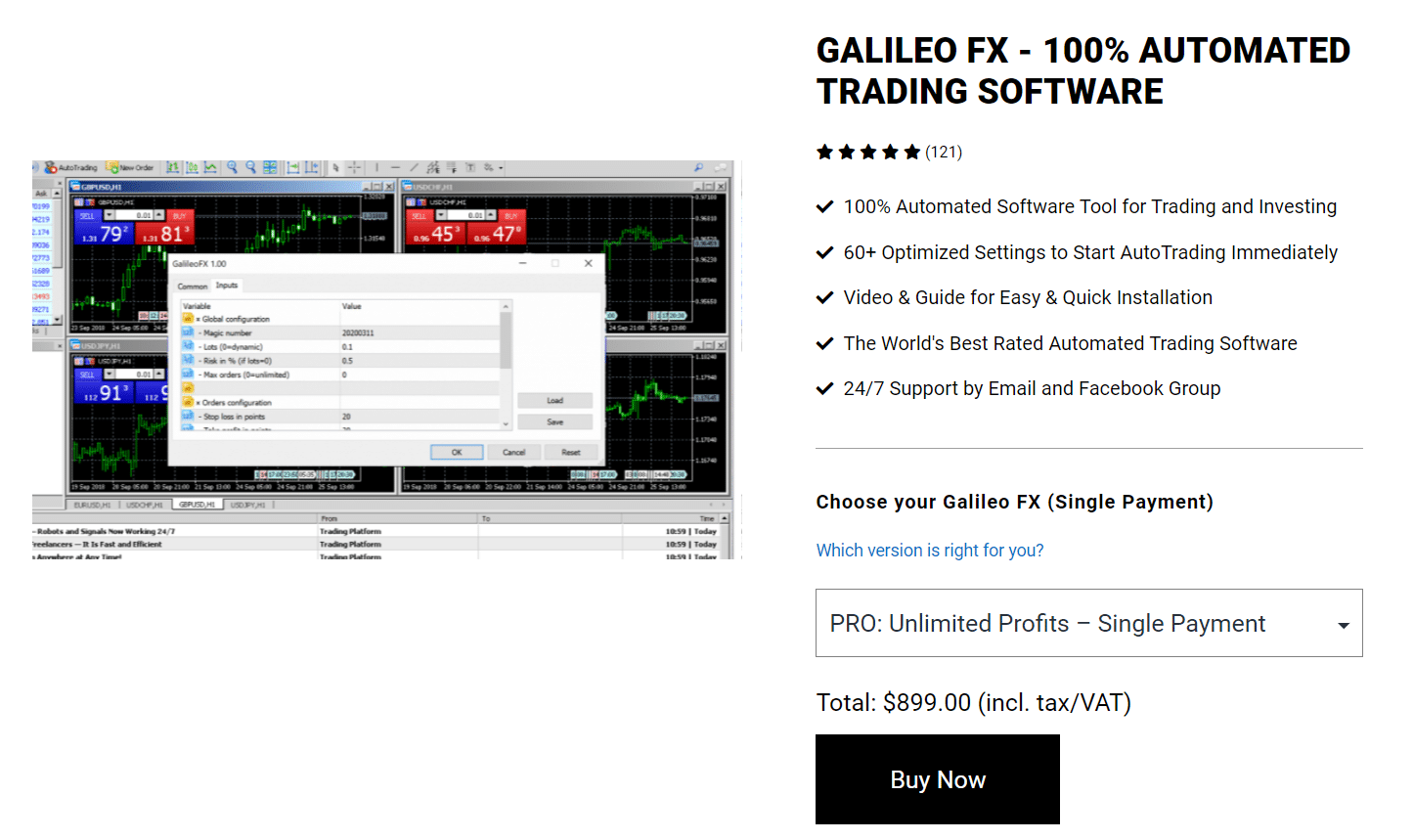 The personal pack is available for $199. It allows gaining up to $1000 monthly. The ultimate package costs $399. It provides up to $5000 monthly. The unlimited pack costs $899. There's no profit limitation. We have no refund policy covered if something goes wrong. It's a one-way ticket.
Trading Strategy
There are no mentions of trading strategies. 

The main time frame for trading is H1. 

It should work with many pairs, but we have only Silver. 
Trading Results
The presentation includes a video with how a chart of a backtest form:
Galileo FX Backtest – EUR/USD ($4398 Total Net Profits) + Settings

Total Net Profit: $4398.40

Gross Profit: $5132.40

Gross Loss: -$734
Account Info:
Broker: IC Markets

Platform: MT5

Version: Galileo FX Pro

Period: 1 Jan – 11 Jun 2021

Timeframe: H1
Settings: 
Lots = 0 (dynamic)

Risk = 0.5

Max Orders = 0

Stop Loss = 0

Take Profit = 1000

Trailing Start = 0

Trailing Stop = 0

Consecutive Bullish Signals = 9

Consecutive Bearish Signals = 9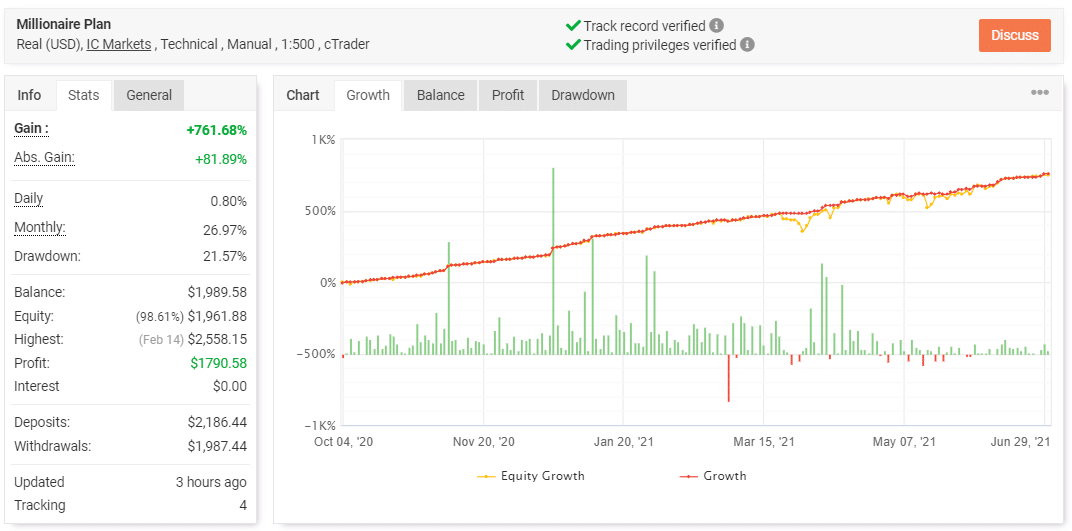 The dev provided trading results for Galileo FX under the name Millionaire Plan on his website. For some reason, he decided to remove this account from the website. Let's analyze it and see why he did so. 
This is a real account on IC Markets under the robot's automatic management. The leverage is set at 1:500. The platform is rarely used – cTrader. The account has a verified track record. It was created on October 04, 2020, deposited at $2,186, and withdrawn at $1,987. The absolute gain has amounted to +761.68%. An average monthly gain is 26.97%. The maximum drawdown is 21.57%.

The robot has closed 1587 orders with 14,703 pips. An average win is 12.62 pips when an average loss is -8.87 pips. The accuracy rate is 87% for Longs and 80 % for Shorts. An average trade length is 14 hours 16 minutes. The Profit Factor is 4.25. 

It works with XAGUSD only, but the presentation mentioned other pairs.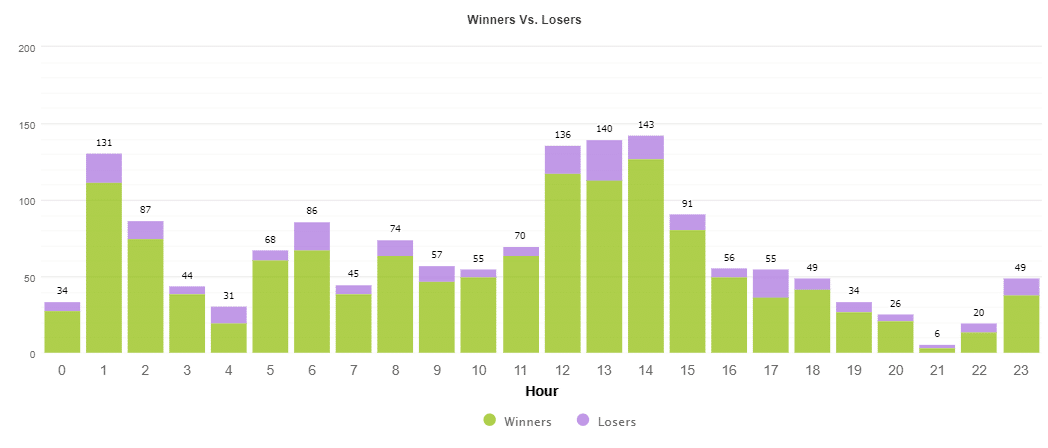 Many deals were opened at the beginning of the Australian and during European trading sessions.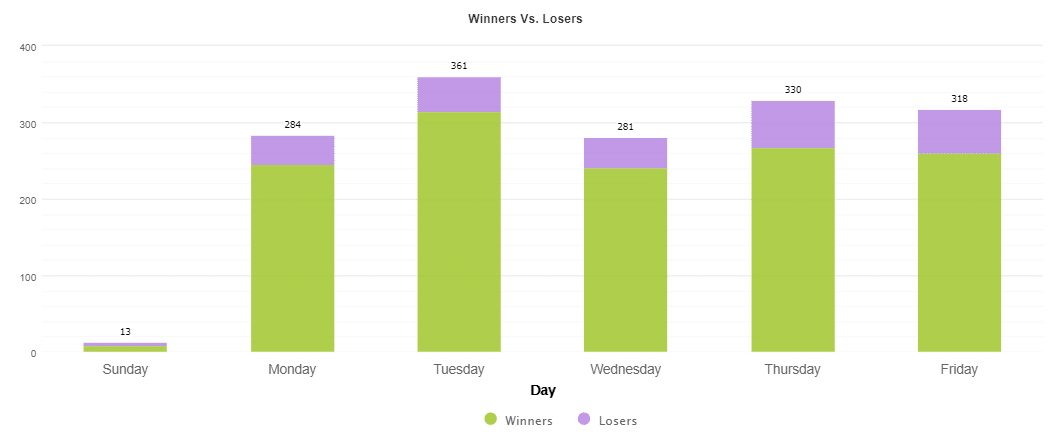 Tuesday is the most traded day. 

The robot trades with low risks to the balance.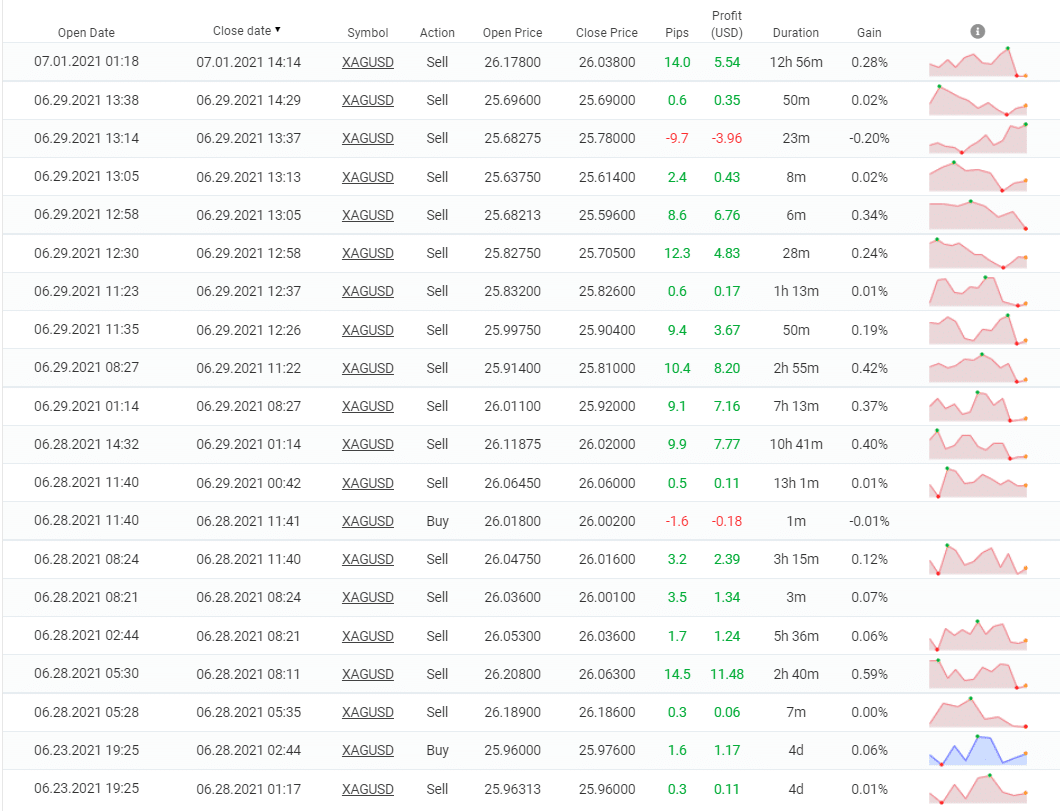 Last week the system worked with a good win rate. SL, TP and Lot size the EA trades are hidden. It raises suspicions around the system's reliability and safety. Its trading history shows us that the robot uses Grid and Scalping approaches.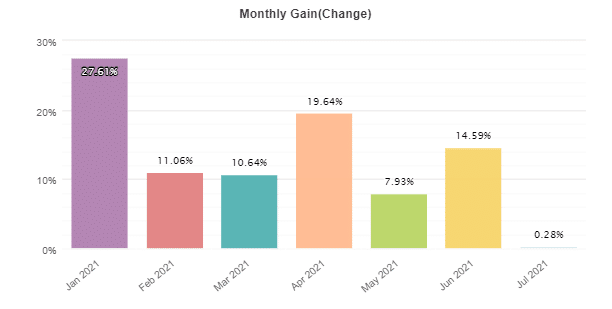 June 2021 was closed with a twice higher profit than May 2021. 
Customer Reviews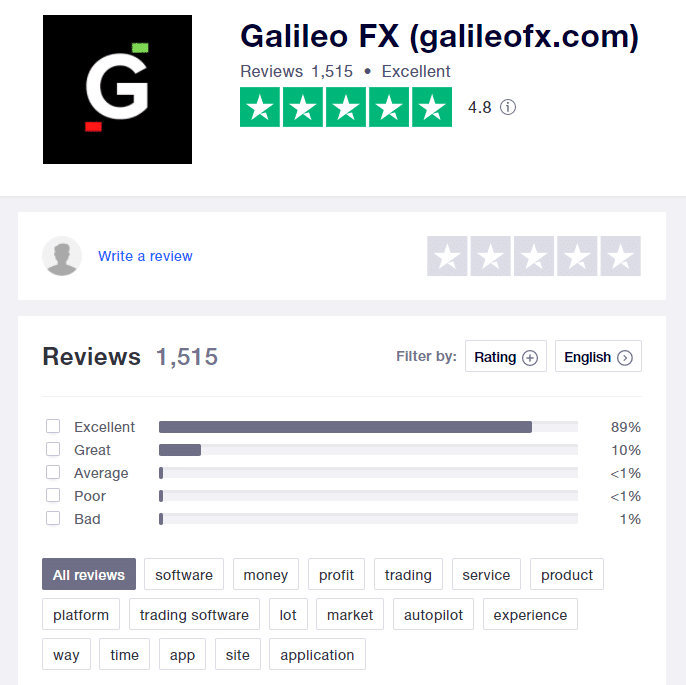 The company has a 4.8 rate on Trustpilot with 1515 reviews.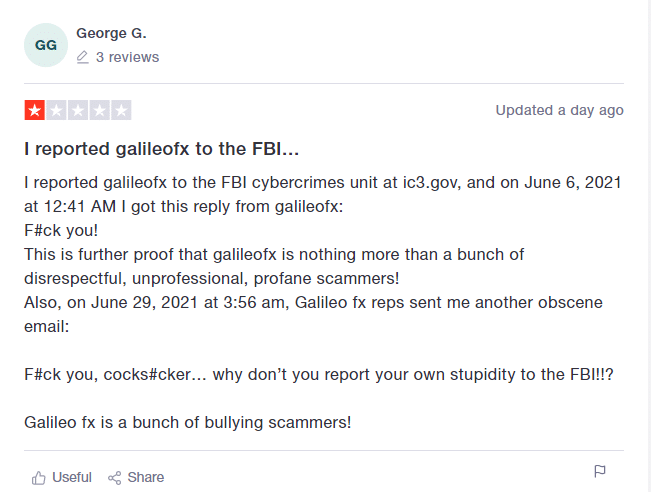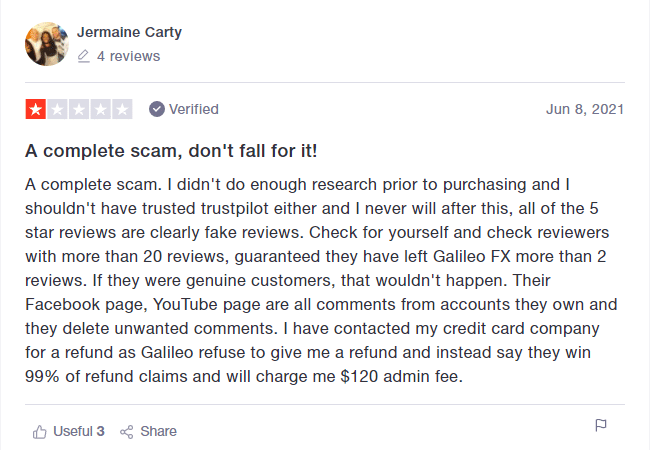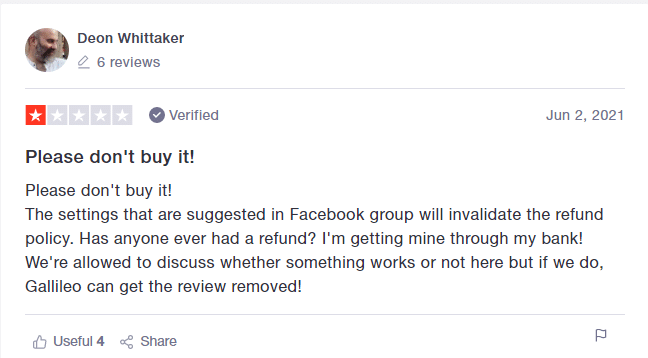 Some people were angry with the quality of the system performance. The last post was liked four times.
PROS
Real-account trading results
Many reviews were published on Trustpilot
CONS
No team revealed
No settings explanations provided
No risk advice given
No backtest reports provided
Trading results are available only for one pair
Many testimonials mentioned that the service is a scam
The robot sells without refunds
Verdict
Galileo FX is a trading advisor that has a weird presentation. It doesn't include backtest reports with the final report and a chart line. Trading results are suspicious too. They were removed from the site a month ago or so. They are about trading Silver instead of mentioned trading pairs.