Wrenfx EA is a customized and flexible robot that conducts trades automatically for the user. The EA was written using the MQL4 programming language and is easy to use as both novice and inexperienced traders can operate it with minimal effort. It conducts a variety of activities including sending orders, modifying stop losses and finding profit levels. The bot also integrates a smart money management functionality that tries to decrease trading risks by modifying trading lots. Notably, the EA can work in a variety of accounts including NDD, ECN, standard and micro accounts. 
Product Offering
In its official website, Wrenfx EA is introduced as an artificial intelligence powered Forex EA that has the ability to improve a user's trading experience. Descriptions of the bot's individual features, backtests, a live test at CryptoRocket Broker, and pricing plans are provided. An FAQ section and a contact form which customers can utilize in sending questions are also presented.  
Vendor information is missing. This raises serious concerns regarding transparency. Since the developers have not indicated who they are, what they do, or their experience in Forex trading, we cannot trust them. 
The EA has 3 different pricing plans. The basic plan is $299 and comes with 2 accounts and 18 months license. The pro package is priced at $399 and it integrates 3 accounts and 24 months license. The enterprise pack which costs $499 features 4 accounts and a lifetime license. A 30-days money-back guarantee is offered for all plans. 
Trading Strategy
Wrenfx is an all-new Expert Advisor designed to run on the MetaTrader 4 platform. It trades on EURUSD, USDCHF, EURCHF and USDJPY currency pairs. For standard accounts, the recommended minimum deposit is $200 utilizing EA's default settings. Other features of this bot include:
Smart money management

24/7 support

Smooth trading management

Full automation

Neither hedging nor scalping strategies applied
The vendor asserts that the EA applies various strategies. However, the overall approach focuses on following the trend on high time frames. The robot simultaneously searches for reversal points on lower time frames to make an entrance. We find this explanation to be vague as it does not highlight the indicators the bot tracks. 
Trading Results
The screenshot for the backtesting report is provided below: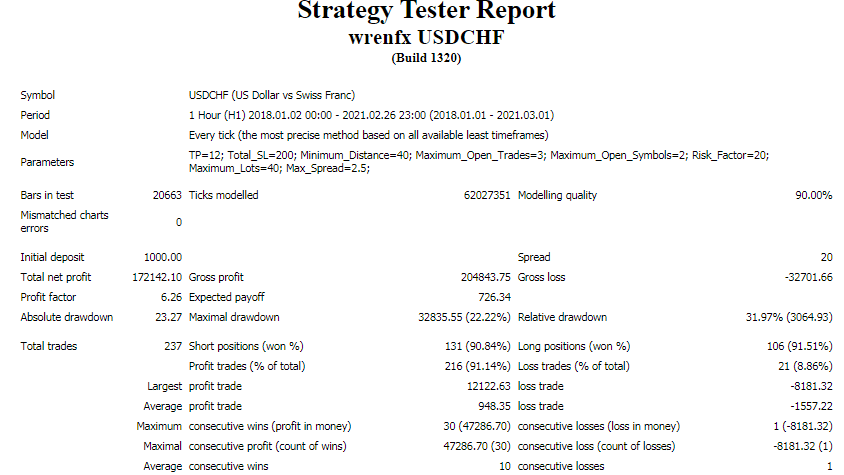 The EA traded with the USDCHF currency pair on H1 timeframe from January 2018 to February 2021. During this period, it conducted 237 trades and achieved win-rates of 90.84% for shorts and 91.51% for longs. It generated a profit of $172,142.10 from an initial deposit of $1,000. The profit factor was 6.26. 
The relative drawdown was 31.97%, and it is quite high. It underlines the account's heightened risk of incurring losses. The average loss trade (-$1557.22) was way higher than the average profit trade ($948.35). This is not a good sign as it shows the account is associated with a high loss rate. The EA made 10 consecutive wins.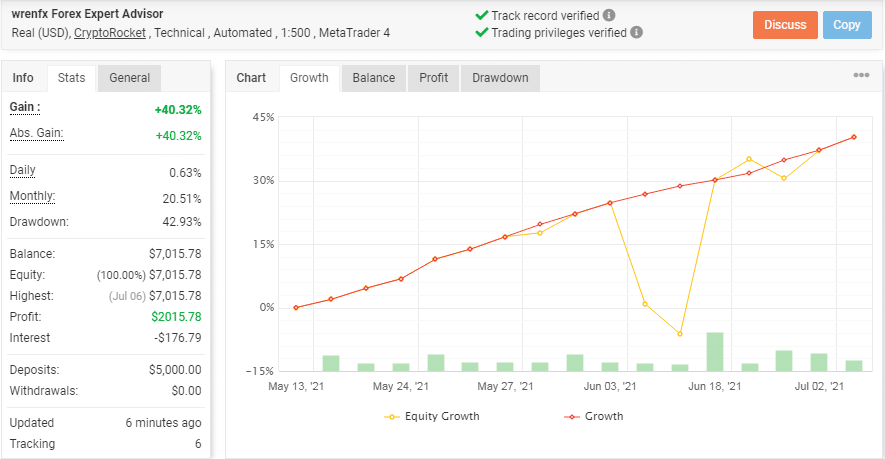 The EA has been active since May and to date, it has grown the account from $5,000 to $7,015.78. As such, it has made a profit of $2,015.78 which is equal to a gain of 40.32%. The daily profit is 0.63% while the monthly profit is 20.51%. The drawdown (42.93%) is high. It draws attention to the high-risk approach taken by the account. 

The EA has made 25 trades. Out of these, it has attained win-rates of 66% and 77% for longs and shorts respectively. The profit factor is 2.09. The pips are 218.3. The average win is 20.58 pips whereas the average loss is 21.73 pips. The account has traded with 26.86 lots.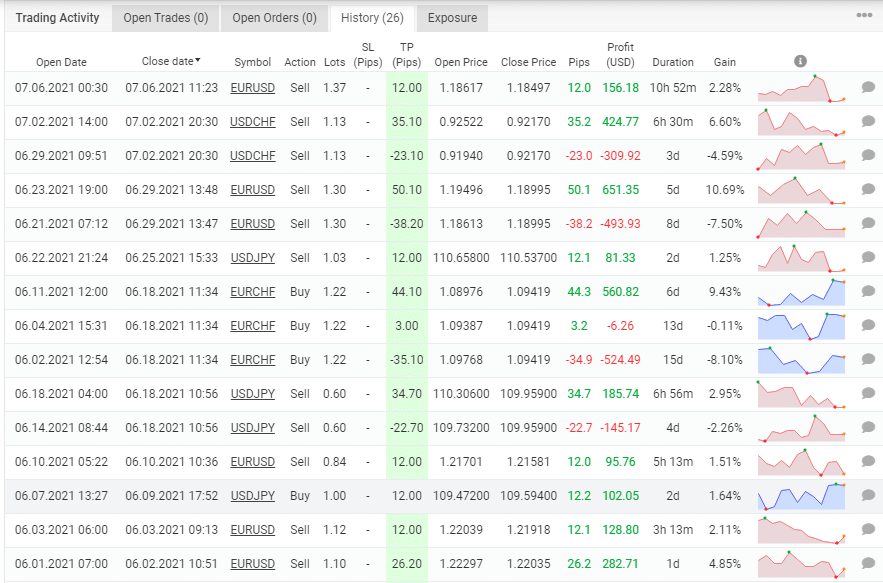 The account makes very small gains. Evidently, it utilizes trailing stop losses. It has not placed fixed SL or TP levels. The lot sizes vary and are not fixed. 

The robot trades with medium risks to the balance. For it to lose 10% of the account, it has to lose 3 deals in a row. 
Customer Reviews
User reviews for this robot are missing. Our search results on popular websites like Trustpilot, Forex Peace Army, Quora, and myfxbook revealed that the EA has no user reviews yet. It is possible that traders do not know this product exists.
PROS
Verified live trading results provided
Customer support offered
30-days money-back guarantee
CONS
High drawdown
Lack of vendor transparency
No customer reviews
Verdict
We advise against purchasing this EA. It takes a high-risk approach and this increases its probability of making huge losses. Customers have not provided information on their experiences with the robot. The developers cannot be trusted as we know very little to nothing about them.