Vigorous EA is a trading advisor that has simple and not quite useful information. The main claim is "The Vigorous EA is one of our best EA's! It has been successfully backtested +21 years. It scalps the EURUSD pair up to 100 times a week and makes a profit EVERY day! If you're looking for an EA that makes a consistent profit every day, this is it!"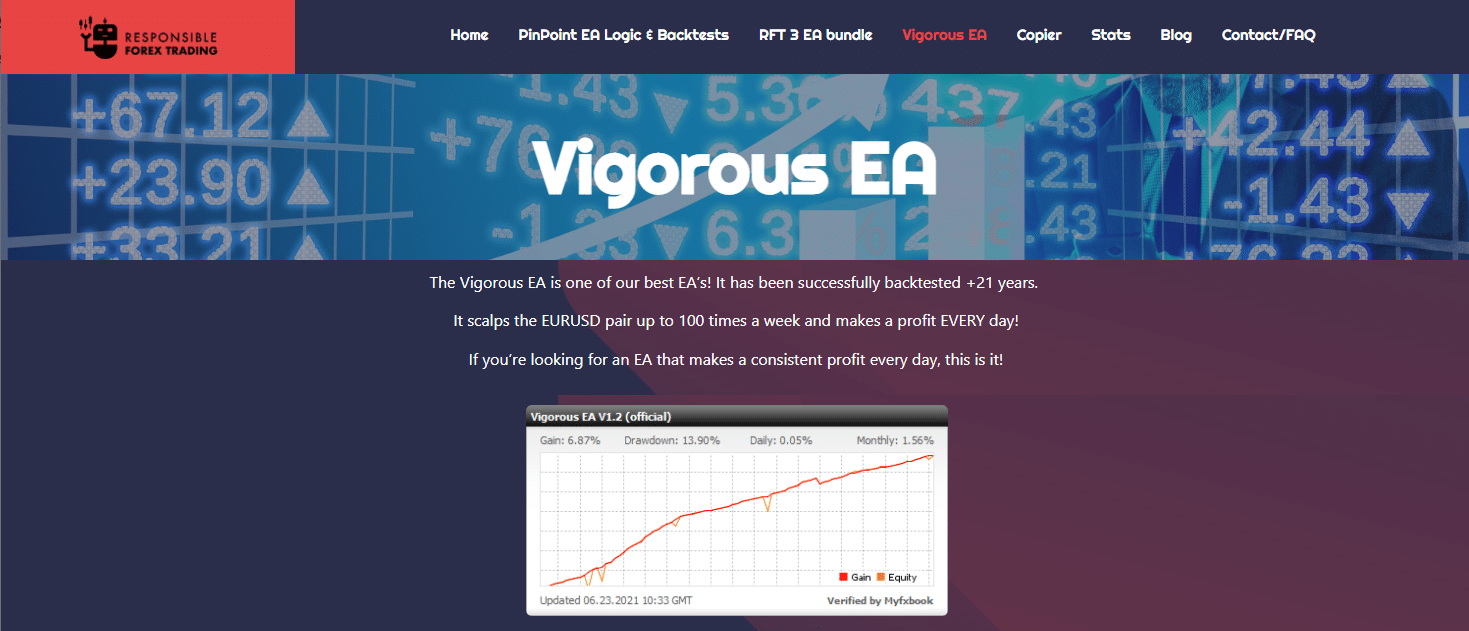 Product Offering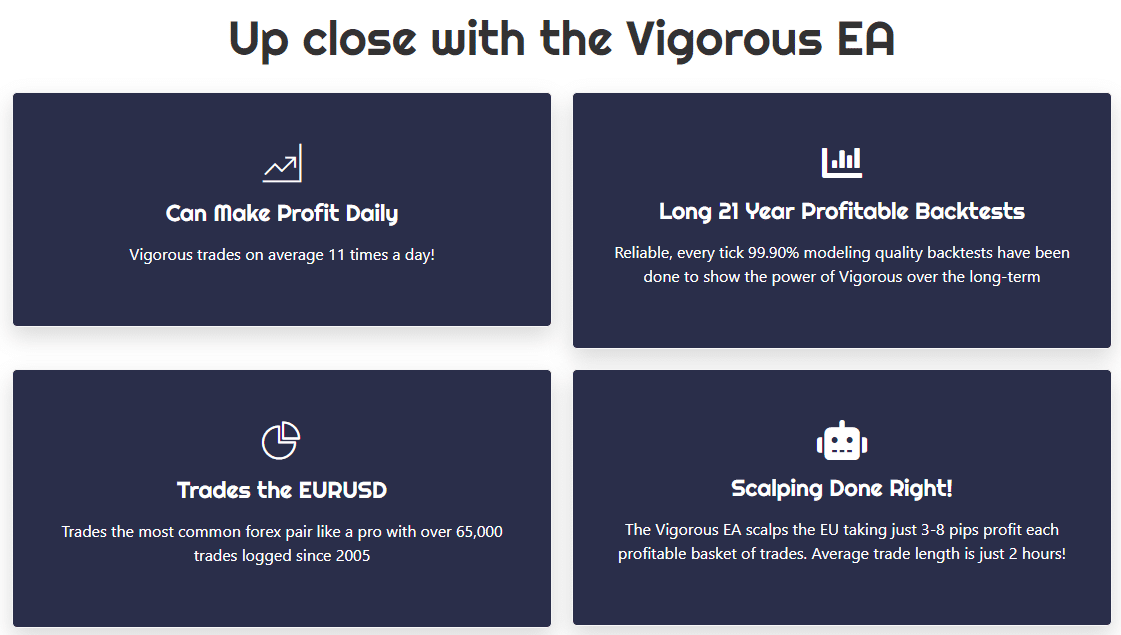 The presentation has four blocks of information in the end of the presentation:
The system works fully automatically for us. We have to do nothing in addition. 

An average trade frequently is 11 deals daily. 

It works with EURUSD only. 

The 99.90% quality backtest showed that the system is stable and profitable. 

There's a scalping trading strategy. 

It focuses on cutting 2-8 pips profits. 

So, the average trade length is two hours. 

The win streak is three months in a row. 

The robot was sold 196 times. 

An average monthly profit is 1.66% with default settings.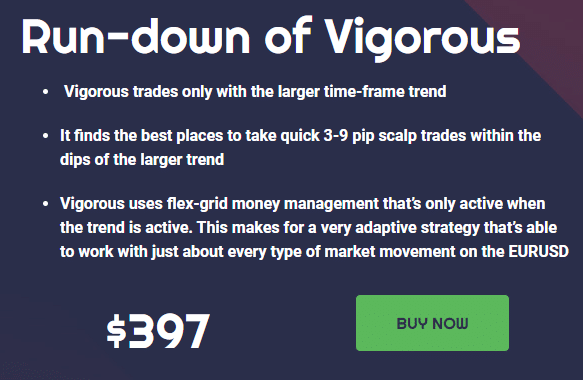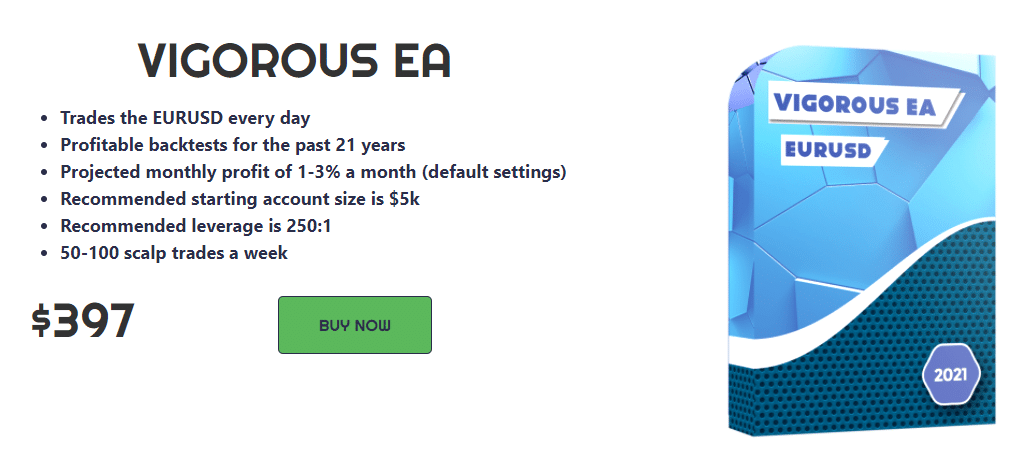 The package costs $397 and includes a single real account license and probably some demo licenses as well. 
Trades the EURUSD every day. 

Profitable backtests for the past 21 years.

Projected monthly profit of 1-3% a month (default settings). 

Recommended starting account size is $5000. 

Recommended leverage is 250:1. 

50-100 scalp trades a week. 
We have no money-back guarantee provided. 
Trading Strategy
The system trades large time frame trades. 

The robot uses a flexible Grid of orders. 

We can work only with EURUSD. 

The time frames are unknown. 
Trading Results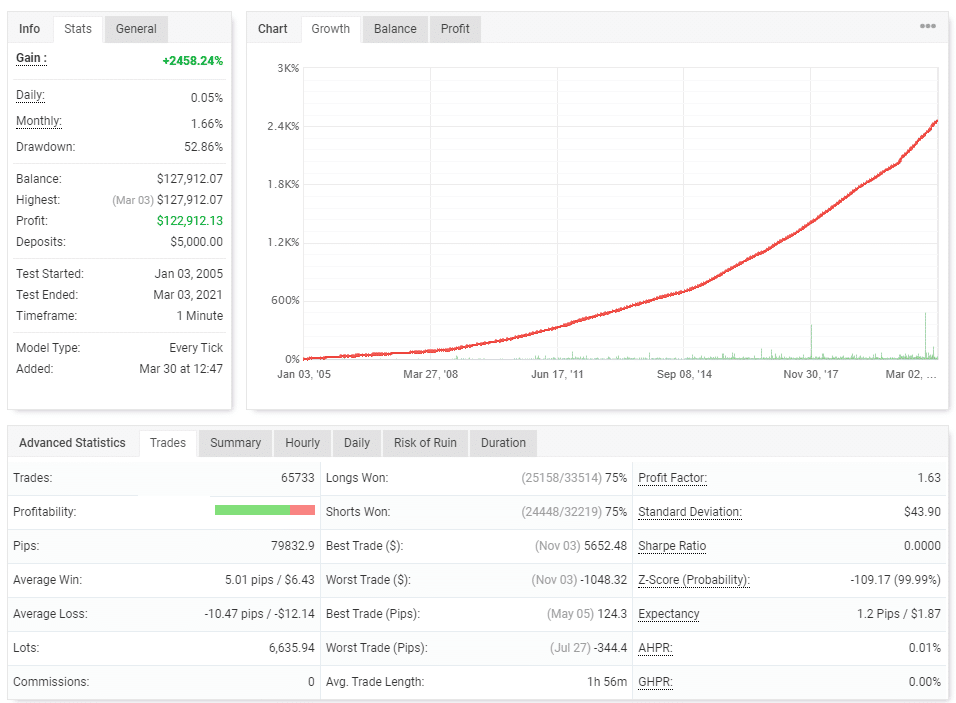 We have a backtest report that combines sixteen years of EURUSD data. The absolute gain was 2,458%. An average monthly gain was 1.66%. The maximum drawdown was 52.86%. The robot traded 65,733 orders with 69,832 pips. An average win is 5.01 pips when an average loss is -10.47 pips. An average win rate was 75% in both directions. An average trade length was almost 2 hours. The profit factor was 1.63. 


The risks were low.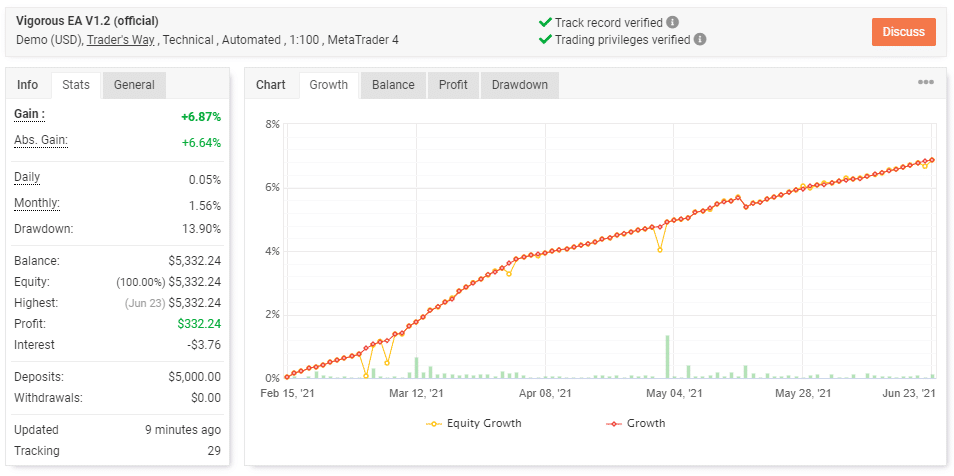 We've got a live demo USD account. The robot works automatically with low leverage – 1:100 on the MT4 platform. The account has both a verified track record and trading privileges. It was created on February 15, 2021, and deposited at $5,000. The absolute gain is 6.87%. An average monthly gain is 1.56%. The maximum drawdown is 13.90%. Twenty-nine people track the trading results. 

The robot has traded 1234 orders with -12.3 pips. So all profits were made because of Martingale. An average win is 4.97 pips when an average loss is -11.59 pips. The win rate is 70% for Longs and 68% for Shorts. An average trade length is 4 hours and 44 minutes. The profit factor is 1.45. 

The only well-traded symbol is EURUSD with 1210 deals and $309.74 of the profits.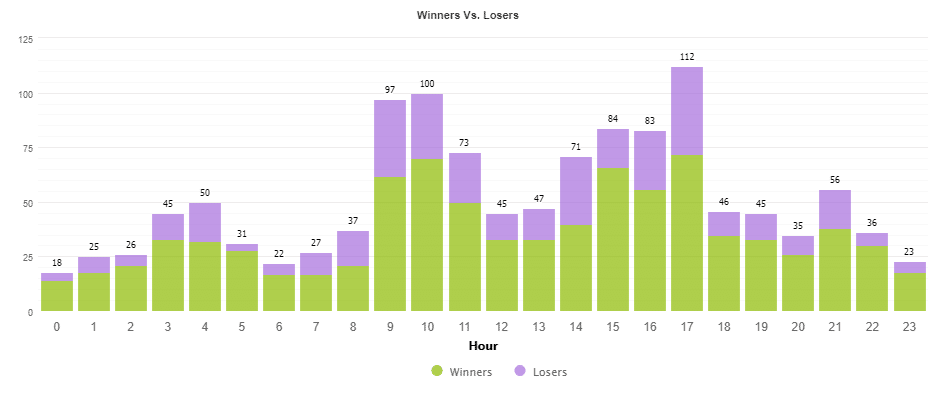 The system works focusing on opening orders during the European trading hours.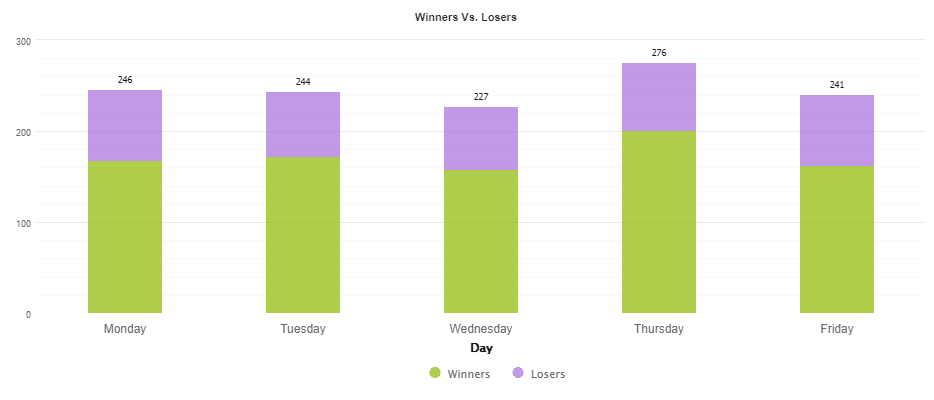 Thursday with (276 orders) is ahead of other days in trading frequency. 

The system works with low risks to the balance.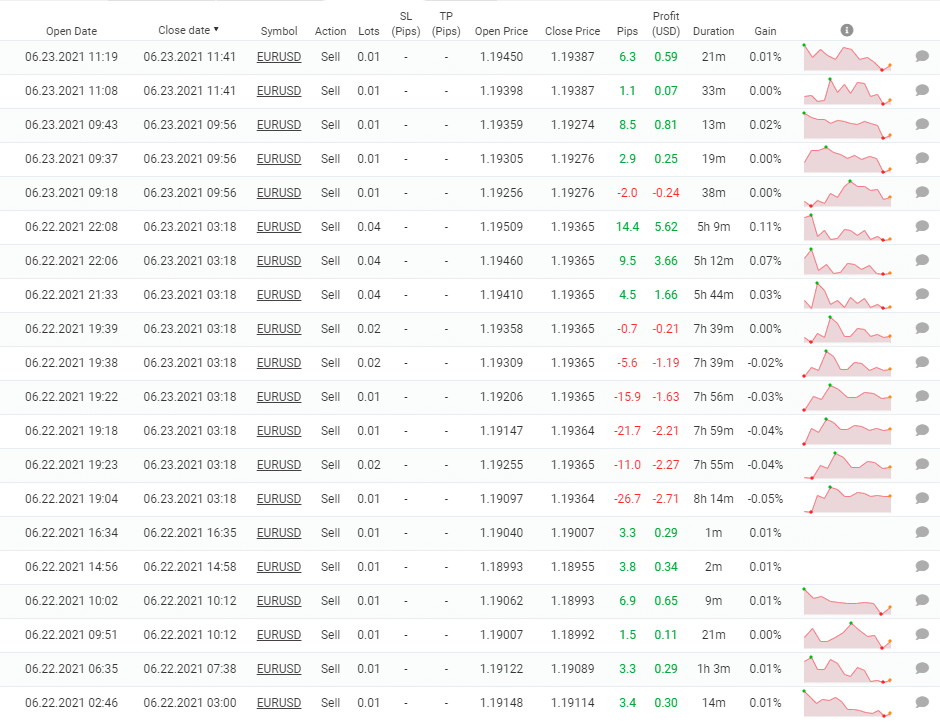 As we can see, it's a mid-sized Grid plus Martingale trading solution.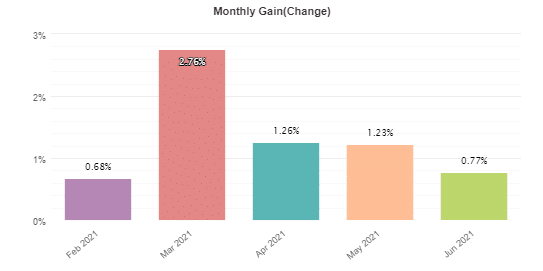 As for the system that's based on risky strategies, the monthly profitability could be higher. 
Customer Reviews
The system is not reviewed at all. The developers didn't provide us with people's testimonials as well. It's a con because we don't know if people can repay the success on their accounts. 
PROS
Strategy explanations provided
Risk and money-management advice given
Backtest report published
CONS
No team revealed
Risky strategies on the board
The system has a low win rate. So using Martingale is a risky decision
Demo-account trading results
No money-back-guarantee provided
Lack of people feedback
Verdict
Vigorous EA was a several months ago released trading advisor that, like many others, uses Grid with Martingale. The system doesn't work with a high win rate, so Martingale could not be that risky. At the same time, the robot is not profitable without martingale. The absolute pips gain is -12 pips. There's no well-designed strategy behind the system.