Hot Profit Robot is a trading software that places and manages trades on autopilot. It is built with full market expertise to help home traders and people who want to earn extra money and make their fortune with successful trading.
According to the developer, the EA meets traders' expectations by executing 2 -5 trades a day and generating at least 750+ monthly pips. Its trading strategies include Momentum Rider, Trend Capture, and Range Trap.
Its developer claims that the EA is the trusted Forex robot with accurate trade execution and independently verified results.  
Product Offering
The system is sold through a one-page website with no clickable menu where a trader can go to for more information.
The vendor's identity is also not disclosed.
| | |
| --- | --- |
| Price | €17/week; €64/month; €99/month |
| Money-back guarantee | No |
| Packages | Mini, Smooth, Aggressive |
The Mini package comes with 1 Trading Account, Configuration Support, and Automated Trading.

The Smooth package comes with 1 Trading Account, Monthly Support, and Automated Trading.

The Aggressive package comes with 2 Trading Account, Monthly Support, and Automated Trading.
The software is only developed for the MT4 platform.
Other features of Hot Profit Robot are:
Growth and Goal –You will immediately gain the benefit of EA profits and growth.

Accurate trade execution and exit – The EA rigorously analyzes the Forex markets all day and night calculating for the best profitable entry opportunities.

Support – The EA's primary goal is to help you succeed and they promise to provide all the support you need to achieve that.

Easy step-by-step guidance – Detailed user documentation explaining how to set up the EA.

Risk Management – The system places and manages trades by calculating its Take Profit and Stop Loss prices. It calculates lots based on settings that are set up. It can be fixed lot size or based on growing account balance.
Trading Strategy
Hot Profit Robot is a fully automated trading software. It trades any currency pair on any timeframe. There is no recommended minimum deposit hence it can run on any account balance.
The EA calculates lot size based on the settings of the trader. It can be fixed lot size or based on growing account balance.
The system trades using three strategies explained below:
Range Trap – The EA has its medium-range strategy focused on SnR and a unique candle pattern to trade bounces from the top and bottom.

Momentum Rider – The Robot profits from strong price movement characterized by news events or political events by calculated early execution and exit of the trade.

Trend Capture – The system uses fundamental and technical analysis to identify and follow a strong long-term trend of a currency pair.

Trading Results
The only trading results provided are those of the live account which are analyzed below.
Hot Profit Robot was linked to this FBS account on June 8th, 2021. The trade is automated and the robot is running on the MT4 platform with leverage of 1:500. The EA has made a profit of $3358.88 in 175 trades using a total lot size of 72.88.
The profit percentage is above 70% and the profit factor is 1.2. The daily and monthly gains are 1.91% and 66.58% respectively. The initial deposit was $5045.00 and the balance now equals $8403.88.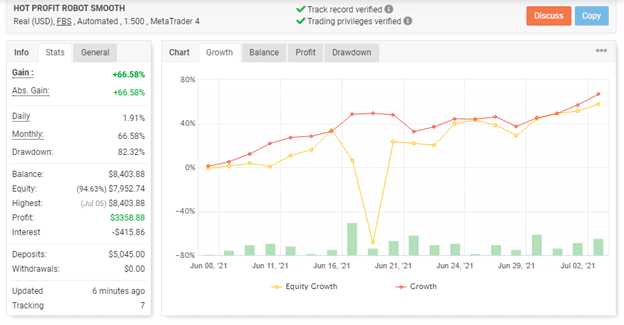 The average win is $61.40 whereas the average loss is $106.47. The maximum drawdown is 82.32%. This is a huge drawdown that can erase all the gains that a trader may have made over time.

Customer Reviews
In our search for customer feedback for this trading tool, we couldn't find anything to point our fingers on to get a glimpse of traders' experience with it so far.
However, the robot has a page on the FPA platform though no reviews as of now.

PROS
Trading strategies explained
Affordable prices
Trading results provided
Trades any currency pair
CONS
Recurring payments
No customer feedback
Limited to MT4 platform only
Trades with high drawdowns
Verdict
We do not recommend Hot Profit Robot to traders because we cannot see anything convincing about it. With its one-page website with an empty menu, the developer could have done more if he wants to make sales. We expect to see more content that provides a deep understanding of the EA with each menu opening a page. A trader will not just visit a random website and end up purchasing without seeing a value in the service or product offered.