MetaTrader 4 is the most popular Forex trading platform. It is easy to navigate and it offers a professional trading environment. The main reason, why it is so popular, is its customization ability. Using the MQL4 platform's proprietary programming language every trader has a chance to create its custom indicators, expert advisors, and scripts. As it has a large user base, a large number of robots, indicators, plugins, and add-ons are available in the market. So, this the main reason why new traders prefer to use this platform.
What is MT4 Supreme Edition
MetaTrader 4 Supreme Edition is a plugin for the MT4 platform that was developed by Admiral markets, a reliable Forex and CFD broker. It is also offered by MB Trading. The plugin a set of custom indicators and utility expert advisors that will improve your trading processes. It was not developed to replace standard MT4 features but to enhance the existing ones and to give traders some useful advantages.
The installation process is simple and straightforward. After you have installed the standard MT4 platform start the plugin installation wizard. In a few clicks, this useful set of 21 custom indicators and 12 utility expert advisors will be ready to use.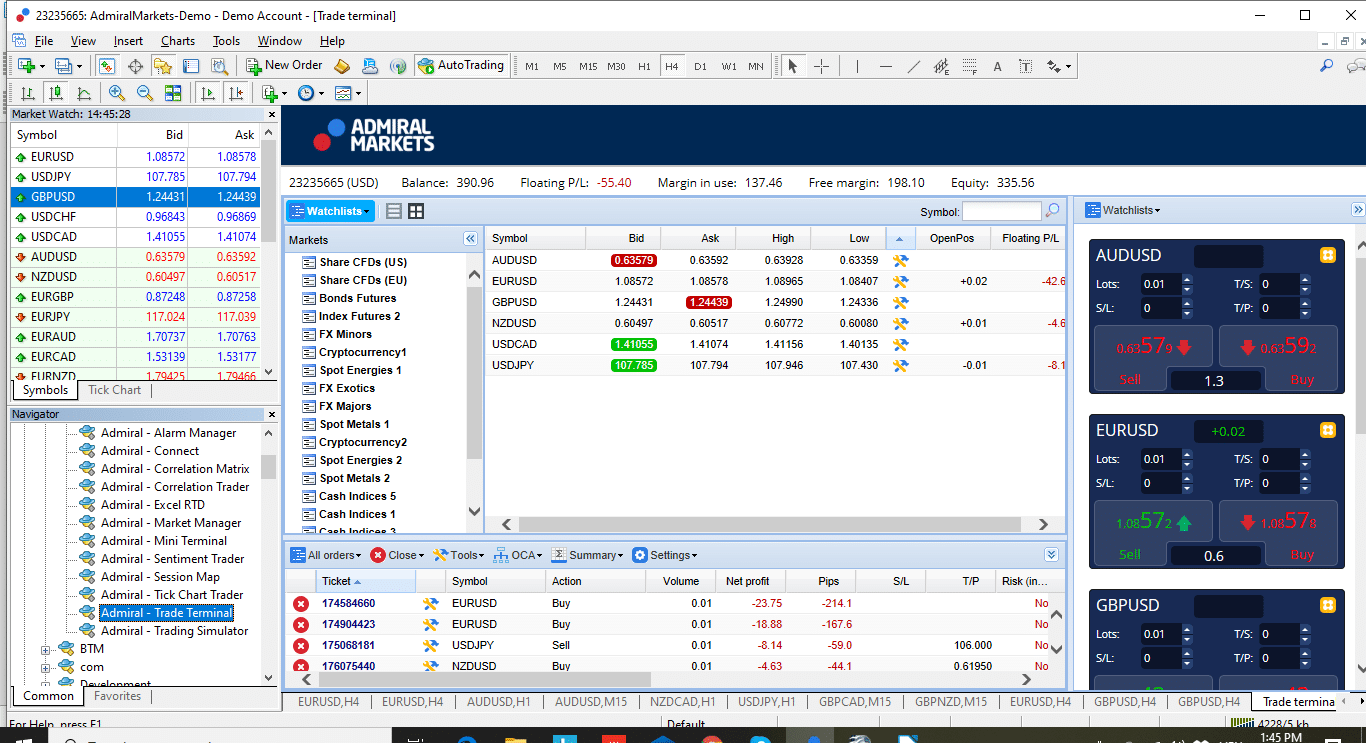 Indicators and Expert Advisors
So, what does it offer and how can it help me? Here is the complete list:
Custom Indicators
Calendar

will inform you about economic news releases, its importance, forecasted, previous and current release.

Candle countdown

is a stopwatch that is counting the time until the close of the current candle.

Chart group

allows you to group the chart by trading instrument or by time-frame.

Chart-in-chart

draws the chart of another trading instrument in sub-window

Day session

generates an offline chart for a selected daily period

Donchian

draws widely used Donchian channel indicator

Freehand drawing

allows freehand drawing in the chart

Gravity

shows the traded volume at different price levels

High-low

shows high and low for a selected period

Keltner

draws widely used Keltner channel indicator

Linear regression

draws a linear regression line

Local time

shows your computer time into the chart

Magnifier

shows selected trading instrument's smaller time-frame chart for a selected period in a popup

Mini chart

shows another time-frame chart of last few candles in a popup

Orders history

displays order history in chart

Period converter

creates an offline chart of nonstandard time-frame

Pivot

draws standard pivot point indicator

Profit loss

shows base currency profit/loss in a chart

Renko

draws offline Renko chart

Spread indicator

shows spread differences in sub-window over time

Simbol info

displays multi time-frame market attitude (bullish or bearish) for 10 different widely used indicators with user-defined parameters
Expert advisors
Alarm Manager

sets alerts regarding trade activity, price action, technical indicators, news releases and account values.

Connect

displays news, economic releases, broker's Facebook page, client area, trading account statistics, technical insight, and trading ideas.

Correlation matrix

displays correlation values for different trading instruments.

Correlation trader

displays in popup chart for two trading instruments, their correlation and enables quick entry order.

Excel RTD

extracts chart data to an excel file.

Market manager

displays detailed market watch and open position data in a popup.

Mini terminal

is an order opening tool with preset stop-loss, take-profit and trailing stop. It includes lot size and margin calculator. It supports OCO (One cancels other) and OCA (One cancels all) orders.

Sentiment trader

shows the worldwide sentiment of traders, it is a summary of opened positions for a particular financial instrument.

Session map

shows which exchange session is active at the moment.

Tick chart trader

displays tick price movements in a popup.

Trade terminal

contains all features of the Mini terminal and allows multi-currency trade management and monitoring. It also notifies about different account states.

Trading simulator

is simulating live trading on historical charts. It must be used in strategy editor in visual mode.
As we can see all the tools are designed to improve the order placing execution by giving a trader and additional features that are not supported in standard platform edition. They also bring to platform information that many traders use for trading and it is available in various online sources. They add widely used indicators and additional charting features not supported in a standard edition.
Conclusion
So, MetaTrader 4 Supreme Edition is a plugin developed by Admiral Markets for MT4 platform. It is a set of 21 custom indicators and 12 expert advisors. All tools are developed to improve the features of the standard MetaTrader 4 platform and to give users many useful advantages.
---