We have a Monsta Gold advisor published on MQL5 on September 19, 2021. The audience didn't pay much attention to it: there are only 44 downloads. The developer is Thi Tra Mi Duong. The system was updated many times to a 3.1 version. The last update was issued on October 5, 2021. 
Product offering
Let's talk about details, setting, features, and important extras. We grouped them in the list below: 
The advisor works with cross pairs automatically on a terminal. We can relax doing whatever we want. 

The robot works based on a price action strategy and "instantaneous price momentum and multi-timeframe analysis."

The robot opens orders with high frequency. 

EA performs algorithmic trading. 

We can work with a Gold cross pair. 

The current price is $299. The devs claimed that after five purchases it will be $299. So, they probably happened. 

The system includes a time filter. We can decide what time we'd like not to trade. 

The system works with big deposits. 

We can work with Stop Loss levels to cover our orders from the market moves. 

A trailing stop feature is applied. 

The trading is allowed on XAUUSD.

We have to work with the system on an ECN account only. 

The balance should be from $200.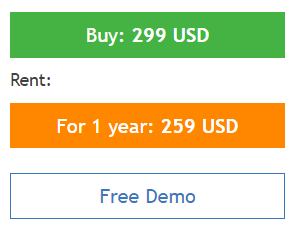 The system is available for $299 for a single lifetime copy. The annual subscription costs $259. No monthly rental options are provided. We have no refunds supported. We can download a robot for demo usage. 
Trading strategy
The robot works with a price action strategy.

It works with Gold only. 

We have no details explained about the time frame. 
Trading results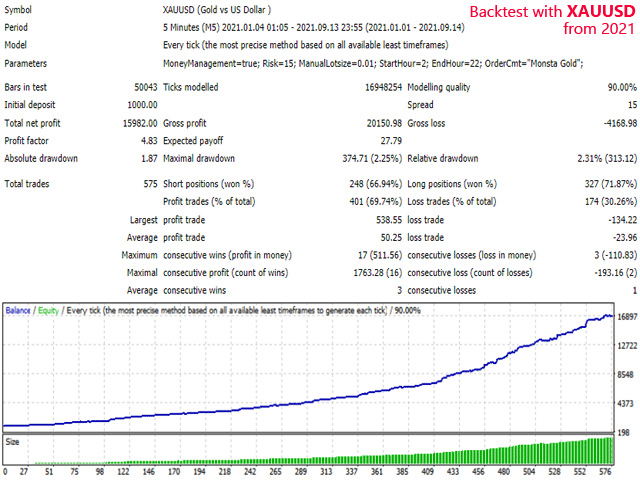 The presentation is featured by several backtest reports. This one was executed on Gold in the M5 time frame. The data period was 8 months in 2021. We have a modeling quality only at 90.00%. An initial deposit is $1,000. It has turned into $15,982 of the total net profit. The win rate was 66% for shorts and 71% for longs.
Backtests are good but verified trading results are better. Alas, the developer decided that we don't need to be verified by FXBlue, FXStat, or Myfxbook trading results. It's not right. We have to know how the system works under current market conditions on a real or at least a demo account. We'd like to know details about win rate, gains, drawdowns, leverage, platform, average win and loss, profit factor, and so on. 
Customer reviews

The presentation includes some feedback from clients. We have no idea if they are real.
PROS
Backtest reports provided
Affordable pricing
CONS
No risk advice given
No details about how the system works on a real account shown
No settings explanations provided
No trading results revealed
We don't even know if the system is set to work on the current market
High rental pricing
No refund policy supported
Verdict
Monsta Gold is a trading advisor to work with Gold. The developer didn't provide us with trading results. It's a crucial disadvantage because we don't know what we pay for. Is the system profitable? What drawdowns are there? What's up with a profit factor? There are many unanswered questions. Thus, we can't suggest you use this system.