Mood EA is a Forex robot claimed to rely on the traders' frame of mind to make trading decisions. The vendor also says that the system allows you to trade in both buy and sell directions. If you need it to work on the orders you have conducted manually, then you can activate the "support manual order" feature. Let's check the other elements of the product in this Mood EA review.
Product offering
The vendor doesn't list the features of the product. Therefore, it is not known if the EA supports a single or multiple currency pairs. Info on the timeframe used, minimum deposit, leverage, etc., is not available. Instead, we have a list of settings that makes us aware that a money management system, DD reduction algorithm, SL and TP options are integrated in the robot. 
Mood EA is being sold by Vasiliy Strukov, a Russian developer. He is quite accomplished in this field, having created a variety of other trading tools. Examples include EA Locker, Hacker EA, Isolation, and CheckPoint, among others. However, Vasiliy's profile isn't detailed enough as it fails to tell us his trading experience and qualifications in Forex. For this reason, the efficiency of his products is doubtful. 
The cost of purchasing this system is $199. The dev doesn't include renting options or a money-back guarantee.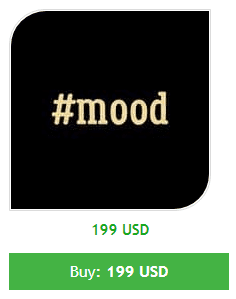 Trading strategy
In terms of strategy, the system is said to work on the Momentum indicator. Therefore, it relies on the oversold or overbought conditions of this indicator to know when to enter a trade. Vasiliy explains that the approach enables the system to catch the "mood" of traders. No more details about this strategy are given. Novice traders may experience challenges comprehending how Mood actually works, and consequently discourage them from investing in it. 
Trading results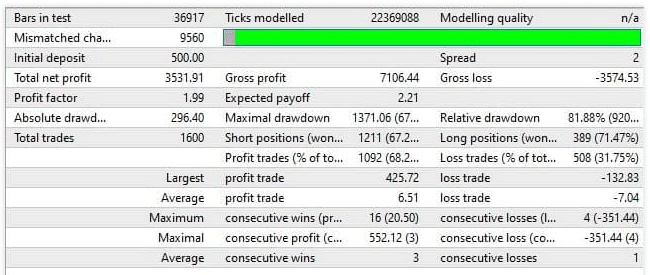 We don't know which currency pair was used during testing or when the test began and ended. This information is not available. Anyway, the EA began its trading operations with an initial deposit of $500. In the end, there was a massive drawdown of 81.88%, a sign that the approach on board was dangerous. The total trades completed were 1600, and the successful ones were 1092. So, the resulting profit value was $3531.91. 
There's a screenshot of the EA's live trading stats on mql5, but they are unverified. As you can see below, the vendor wants us to believe that the system has a total return rate of 2316%. The maximum drawdown (84.3%) is very high and still portrays Mood EA as a very risky system. However, the image does not feature other important metrics such as win rates, profit factor, trading frequency, average trades, deposit, net profit, etc.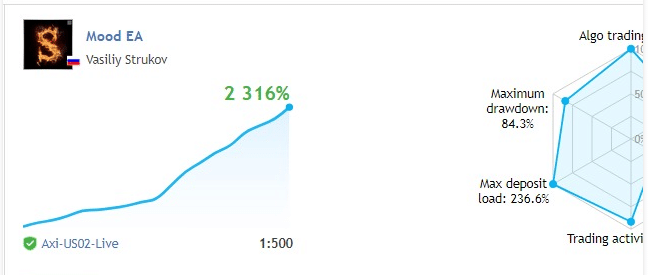 Customer reviews
Mood EA has many customer reviews on mql5, 52 in total. None of the testimonials speaks ill of the system, meaning that they are all positive. However, care should always be taken not to believe such reviews easily. We have learned that since customer feedback on this platform is not regulated, it tends to be biased. There are instances where the vendors pay clients to leave positive feedback and even delete negative comments that could damage the reputation of their product.
CONS
High drawdown
Features are not presented
Vendor transparency is insufficient
Unreliable customer feedback
Verdict
From the backtest report, it is apparent that Mood EA uses a risky approach. Therefore, it can reduce your capital significantly. The lack of verified results is also highly suspicious as it shows us that the developer is not confident about the system's live performance. In view of this, we cannot recommend you try this robot as of now.