Omega Trend EA is another forex robot developed and promoted by the FXAutomater company. They advertise this product as one of the most successful Forex EAs ever designed by the team. Its developers were trying to create an EA that would felicitously combine three profitable trading strategies. As a result, they've made a fully automated trading system for the MetaTrader 4 platform that works with two major currency pairs (EURUSD, GBPUSD). Omega Trend EA works based on two trend trading indicators. Basically, the EA implements the Omega Trend Indicator strategy with some additional automation features. We've already reviewed some of their trend trading robots, including a more expensive Forex Trend Detector expert advisor. Now, let's find out whether Omega Trend EA can be one of the best forex robots or it's just another scam EA.
Product Offering
| TYPE | Forex Robot |
| --- | --- |
| COMPATIBLE TRADING PLATFORMS | MetaTrader 4 |
| CURRENCY PAIRS AVAILABLE | EURUSD, GBPUSD |
| TIMEFRAME | H1 |
| FULL PRICE | $99 |
| MONEY BACK GUARANTEE | Yes (60 days) |
Just like with other pages for FXAutomater's products, the presentation includes a "Limited Time Offer" timer that updates to the same value every night. Therefore, you can purchase the software for a little bit cheaper price, which is $77. For this money, you will get a copy of Omega Trend EA package that includes:
A license to use the software on one real trading account and three demo accounts;
Set files for each currency pair;
24/7 customer support.
Trading Strategy
As it was mentioned earlier, the EA uses three simple strategies. In fact, it's not three strategies really, but more like three rules of trading. What this EA combines is two trend trading indicators, and the main job of the algorithm is to choose the right entry and exit points. Omega Trend EA dynamically changes SL and TP levels according to fluctuations on the market. The devs provide us with two pretty much outdated backtest results of this trading strategy for each currency pair.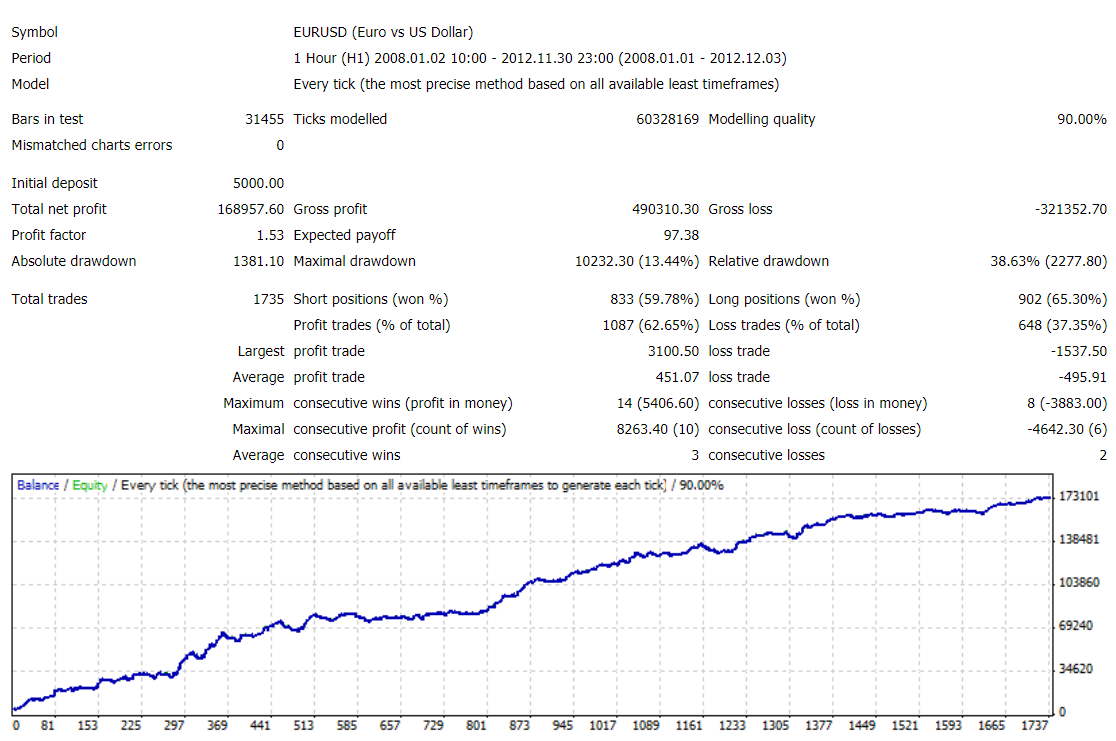 Above, you can see a strategy tester report that shows the performance of EA on EURUSD pair during 2008-2012. However, the test was conducted with low modeling quality covering a short period from the previous decade. Furthermore, we assume that they may have used a repainting indicator. Thus, we can't trust it.
Trading Results
Omega Trend EA has been applied to one demo trading account using 1:500 leverage with Alpari forex broker. The vendor has launched the account in January 2020 with $1000 deposit.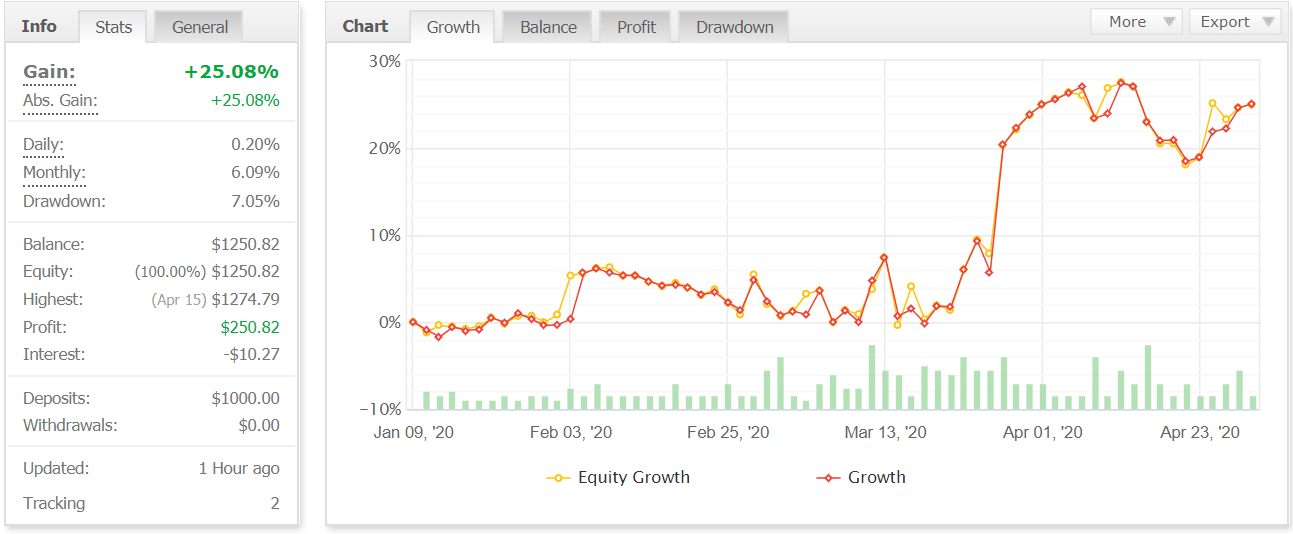 Since then, Omega Trend EA has managed to grow the account by 25% (as of May 2020). During this period, the robot has made 125 trades with 57% win-rate and an average win of 45 pips ($12). The profit factor equals 1.41, which is a mid-low number among automated trading systems. The best trade was 400 pips ($119.28), and that is half of the total profit made by EA. The worst trade was -147 pips (-$44). The average trade length is 15 hours.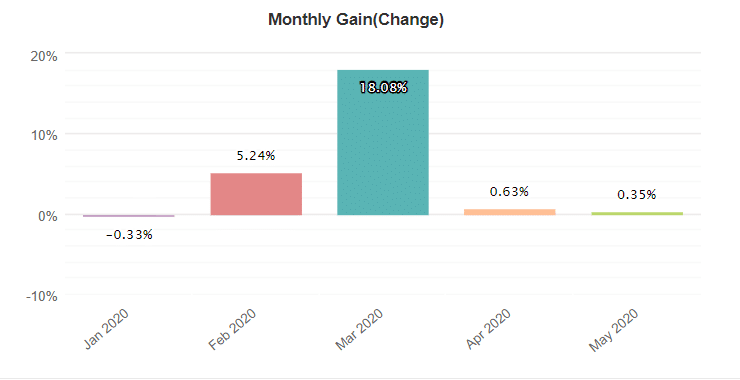 The average monthly gain is 6.09%, which is good enough result. However, the majority of profitable deals has occurred in March 2020. In fact, it's all just about one good trade made by EA. Even if we forget that EA is running on a demo account, it's hard to make a conclusion about the robot's effectiveness based on five months of live trading, considering that it was profitable during just one. Summing up, these results don't seem reliable for us.
---
Cons
Demo account results
Short live trading period
Vague strategy explanations
Lack of customer feedback
Verdict
Except for the low cost, we couldn't find any significant advantages of the particular product. It's too soon to talk about trading results yet. FXAutomater team wants to sell us the robot that they haven't used in real trading. For now, the system is showing inconsistent performance on the demo account. Therefore, we don't recommend using Omega Trend EA on your live account and award this "3 simple strategies" system with 3 points from Forexrobotexpert.