Forex trading has changed a lot for the better in recent years. You can easily enter and exit trades successfully thanks to the automated trading systems available now. Forex indicator systems are part of the automated tools that traders find effective. 
Onyx Scalper is one such indicator system that promises an easy and profitable trading experience. With so many systems available, it is not easy to assess the efficacy of a system when you want to use one. Fortunately, we have made it easier for you with our detailed Onyx Scalper review. This review gives an unbiased perspective of the system and helps you come to a decision easily.
Product Offering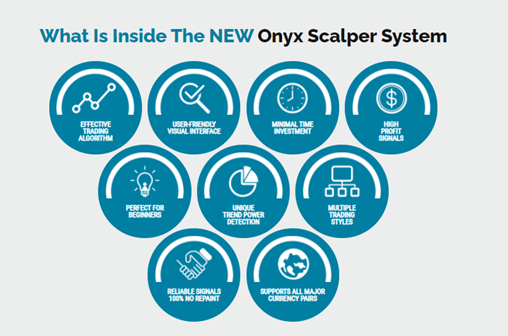 Onyx Scalper is introduced as a powerful indicator system developed by Karl Dittman. Dittman claims to have created the system from his experience and guidance from trading experts. Other than mentioning proven results and accurate signals, the developer does not reveal any info on the strategy used. 
And, there is just a contact form and an email address for support without any mention of the location or phone contact. We would like better transparency from the developer than what is provided on the site. 
Three different trading modes of various risk levels are provided, namely: a conservative, medium, and aggressive mode. This indicator system has an inbuilt Optimal Entry system that helps you choose only the profitable trades. Other offerings of this system include pop-up alerts, instant email alerts, and push notifications. 
This system costs $147 which is the discounted rate. The original price is $395. For $147, this system offers a trading algorithm, user guide, reliable signals without repaint, a real and live account, and 24*7 email support. A 30-day money-back guarantee is offered.
Onyx Scalper
| | |
| --- | --- |
| Type | Fully-automated  |
| Price | $147 |
| Strategy | Scalping |
| Compatible Platforms | MT4 |
| Currency Pairs | All |
| Timeframe | M1,M5, M15 |
| Recommended Min. Deposit | $250 |
| Leverage | Not disclosed |
Trading Strategy
As an indicator system, Onyx Scalper is easy to download, install, and use. This MT4 compatible system uses, as the name suggests, a scalping strategy. With the user guide, it is easy to install and start using this system. Dittman assures of updates and improvements along with personal email support. A money management strategy, general trading, and technical queries are attended to by the support provided. 
This system works on all currency pairs and uses M1, M5, and M15 timeframes. According to the developer, a minimum of $100 is sufficient as a deposit for trading but $250 is the recommended deposit. Features provided here include high-profit signals, minimal investment, user-friendly interface, trend power detection, and multiple trading styles.
The developer does not reveal much info about the strategy and how the scalping method used here works. While scalping does not reveal a high risk to reward ratio, the method can provide profits with the price shifts that occur during trading.
Trading Results
No backtests are provided, which is disappointing as backtests help assess how successful the trading approach used by the system is. As for the trading results, a few screenshots of the Scalper in action are shown on the website.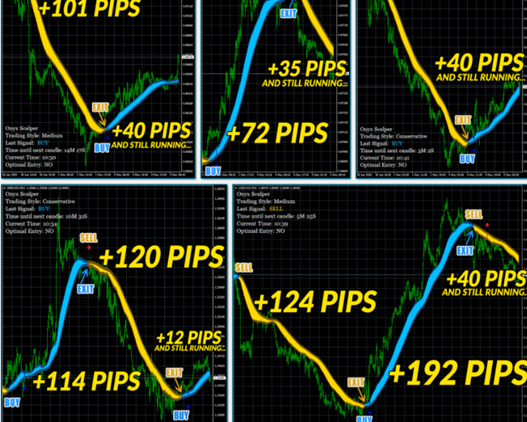 The above screenshots reveal profits in pips gained through the different trading modes. But, these are not verified results so we cannot rely on the trading results. Furthermore, not much info is provided about the trading account.
With a reliable third-party site such as the myfxbook site or the FXBlue site more data on the gain percentage, drawdown, risk to reward ratio, etc. can be known. Without the verified results we are unable to evaluate this system properly.
Customer Reviews
A few feedbacks from users are posted on the official site. But, since the chances of the testimonials being manipulated are high, we could not rely on the feedback. However, we found a review for Onyx Scalper on the Forex Peace Army site, which is shown in the screenshot below: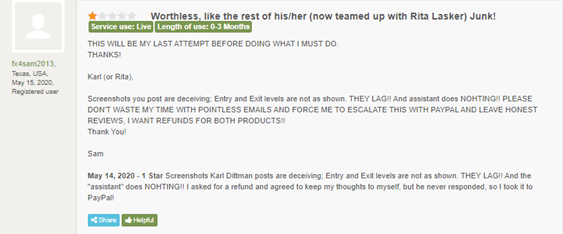 From the above negative review, the user reveals how the entry and exit levels are not as promised by the developer. The review also indicates a lag in the trade entries and laments the lack of support.
PROS
Works on all currency pairs
30 days money back guarantee
CONS
No verified trading results
No backtests are provided
The Strategy used is not explained clearly.
Verdict
Summing up our Onyx Scalper review it is clear that the system has a long way to go before it can be deemed acceptable by traders. To begin with, there is no transparency related to the vendor location, contact address, and the strategy used. From the absence of adequate support, we formed an initial assessment which was later corroborated with the poor performance record of this system. And, further shortcomings of this system include a lack of verified trading results. This prevented us from performing a proper evaluation of the Forex indicator.