Panda Night is a Forex expert advisor that works on both Metatrader 4 and 5 platforms. It is supported by 6 years' worth of backtesting data. According to the vendor, this system is an expert in trading reversals.
Product Offering
Panda Night is sold on the MQL5 website, and there is no official website for this EA. Here, the vendor has explained the working of the system in brief, but we think the information provided is not sufficient. We have a couple of links where the live trading signals for the robot are displayed, and the vendor has also attached a zip file containing all the backtesting data. Finally, we have the broker recommendation and a few screenshots of trading results.
This system has been developed by Jiang Ming Wang, a programmer based in Shenzhen, China. We don't have much information available on this person, and it seems like they have not built any other robots in the past. Thus, from a vendor transparency perspective, we are not too impressed.
Taking a quick look at the presentation, we can see that the vendor has not provided any links to verified live trading accounts. Considering this, we don't have high expectations from this robot. 
Panda Night is currently being sold at the price of $199. The price is pretty standard compared to the market average, but since this is a newly-launched EA, we think it should have been a little cheaper. There is no money-back guarantee provided by the vendor for this robot, but you can download the free demo version of the software for testing purposes.
Trading Strategy
Panda Night scans the market for a reversal when the market is not too strong and there is a low risk of high movements. As per vendor claims, the robot can work with multiple symbols and achieve a high diversification thanks to the low correlation of the various symbols. This reduces the risk to a great degree.
It does not take much time to install this EA and you can use it with the default parameters set by the vendor. As per vendor recommendations, the EA should be attached to an M5 chart. Panda Night is not very demanding in terms of resources and you can also use it in combination with other EAs. It is best used with low-spread accounts available at brokers like TickMill and IC Markets.
One thing that we find disappointing is the fact that the vendor has not explained the trading strategy anywhere on the MQL5 page. Seasoned traders always look for technical data pertaining to the trading strategy because it helps them assess the system's profitability. The absence of the same might serve as a deterrent for many investors. 
Trading Results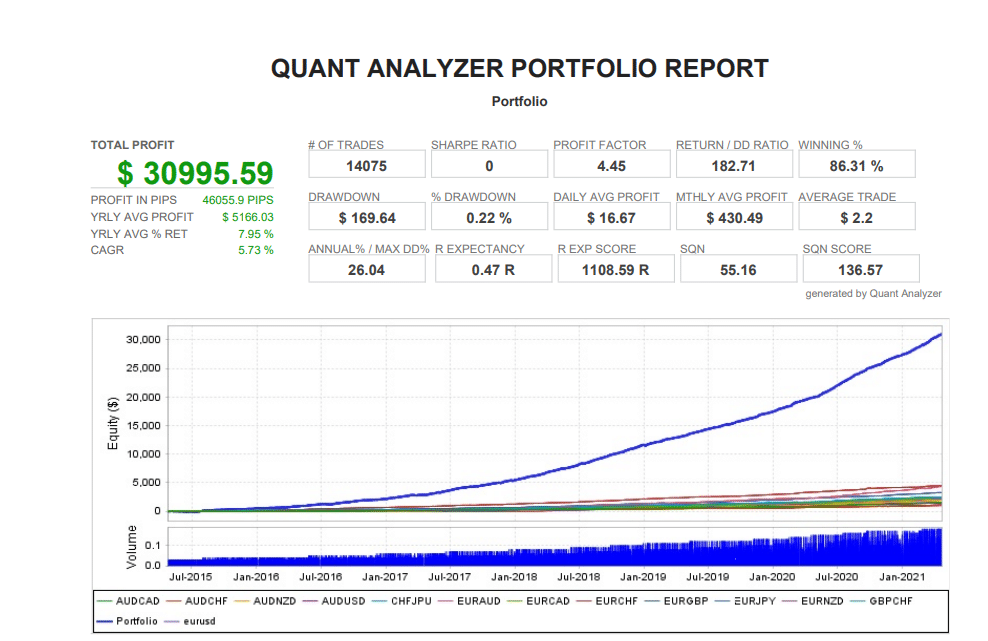 Here we have the results for a backtest conducted between 2015 and 2021. A total of 14075 were placed during this test, and the robot managed to win 86.31% out of them. The total profit generated during this backtest was $30995.59. 
For this test, the robot had a drawdown of 0.22%. The daily and monthly average profits were $16.67 and $430.49 respectively, while the profit factor was 4.45.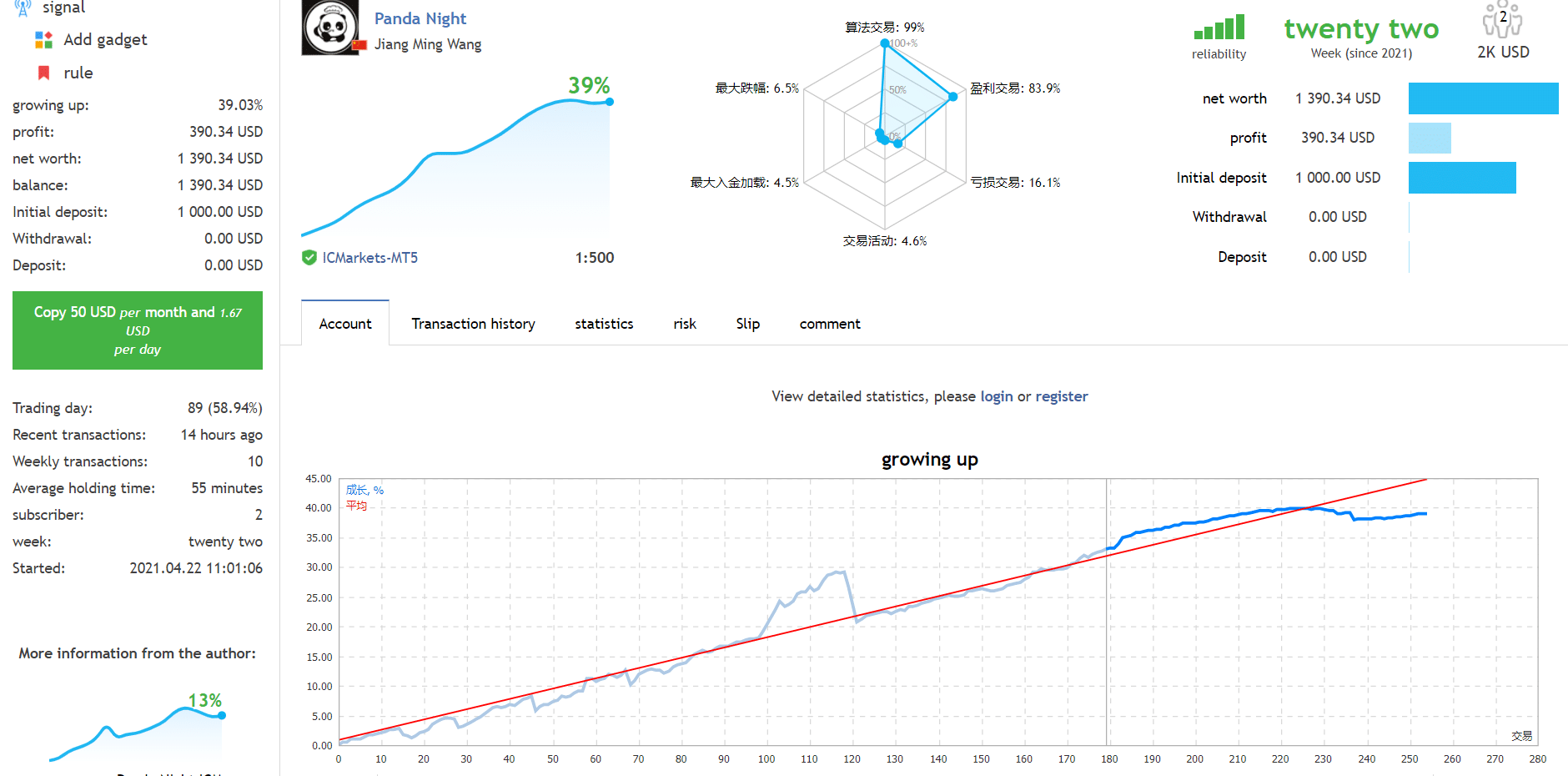 These are the live trading results for Panda Night published on the MQL5 website. As we can see, this account has a trading history of 89 days. During this time, a profit of $390.34 has been generated through this account. A total of 254 transactions have been conducted through this profile to date, out of which 213 have been won, which represents the profitability of 83.85%.
We cannot put too much weight on them because they are not verified by third-party websites. Most traders do not consider investing in a system that does not furnish verified live trading statistics. When the results are published on trusted websites like FXBlue, Myfxbook, or FXStat, there is no chance of data manipulation on the part of the vendor. 
Customer Reviews

On the MQL5 website, we have a few customer reviews for this Forex EA. But since these are not published on trusted websites like Myfxbook, Quora, Trustpilot, or Forexpeacearmy, we cannot consider them authentic.
PROS
6 years backtesting data
CONS
No verified live trading results
Lack of strategy insight
No money-back guarantee
Verdict
At the end of your review, we would like to say that Panda Night is not a worthwhile investment. The vendor does not explain the trading strategy clearly, and we don't have any verified live statistics showing successful trades. So, at this moment, we cannot trust the EA based on the words of the vendor.