Pinpoint EA is a Forex robot that was launched on 29th October 2020. It is based on more than 17 years' worth of backtesting data and can help you recover a trade that you're losing. As per the claims made by the vendor, this Forex EA trades daily and generates profits on a weekly basis. 
Now, considering the vast number of scam services that are flooding the market, Forex traders like to perform a thorough inspection before purchasing an automated system. This includes studying each and every aspect of the system to determine its profitability and reliability.
Product Offering
There is no official website for Pinpoint EA and the only source of information for this Forex robot is its MQL5 page. Here, the vendor has chosen to highlight the main advantages of the system and provided a link for the demo signal. They have also provided a couple of screenshots displaying backtesting results and a link to a discord group where live trading results are supplied.
The system has been developed by Ryan Brown, a US citizen who has developed another system called Ranger EA in the past. There is no picture on his MQL5 profile and we don't know anything else about this person. So, in terms of vendor transparency, Pinpoint EA disappoints, since we don't know much about the developer's background and credentials.
It's hard to set any expectations for such a system since very little information is available on it. Pinpoint EA is priced at $397, but rent options are also available. You can rent it for one month at $30 or three months at $90.
We think $397 is a lot to ask for a new system, considering other Forex EAs with better track records are available at cheaper rates. Furthermore, no money-back guarantee is provided by the vendor for this product and this would deter many individuals from investing in it.
Pinpoint EA
| | |
| --- | --- |
| Type | Fully-automated EA |
| Price | $397 |
| Strategy | Not disclosed |
| Compatible Platforms | MT4  |
| Currency Pairs | EUR/USD, GBP/USD |
| Timeframe | M15 |
| Recommended Min. Deposit | Not disclosed |
| Leverage | 30:1 |
Trading Strategy
Pinpoint EA is a fully-automated system that lets you deal in the GBP/USD and EUR/USD pair with great efficiency. It follows major trends and uses stop losses for each trade. And, it trades on the M15 timeframe with a recommended leverage of 30:1.
Profits are sought out in the pip range of 10-15 and a monthly profit of 2-3% is promised to all traders. However, the vendor has not supplied any details about the trading strategy employed by the Forex EA. This is quite disappointing since most Forex traders look for the technical details of the strategy before investing in a robot. 
Trading Results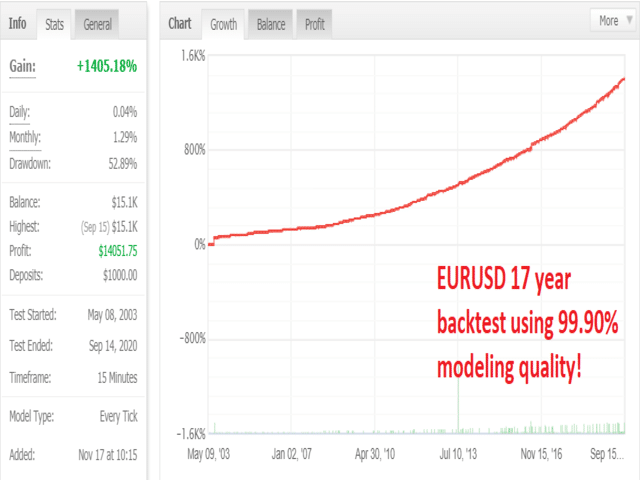 No live trading results are provided by the vendor on the official MQL5 page of the Forex EA. It is mentioned that these results are provided on the free discord group, but we would have liked him to furnish the results on the official page.
We have 17 years of backtesting data for the EUR/USD pair, where we can see profits of $14051.75 being made from deposits of $1000. The daily and monthly gains for this test were 0.04% and 1.29%, respectively, while the drawdown was 52.89%.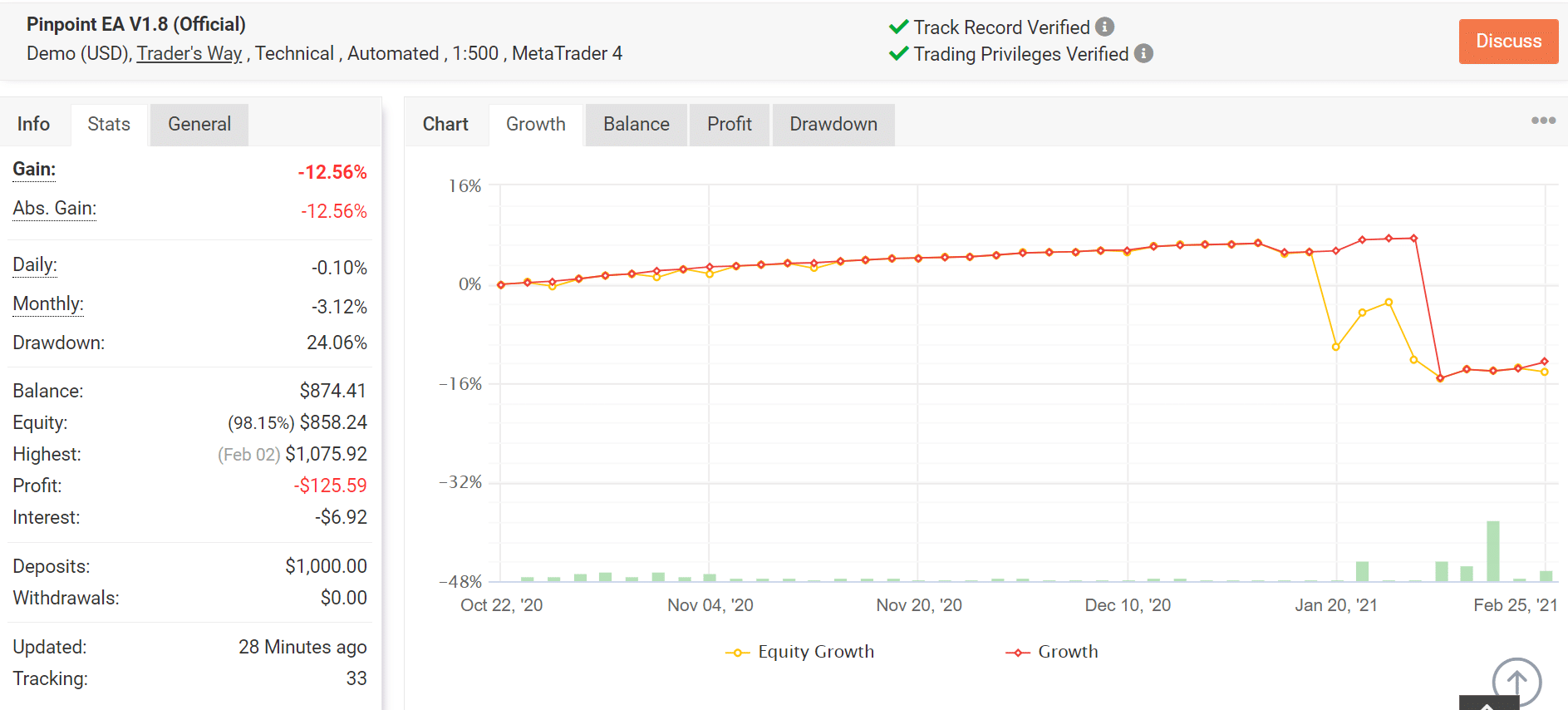 We managed to find a Myfxbook trading account for Pinpoint EA, and what we can gather from this is that the system suffered some huge losses. While it has won 96% of the trades, the amount of loss suffered on 4% of the trades was quite huge, and as a result, the net profit stands at -$125.59. 
The daily and monthly gains are -0.10% and -3.12%, respectively, and this creates a stark contrast with the backtesting data that showed mostly favorable trades for this Forex EA. It has a profit factor of 0.56, and since this is less than 1, we cannot say with confidence that this robot is capable of generating profits on a consistent basis.
Customer Reviews
We were unable to find any customer reviews concerning Pinpoint EA on third-party websites. While a few reviews are presented on the MQL5 page, these could easily have been manipulated, so we don't think they are trustworthy. The absence of user reviews further confirms the fact that this Forex EA lacks a positive reputation.
PROS
Backtesting data is provided
CONS
Live trading results show huge losses
Lack of vendor transparency
No user reviews
Verdict
After assessing all the aspects of this Forex EA, we came to the conclusion that it cannot be trusted. Firstly, we don't know much about the developer's background, and considering it's a new system, the price tag of $397 is not quite justified. Secondly, the live trading results do not look too promising and nobody wants to invest in a system that has a negative net profit.