Rombus Capital is introduced as the Forex Social Copy service. "Rombus Capital has been set up with a strong vision to help and support traders and investors, addressing the concerns as well as challenges in Forex Managed Accounts and Forex Social Copy Trading." The developers also meant that it could be a great way to start working on Forex without having the proper experience to trade their own. 

Product Offering
The presentation doesn't look informative, and it's flooded with useless SEO texts:
The company provides management investments services. 

It promises high returns and a solid level of asset security. 

All our funds can be accessed whenever we want. 

There are experienced asset managers. 

They provide highly disciplined investment solutions. 

The company follows high ethical standards. 

They provide profitable high returns. 

The devs claim Rombus Capital is "assisted and managed by skilled money managers."

There are only transparent ways to manage our funds. 

The manager is ready to run our account as soon as the deposit is higher than $1000. 

The vendor claims our trading account will be run with low risks. 

Their traders "hold strong expertise and proven track record."

There's flexibility and transparency in operations.

We can become their partners and achieve partnership status. 
The presentation is absolutely useless. We have several sentences written in ten ways. We have no idea how much they charge for managing an account for us. 
Trading Strategy
The developers didn't disclose strategies that they use to make profits. 

They work with many currency pairs without focusing on particular ones. 

We don't know the time frame to work with. 
Trading Results
It's a solid con that the presentation doesn't include backtest reports. Any system before a release should be tested to be sure it can make profits and it's worth spending time on it. Without backtest reports, it's hard to predict what the system can show on the real account.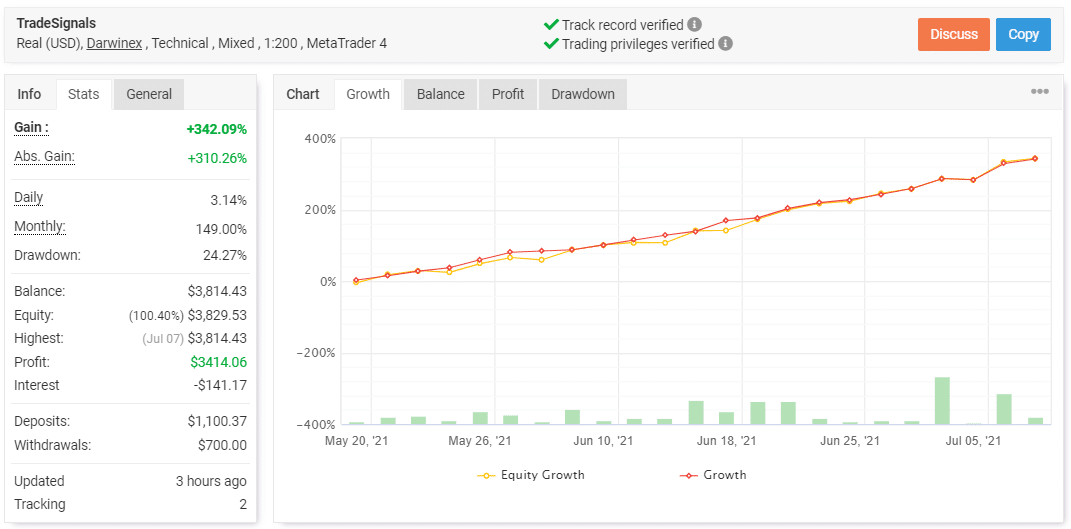 The robot has been running a real USD account on the Darwinex broker automatically. The trading style is mixed. The leverage is 1:200. The platform was chosen as MT4. The account has a verified track record. It was created on May 20, 2021, deposited at $1,100, and withdrawn at $700. The maximum gain is 342.09%. An average monthly gain is 149.00%. The maximum drawdown is 24.27%. 

The advisor has closed 154 deals with 8708 pips. An average win (86.12 pips) is twice higher than an average loss (-40.38 pips). The accuracy rate is 76% for Longs and Shorts. An average trade length is one day. The profit factor is 4.42.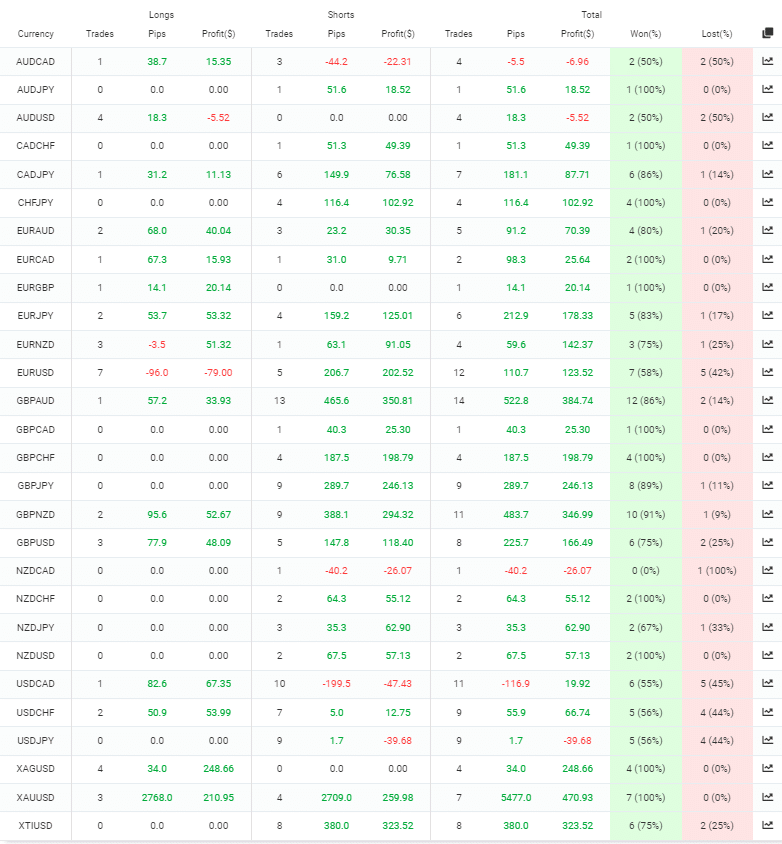 Most profits were gained on Gold, $470.93. Several currency pairs were lost. They weren't profitable at all.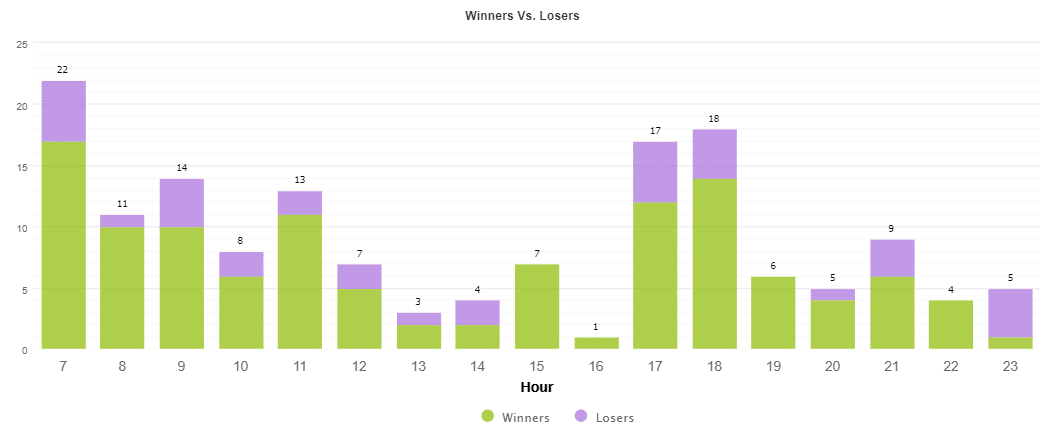 The system trades during high-impact news and market openings.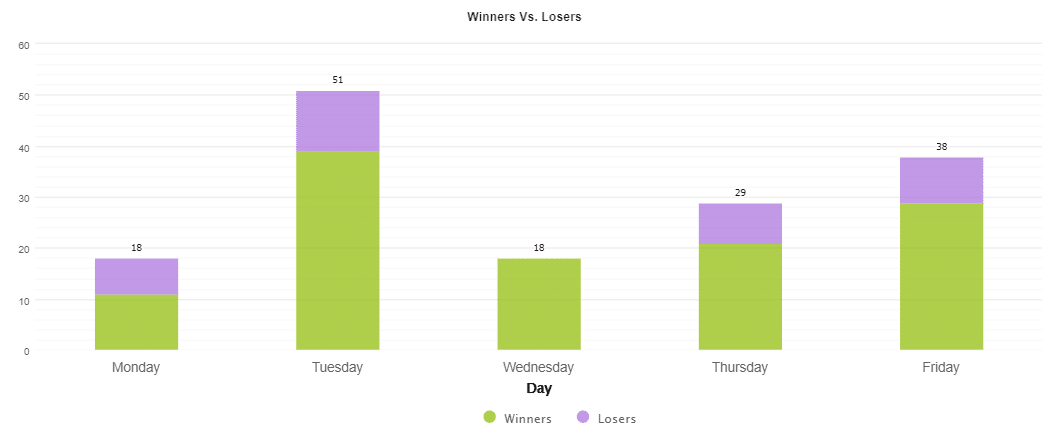 Wednesday and Monday are the less traded days. 

The robot works with medium risks to the balance.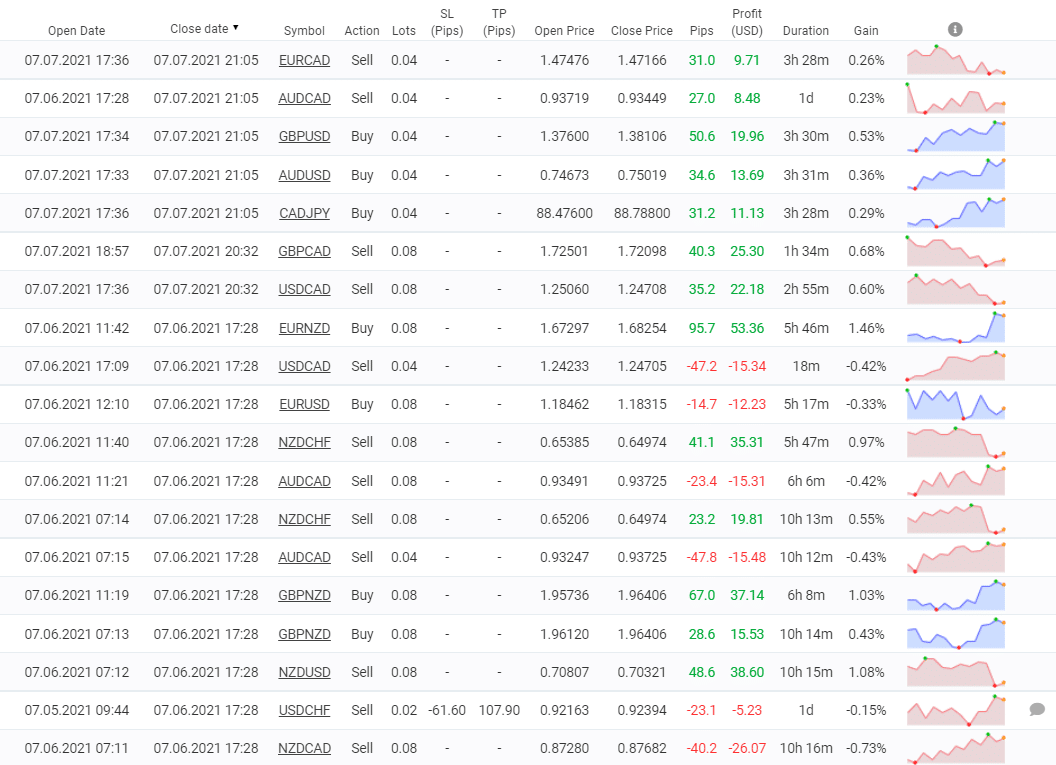 The system uses Martingale and closes several different currency orders at the same time.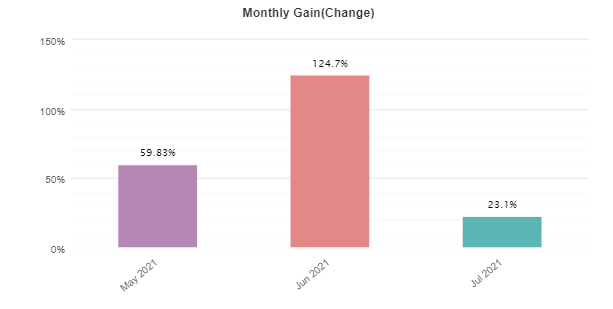 June 2021 was closed with profits. 
Customer Reviews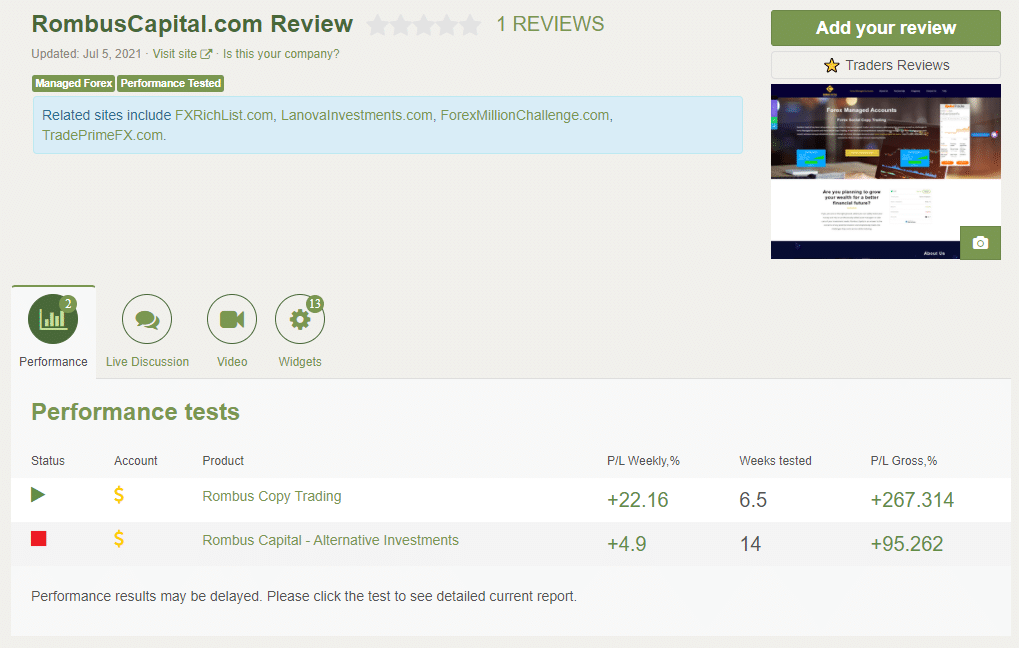 We have a page on Forex Peace Army with one review and two connected accounts where one of them was stopped after fourteen weeks. 

The only comment looks like a pure scam.
PROS
Real-account trading results
CONS
No team revealed
No risk or money management advice given
No backtest reports provided
No strategy explanations provided
Medium-risk trading
A low deposited account that was withdrawn
No customer feedback provided
Verdict
Rombus Capital is a company that provides PAMM and MAM services for its clients. The presentation looks like a pure scam. There's an endless wall of text and few explanations about the robot's background provided. We don't know what strategies it uses to be profitable and if they fit our trading styles and risks expectations. As for a professional company, it's weird to trade on just a $1,100 account. It seems to us that the service is dangerous.