Screti Forex Robot is a collection of 7 EAs offered by Mario Daniele Screti who claims that the robots offered on the screti.net website are the 'only ones you want to use'. These expert advisors come in one package 'Jack Flash Bundle 7 EAs' as well as may be purchased separately. In this robot review, we are going to analyze all the data provided by the dev, trading strategy, price, trading results, and more to decide whether these EAs are worth their price.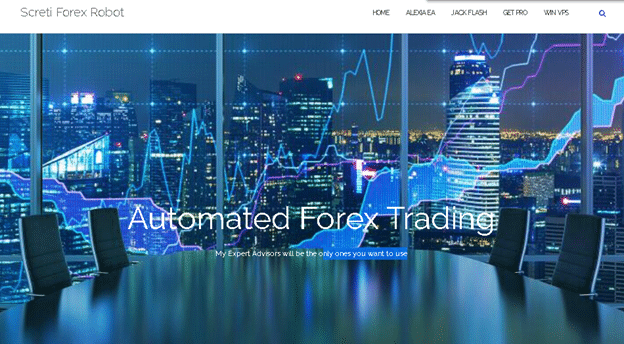 Product Offering
The Screti Forex Robot is a collection of 7 EAs named after their owner – Mario Daniele Screti. All these expert advisors were designed to trade on the MT5 platform and provide traders with stable profits in the Forex market. The dev adds that this is a great choice for both experienced traders and beginners who lack the experience to trade on their own.

On the website, the dev tells us that he recommends using all 7 bots simultaneously. Thus, traders need to be ready to run seven charts with one EA on each.
The good thing about Screti Forex Robot is that the Jack Flash Bundle 7 EAs one-year license is available for free. It is a great thing for those who want to try this trading system and test it before purchase.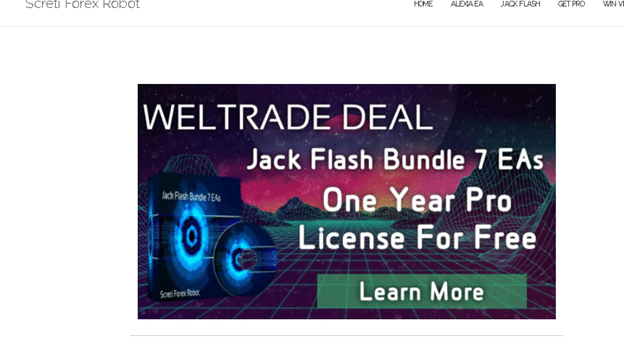 The prices for each EA range from €69 up to €299 based on the number of accounts included in the package.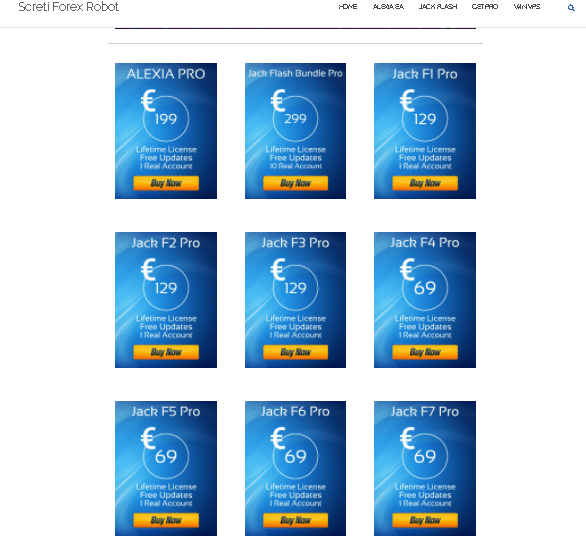 Unfortunately, there is very little information given on the site about each of the packages. We know that each of them includes free updates and lifetime membership. As we have mentioned earlier, packages differ based on the amount of the real accounts they offer. There is no money-back guarantee information provided.
Trading Strategy
All EAs are 100% automated trading systems

Bots require a trading account that supports Hedging

Leverage of 1:200 or above is recommended

The recommended deposit for each bot is $100

All robots can run from the M1 to H1 timeframe

Screti Forex EAs trade EUR/USD currency pair

All Screti Robots are based on various indicators: CCI, RSI, moving average, and Stoch

Screti Forex Robot trades 24/5

EA identifies 'the perfect trend and analytic trades for you'

Screti robots promise to provide up to 50% of monthly return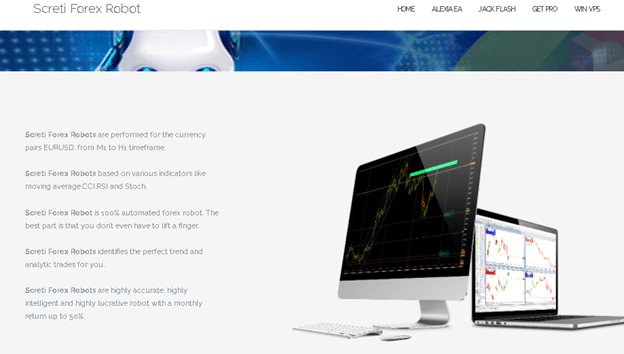 Fifty percent of monthly return sounds unreal. We will check out the veracity of their claims in the 'trading results' section.
We have not found detailed trading strategy info on the website of the developer. The one thing we know from developers is that their EAs analyze Trend detections and use Hedging. With the help of the trend detection algorithm, the robots that are included in the Jack Flash 7 EAs package obtain sell or buy signals. Each EA has another algorithm based on indicators that give the "green light" to open a trade.

Trading Results
There are no backtesting results provided on the official website of the developer. Thus, it makes it impossible to analyze the trading strategy the Screti robots used in the past.
We are provided with 4 trading results verified by myfxbook: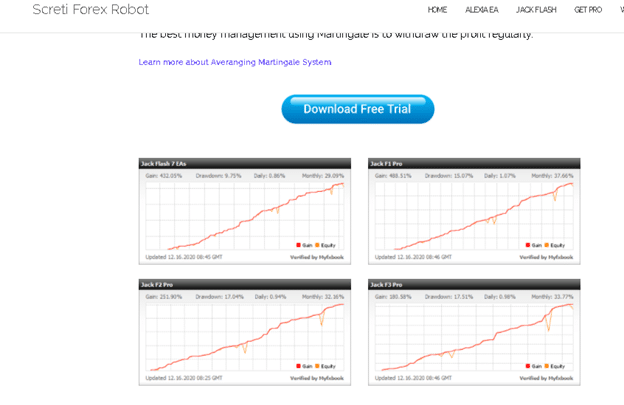 Each of them is active and trades with 1:500 leverage with Technical brokerage on the MT5 platform: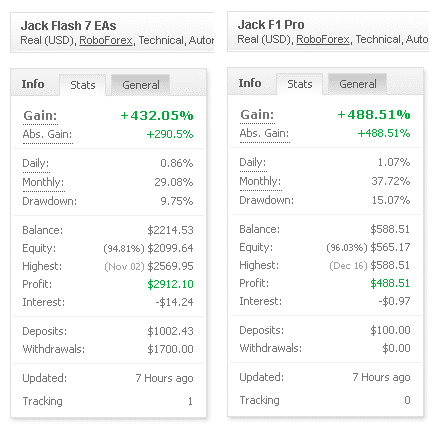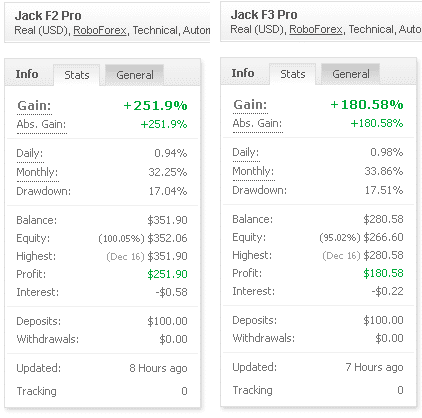 Robots show consistent growth of profit. Both long and short positions have brought more than a 73% win rate.




These 4 charts below show a progressive line pattern that is angled at 45 degrees to the upside, proving the productivity of Screti Forex EAs: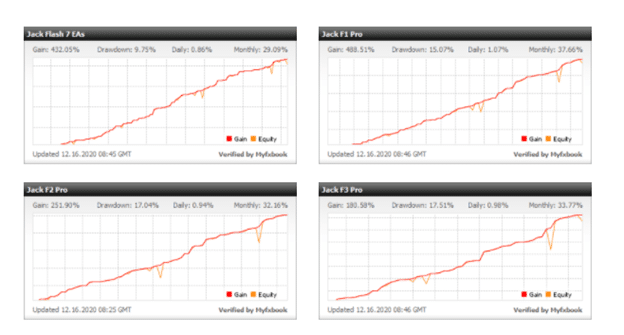 The fact is, we can't 100% trust the trading results the dev provides, as trading activity is hidden (open trades and open orders are private):

Why has he done it? What does he want to mask? Does he want to hide some unsavory details we have not known about? Lack of transparency is not a good sign for the developer.
All these trading accounts show low drawdown which ranges between 9, 75%- 17,51%. Drawdowns under 30% are acceptable for trading. We see good total gain which ranges between 180%-488%. The monthly drawdown does not exceed 37,72%. The average loss of each trading account is twice higher as the average loss. Robots trade with high-profit factors (2, 49-2,91). Although these robots still bring profits, they are not as productive as they used to be in the previous months of trading (see  screenshots below):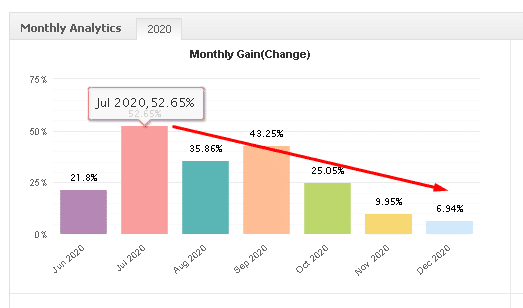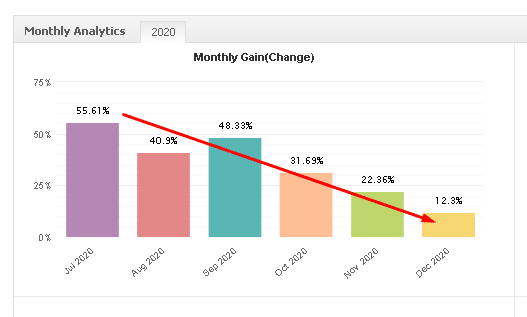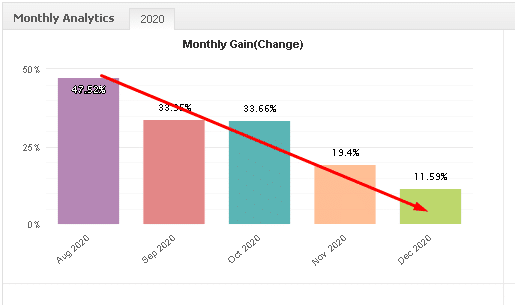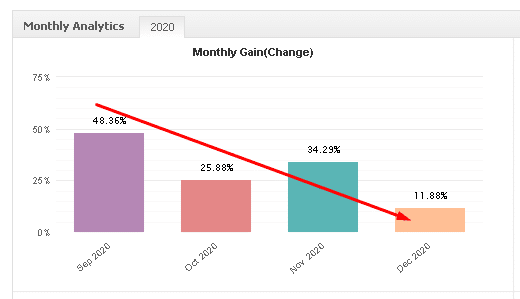 Although EAs did not have any losing month, we can see that their productivity has fallen twice.
In addition to this, Screti Forex Robot uses the Martingale approach, increasing the lot size from 0,01 to 0,04:

Customer Reviews
We could not find any customer feedback neither on FPA nor on the other trusted third party website. Even the developer does not provide customer reviews on their website. Customer reviews are highly important, as they are one of the most effective ways to access information on how effective the system is, how reliable the vendors are, and what problems the potential customers may face.
PROS
We know who the developer is
Live trading results provided
A one-year license of 7 EAs package is offered for free
CONS
No backtesting results provided
Undisclosed trading strategy
No setting explanations provided
No info about the aggressive Martingale on the board
Hidden trading activity data
No money-back-guarantee provided
No customer feedback
Verdict
Screti Forex Robot is an EA that uses trend trading and Martingale. Mario Daniele Screti failed to provide detailed information about the trading strategy the robot uses. Moreover, there are neither backtesting results nor a money-back guarantee provided. We couldn't find any user feedback regarding this Forex system which is another major downside of Screti Forex Robot.