Forex or Foreign Exchange trading is a lucrative and popular form of trading, concerning the buying and selling of foreign currencies against one another. A lot of factors involving different international markets and geo-political events have a direct effect on these markets, and thus, a thorough analysis of the stable level of economy is required before trading different national currencies.
While this requires some key skills, understanding and of course experience, gauging the different factors and acting accordingly does not come naturally to every trader, which is where Forex Bots or trading EAs come into the picture. One such application if Smart Forex Trading EA.
Company and Website Overview
Name: Smart Forex Trading EA
Type: Grid / Martingale
Timeframe: M1
According to the team, Smart Forex Trading EA is an Expert Advisor, providing fully automated expert advisor and forex trade copier services to its users. It is primarily designed to work with MetaTrader4 by professional traders and developers to maximise a user's earnings.
The website appears simple yet professionally designed, with the team emphasising that the platform is user friendly with 24/7 support available. The website also features an example of a real account to prove its performance, along with pricing and other details.
Apart from a terms and disclaimer page, there is no sadditional information regarding the personnel behind the platform or where the company is based.
Product Offering
Smart Forex Trading EA provides two prices packages: The basic package is priced at $297 and ultimate package priced at $697.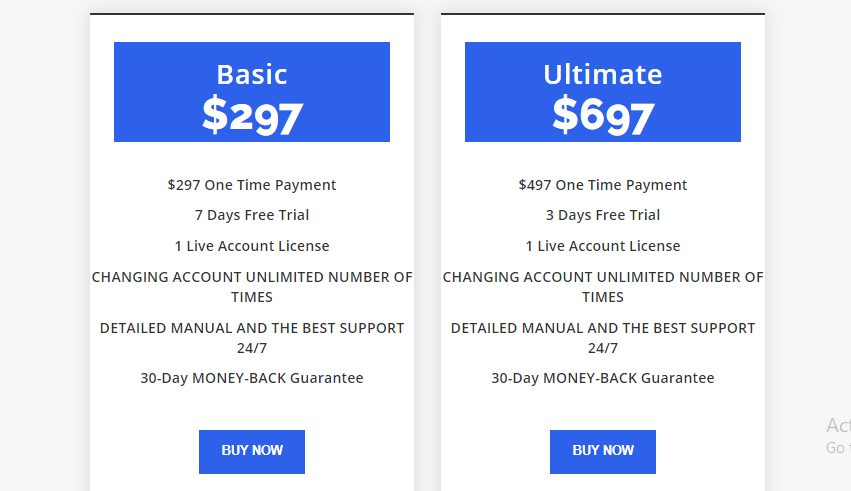 As indicated in the above, Smart Forex Trading EA (Basic) provides trading on four currency pairs, namely, EUR/USD, USD/JPY, AUD/USD and EUR/GBP. The minimum deposit for trading is $500 with all pairs starting with a 0.01 lot size with a seven day free trial.
The Smart Forex Trading Ultimate Package includes a 3 day trial period and similar benefits. The only difference is that this package allows trading in some additional currency pairs such as CHF/JPY, EUR/JPY, GBP/CHF and USD/CAD. It also includes a leverage requirement of 1:400 or higher.
The basic package is recommended, as it provides the four important currency pairs at a much cheaper price compared to other similar services.
Trading Features and Strategy
No detailed explanation of the platform's trading strategy is mentioned in the website, with the creators just guaranteeing a more than 90% success rate.
According to the team, a sender runs an EA which broadcasts trading activity signals for Copier EAs to receive the signals. It then automatically mirrors the sender's trades. This allows each user to gain more control over his/her own risk settings and other aspects of their trading activity.
Trading Results
There is only one account provided by the vendor on Fxblue.com, covering a period from 10/02/2018 to 4/4/2019.

The account shows a closed profit of +8,304.22 with a margin level of 3,288.8%. The total returns for this account are indicated to be + 505.9%. The trading results look promising and further strengthens the platform's legitimacy in being a profit generator.
Advantages
24/7 Support
Basic Account is Affordably Priced
User Friendly Interface
Disadvantages
Unreliable Trading/Backtesting results
No Relevant Company or Personnel Information mentioned
Small Currency Pair Offering
---
---