As one of the robot systems released by Forex Automater, Smart Scalper Pro utilizes the scalping strategy with several innovative additions. This EA is a pro version of the BF Smart Scalper. 
The robot operates on the simple principle of following strong market impulse in the wake of the confirmation of sensible correction. The core objective of the EA is to avoid falling prey to the curve fitting market philosophy that many traders fail at. 
Product Offering
Smart Scalper Pro
| | |
| --- | --- |
| Type | Fully-automated EA |
| Price | $117 |
| Strategy | Scalping |
| Compatible Platforms | MT4, MT5 |
| Currency Pairs | Multiple currency pairs |
| Timeframe | M1/M15 |
| Recommended Min. Deposit | $1000 |
| Recommended Deposit | $10000 |
| Leverage | 1:500 |
Developed by Lachezar Krastev, Bulgaria who is part of the Forex Automator team, this EA earlier released for free has now been optimized with specific improvements and marketed as a paid version. The additions include enhanced exit logic, a stop loss assessment that uses the ATR algorithm, and improved filters for better efficiency. 
The main features of this EA include a simple and strong trading logic with sensible Stop loss and take profit levels. The developer promises a low drawdown and 24/5 trading without restrictions on time such as GMT shifts etc. 
The EA supports multiple currency pairs, a sophisticated news filter, an improved system for time management, and highly successful and improved exit logic. Traders are provided with push and email notifications, and the EA provides the Friday exit method. 
Compatible with MT4 and MT5, this EA is priced at $117. The original price is $147 on which a 20% discount has been offered by the developer. The price includes one real and 3 demo accounts with 24/7 support, and a money-back guarantee of 60 days.
Trading Strategy
The EA uses scalping, which is a style of trading in Forex where short span holding of trades is done to snag minor gains of the range of 5 to 15 or 20 pips for a trade. If the position size is more the profit can increase.
However, scalping strategies are not as profitable as they claim to be since there are several influencing factors to consider like slippage, swaps, spreads, etc. The strategy is also highly sensitive and differs in the results based on the broker used. 
The timeframes used can be M1 or M15. But the use of different timeframes does not essentially provide any difference in the trading as hardcoding is done on all timeframes.
The auto money management setting provides a 2% low risk, which can be increased up to a high-risk percentage of 10% based on the account size and the profit and risk expectations you have. 
The developer recommends lots of 0.5 size for an account balance of 10000, and 0.05 for 1000 account balance. The risk should be lowered accordingly when you are using more than one currency pair for the trading. GBPUSD pair should have a high frequency and high-profit setting for better trading results.
Trading Results
Backtesting results have been provided by the developer for 18 years on the currency pairs EURUSD, USDCAD, GBPUSD, and more. 
The modeling quality used is 99.9% with tick data and variable spreads. However, you have to remember that that historical data is not predictive of what future results would be like.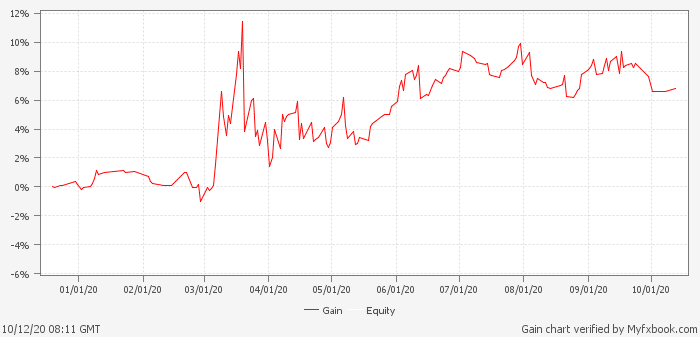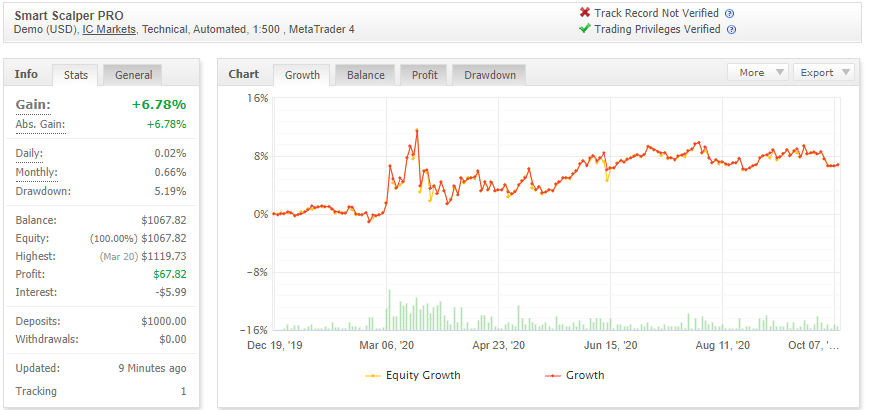 The myfxbook results of Smart scalper pro show the demo account with IC markets revealing a drawdown of 5.19% and 6.78% gains with verified trading, but the track record is not verified. Out of 698 trades, the profitability rate was 76% as of October 2020 with the monthly gain change pegged at -0.76% 
Customer Reviews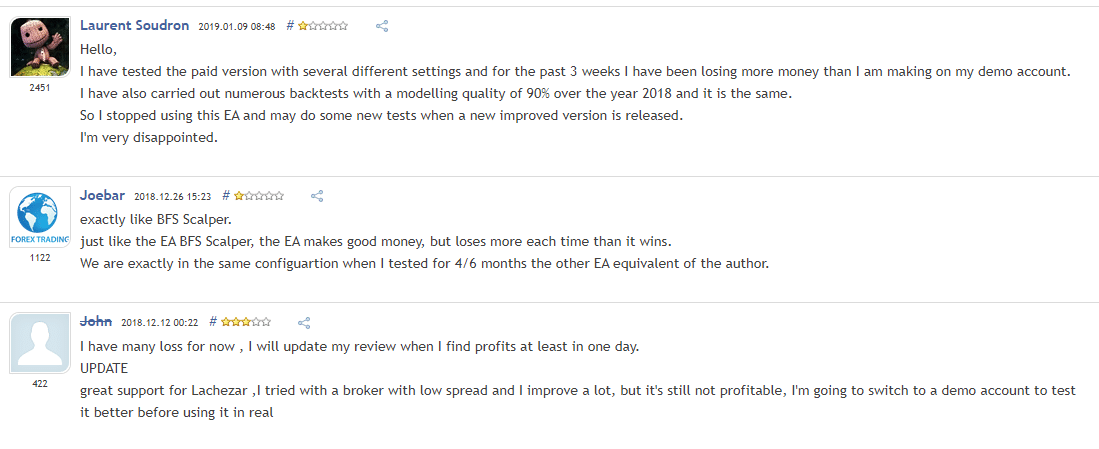 The customer feedback is not promising with several users registering more losses than gains. The lack of profitability can be a big drawback. Moreover, there are not many user reviews available, which is indicative of the less than average performance by the EA. 
Pros
Advanced features present
Price is inexpensive
Cons
Does not have adequate information on the scalping strategy used
Client feedback is limited and not good
No instruction on support, updates, and installation
Verdict
Smart Scalp Pro offers quite a plethora of features that help traders to improve profits and reduce drawdowns, manage their trading effectively, and exit trades safely. However, we noticed several drawbacks with the system the main one being the lack of information provided on the scalping strategy used. Others include a lack of real customer accounts, client feedback, insufficient customer support, and low profits. Overall, we would not recommend this EA for traders who are in search of an effective scalping robot.