This forex robot, TradeRobo — really sets itself apart from others in the market.
While most forex robots are raving of how they can make you more than 100% returns within a month, TradeRobo does the opposite.
They say they can make you about 50% of annual profits. And not some ridiculous figures that immediately scream to you 'red flags'. But despite these average figures, is TradeRobo worth it?
TradeRobo EA Characteristics
First off, TradeRobo claims that they're aiming for slow but steady long term profits. That's why they aim for these reasonable figures. An average experienced trader generates about 10% or more per month. And some experts actually generate more than 70% returns a month.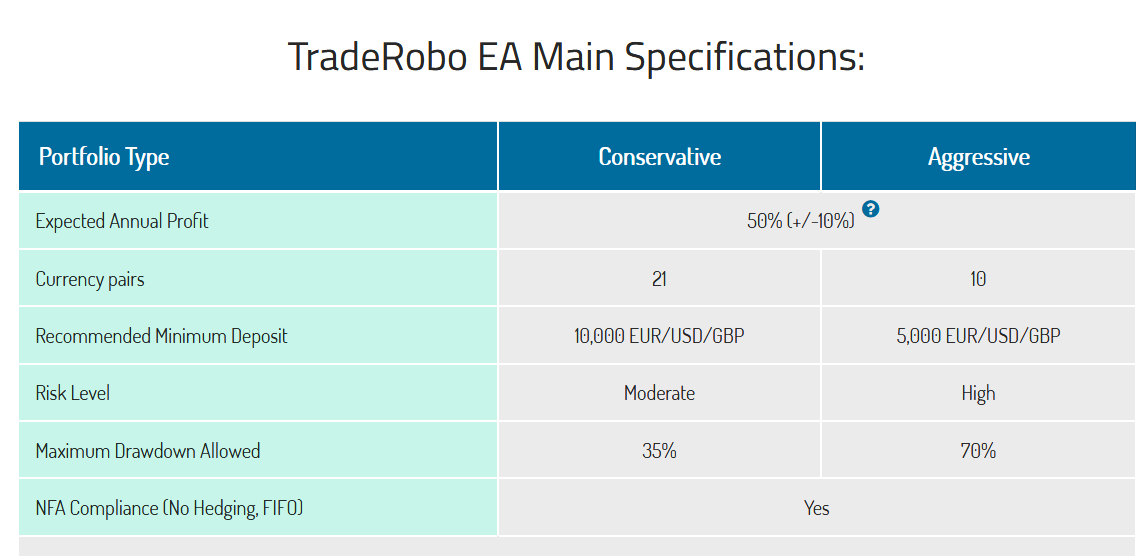 With these figures, Trade Robo seems slightly off the grid. Regardless, assuming you're aiming for long term investments of 5 years+, then 50% can be realistic considering you're doing absolutely nothing.
The team behind the EA claim it was designed by some German engineers who still regularly update it.
The EA is owned by Findilao Ltd which is run by a guy called Victor Tomotov. They're based in Bulgaria and can be contacted through +359 2437 4139.
Alternatively, their email address is [email protected].
Currency Pairs, Timeframe And Strategy Used
TradeRobo says they use an advanced algorithmic strategy that is based on grid trading. The problem with grid trading is it usually involves stacking on trades using the martingale strategy.
Due to this, most traders are shy of using any forex robots that use grid. But, by looking at the performance of TradeRobo on Myfxbook, the account seems to be holding up fine despite the strategy.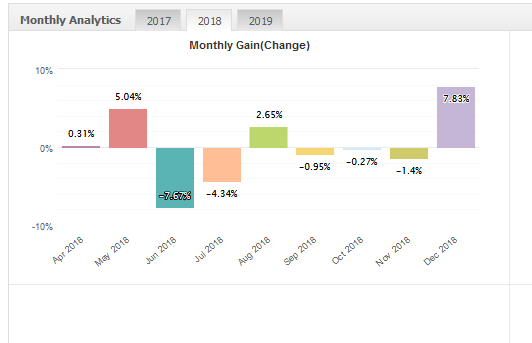 There are two modes you can choose to have your account managed. Conservative mode which is less volatile and less drawdown (35%). And Aggressive mode that is more volatile and higher drawdown to be experienced (70%)
The timeframe used is mostly M30-H1 but they claim you could adjust to your preferred settings.
In conservative mode, you can trade up to 21 pairs and you might need a minimum of $10,000. In aggressive mode, you can trade 10 pairs and a minimum of $5000 is accepted.
The pairs traded include: 
AUDCAD, AUDNZD, AUDUSD, GBPAUD, GBPCAD, GBPNZD, GBPUSD, NZDCAD, NZDUSD and USDCAD.
The extra pairs traded in conservative mode include: 
AUDJPY, CADJPY, EURAUD, EURCAD, EURGBP, EURJPY, EURNZD, EURUSD, GBPJPY, NZDJPY, and USSJPY.
TradeRobo Trading Results
They claim that the robot has a backtesting log of more than 10 years. They even go ahead and provide you with results from 2009-2018 for both conservative and aggressive modes. The first issue with these results is, they can't be verified.
Returns 2018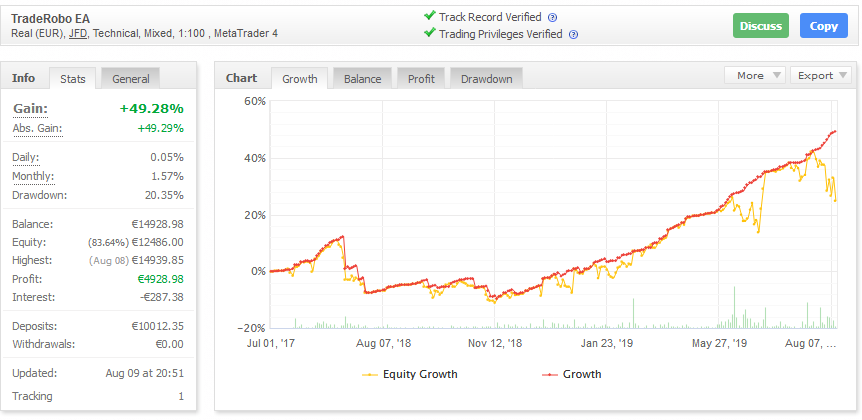 The second issue, the marhs doesnt add up. From the website, they made more than 40%+ in returns. But these LOW monthly results miraculously add up to averaging 50% annual returns.
That aside, their Myfxbook account shows that despite running for more than 2 years, the returns are barely their annual 50% returns.
This $10,000 account has been running since July 2017. But as of August 2019, the returns are less than $5,000.
They use a leverage of 1:100 which is quite great.
---
---
Pricing And Refunds
Unlike most other robots, Trade Robo is a monthly subscription service where you pay $145 per month to use the EA. They claim it's because it's because they want to establish a stable and long term relationship with you. With such low returns, even a relationship can't be the reason for paying that much.
The good thing is, once you enroll you get a 30-day free trial. Also, you can cancel the service any time you want. And you get other amazing stuff for the time you're subscribed.
These 'stuff' include special offers depending on your country.
But there's a huge downside to this system.
With this $145 monthly payment, in one year you'll have paid more than $1700 for the service. That's a lot more than what other forex robots charge for a LIFETIME license.
Assuming you'd consistently paid for the two years recorded in their account, you'd have paid almost $3500. Again, let's assume that this robot actually generated them $5000 in profit, then in a whooping 2 YEARS, you'd have generated LESS THAN $1500 in profit.
Doesn't make sense.