Foreign Exchange or Forex Trading refers to the trading of foreign currencies against one another on a global scale. Varied factors such as the state of international markets, major geopolitical events and other global news have immense implications on the market, and traders always have to assess them to figure out where the profit potential lies. There are several professional or experienced dealers, possessing the sixth sense required for making profitable trades at the right time. The majority of the traders however do not possess this sixth sense and have to rely on other methods to gain profits.
Forex Robots or Expert Advisors are automated trading applications designed to bridge this gap, helping normal traders to amass fortunes. These applications handle all the transactions on behalf of the trader, after some parameters have been set. Forex robots and Expert Advisers have been proven to be effective for many traders, but it also depends on the legitimacy of the application or vendor involved. TSFX EA is one such Expert Advisor, which we will be reviewing today.
TSFX Company and Website Overview
TSFX describes itself as a mathematical two-martingale algorithm, with the logic of closing orders from the established risk and account balance. According to the website, the application has been built with the combined talent of an expert team of professional traders. Surprisingly, this is the only information about the team behind TSFX that we get. After some further researching, it was found out that this EA was a part of the FIBOGroup broker.
The website looks decent and professionally designed with all relevant regarding the product and the trading strategy included.
Product Offering
Price:
$249.99: It includes one trading Account
$499.99: It includes three trading accounts.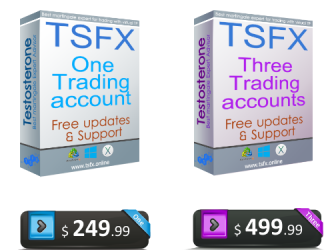 Both Accounts come with free updates and support.
TIMEFRAME: M15
Currency Pairs: USD/JPY
TSFX Trading Strategy
Unlike most Expert Advisors, which provide scanty information when explaining trading strategies, the team behind TSFX has taken great measures to explain the trading strategy its robots use. As mentioned above it uses a mathematical two-martingale algorithm. The internal martingale is tasked with maximising profits after ascertaining the percentage of established risk. The external martingale is used to equalise and limit the internal martingale from large drawdowns, and prevent it from opening a large number of orders.
The EA trades in certain hours of the day, and determines the price direction for the next couple of hours or days. It also allows the traders to trade with their desired level of profitability and specified risks. It opens trades on a daily basis.
Since this EA is made for trading only the USD/JPY. The EA makes a bold claim of a 72% success rate and have provided verified results which is very reassuring.
TSFX Trading / Back-Test Results
Trading or Back-test results are a perfect way to gauge the legitimacy or effectiveness of a particular EA. Several authoritative sites such as myfxbook and fxblue are a good place to verify back-testing results for many well-known Forex EAs.
The team behind TSFX have left no stones unturned when it comes to proving the legitimacy of their trading account. They have included data from two accounts, one using MT4 and the other with MT5. Both these accounts are verified and directly linked to their myfxbook page.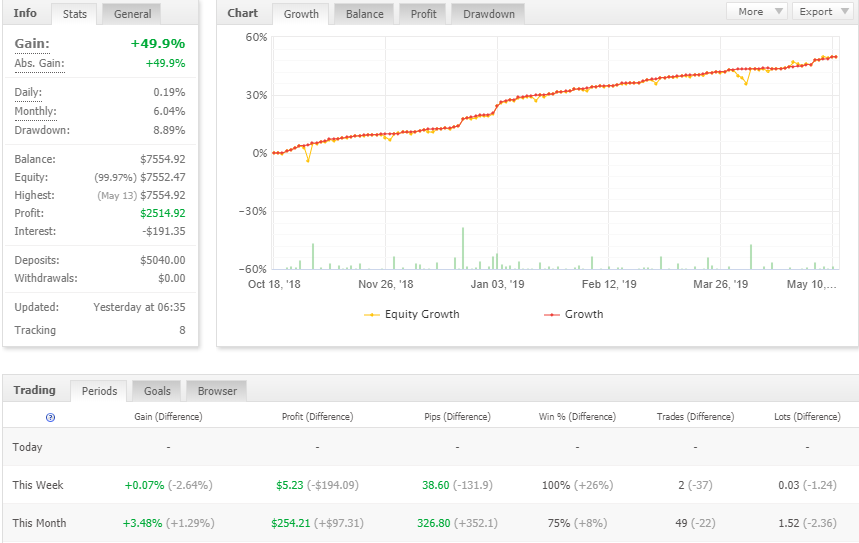 The MT5 Account shows an absolute gain of 49.9% as of 14/5/2019, with the account indicating a profit of $2514.92. The drawdown is calculated at a mere 8.89% which is very promising for an EA of this nature. The details are included in the screenshot below.
The Meta Trader 4 accounts which has been operating since April 2017, shows an astronomical absolute gain of 953.24% with a drawdown of 49.62%. Although the drawdown of this particular account is pretty high for this type of EA, the gains look very promising.
Investors get a lot of confidence when vendors attach verifiable trading results to their sales page for prospective customers to see. The MT5 account, especially shows that the EA is definitely profitable and delivers on its promise.
Advantages and Disadvantages
| | |
| --- | --- |
| ADVANTAGES | DISADVANTAGES |
| ·       Transparency in Trading Strategy | ·       Only Supports USD/JPY currency pairs |
| ·       Verifiable Myfxbook Accounts | ·       Uses Martingale |
| ·       Compatible With both MetaTrader 4 and 5 | |
| ·       Secure Payment Methods | |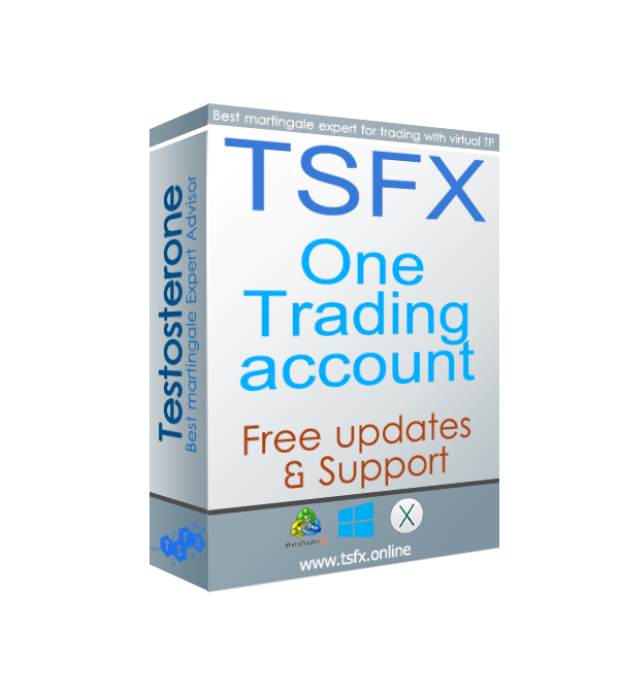 Verdict
Among all the different EAs available in the market today, TSFX EA is one of the most effective and worthwhile. After evaluating the above points, we can safely state that TSFX delivers on its promises. The fact that the application provides a high-degree of transparency when it comes to explaining their trading strategy as well as providing verifiable back-test results, can instil greater confidence in any prospective customer, which is not the case with most other EAs.