Choosing specific tools or a platform is critical when it comes to trading. When FX trading became widely available, there were few platforms to choose from. Today, however, there is a far wider range of platforms to select from, allowing you to trade on the platform that best matches your needs. cTrader is one of the software to analyze charts and place trades.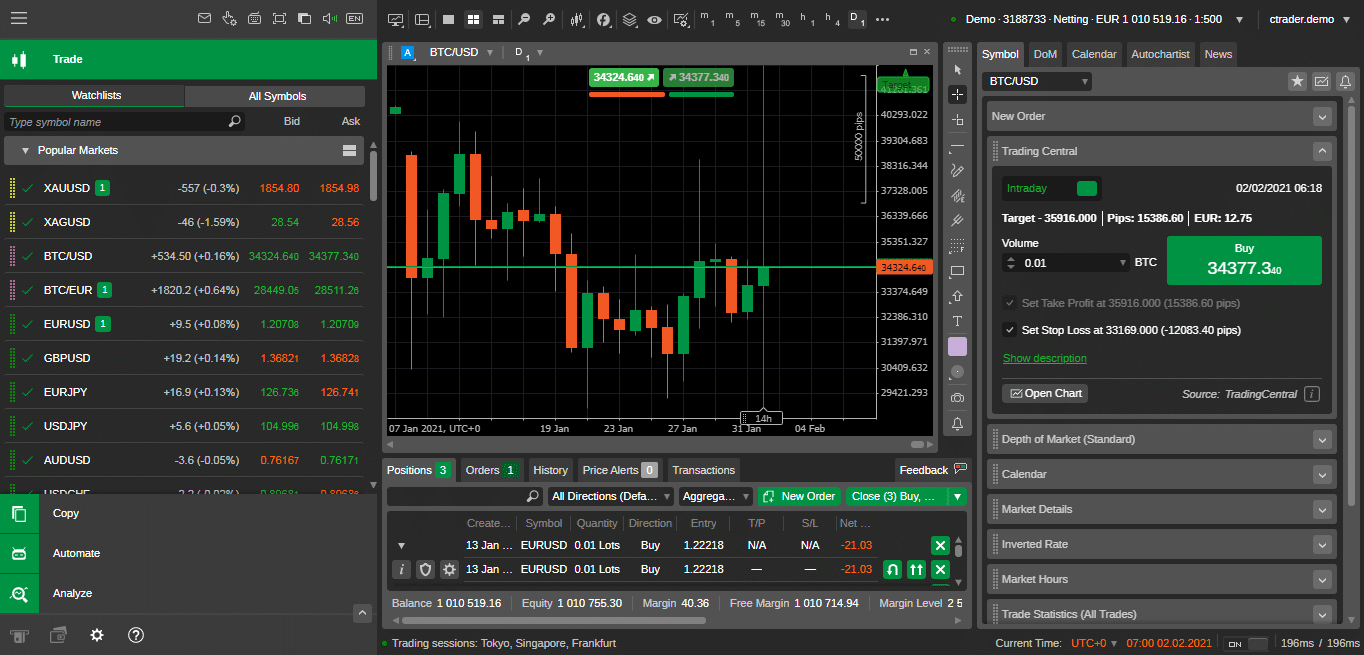 It's a robust platform with a wealth of complex features and tools, particularly charting and technical analysis tools, that you won't find anywhere else. It's available on a desktop, online, and mobile app for Android and iOS devices. It has been a popular choice among traders in recent years, not only because of its excellent features but also because it is extremely transparent and designed to safeguard users from broker manipulation.
What is cTrader?
cTrader is a Forex online trading platform created by Spotware Systems Ltd to provide brokers with a full Forex trading solution. Fast entries and execution, level II pricing, a full variety of orders, asynchronous order processing, and enhanced order protection are all available in cTrader. cTrader Automate is an all-in-one, powerful, and user-friendly Algorithmic Trading Solution that allows traders to create robots.
cTrader uses the Trader's First™ methodology, which enables the platform to be responsive to market demands while being transparent and fair. As a result, top-tier brokers use the trading platform, and millions of traders throughout the world trust it. cTrader was also named Best FX Trading Platform at the Finance Magnates London Summit Awards in 2018.
How to use the platform
cTrader features Public Beta versions for mobile, desktop, and web, which means you can quickly download the platform on any device and try out the latest features risk-free as a demo. You may open a Demo or Live account on each broker's branded cTrader platform. Depending on the broker's version, the functionalities may change. You may establish a Live account with any of the selected cTrader brokers from Public Beta.
Use your Facebook or email account to log in to cTrader. Your cTrader ID will be assigned to these credentials. cTrader ID allows you to log in to any broker's future accounts on any device. You may also use your cTrader ID to access the cTrader ID site, where you can manage all of your accounts, sessions, and more, as well as the cTrader Community website. This is made possible via cTrader's cloud architecture, which sets it apart from other trading platforms.
Once you've logged in, you'll see a side menu on the left with Apps, Watchlists, Settings, and Charts, Active Symbol Panel on the right, and Tradewatch in the middle. The menu may be simply adjusted to show longer symbols vertically and horizontally. There are various chart styles to choose from and the ability to detach windows to other displays if you're using several monitors. Tradewatch and ASP panels can be revealed or hidden in Layouts by selecting the desired option. The interface may be customized in a variety of ways, black and white style and in 22 different languages. There are also links to valuable sites.
There are three chart modes, six chart kinds, 28 periods, and more than 60 technical indicators to pick from. You may change the color of charts and elements, as well as create various lines and shapes on them.
The interface shows a wealth of data, including your positions, orders, stop loss, and profit levels, to mention a few. You may instantly generate a new order from the chart, open it in full screen, or detach it to a different monitor.
Linked charts are another fantastic feature. It enables you to attach a symbol to many windows, allowing you to transition between symbols while maintaining particular parameters such as timeframe, type, indicators, and drawings. As a result, you won't have to do it all over again for each new sign. You may also make several groupings.
Tools used for trading
To begin, you may use QuickTrade mode to open, close, and alter orders with a single click from any portion of the site. When trading in fast-moving markets, it comes in handy. Aside from that, advanced order types like a limit order, stop order, market order, and stop limit order may be protected using take profit/stop loss settings and the market range function (with your market order) to avoid slippage.
When you choose the order volume, cTrader displays the pip value, trade value, commission cost, and margin required. You'll be able to get extensive information on metrics like execution time, market snapshot, and matching time for each trade. Your orders will be recorded using Volume Weighted Average Price against the whole order book, and you can view the complete range of executable prices straight from liquidity providers in the depth of the market portion of the ASP panel.
Using the cTrader ID website, you may set up various push and email notifications. This might be a signal for a Margin Call, a Stop Loss / Take Profit, or a Stop Out, among other things. Because this is a cloud-based function, you will be able to get push alerts in-platform on all of your devices.
Summary
cTrader is a powerful platform that is modern, intuitive, and simple to use. It equips you with crucial information at every stage of your trading career. This trading platform gives you direct access to the interbank market as well as other features, including algorithmic trading systems, pre-sets, and detachable windows. In fast-moving markets, enhanced charting capabilities and order management systems allow for the more effective administration of your positions. With powerful visual features and lightning-fast reaction times, cTrader gives clients an advantage in the competitive foreign exchange market.