FXRapidEA is a brand-new automated forex robot that works on multiple currency pairs. It's an advanced trend trading system focusing on short-term trends. The main advantage of the EA is that it closes deals within 1-2 days. Thus, the robot protects a trader's account from protracted trades that may lead to potential losses. The developers of this software, which is the ForexStore team, as always, present their product on a professionally designed sales page that instantly draws our attention to the main features of the robot.
Besides FXRapidEA, this team created a lot of expert advisors that we've already reviewed, such as FXAutopips, XFXea, and FXHelix, just to name a few from the latest. In most cases, their products used to be in the category of the best-performing robots at some point. However, not all of them have managed to show consistent results over a long period. Let's find out how good is FXRapidEA and whether it's worth considering as essential trader's tool for passive income.
Product Offering
| TYPE | Forex Robot |
| --- | --- |
| COMPATIBLE TRADING PLATFORMS | MetaTrader 4 |
| CURRENCY PAIRS AVAILABLE | EURUSD, NZDUSD, AUDUSD, USDJPY |
| STRATEGY | Trend Trading |
| TIMEFRAME | H1 |
| MINIMUM DEPOSIT | $460 |
| FULL PRICE | $269 / $349 |
| MONEY BACK GUARANTEE | Yes |
The vendor offers two versions of FXRapidEA that are the same software, but more expensive one supports more currency pairs:
FXRapidEA Due works on EURUSD, NZDUSD.
Price: $269.
FXRapidEA Quattro works on EURUSD, NZDUSD, AUDUSD, USDJPY.
Price: $349.
After purchase, you'll get a license to use the software on one account with free updates. The package comes with a user manual. Additionally, the devs claim that they provide 24/7 customer support, yet communication channels remain undisclosed, as well as details about the development team and their experience in forex trading.
Trading Strategy
FXRapidEA analyzes market trends and trades only in this direction. If it turns out that EA trades against the trend, it rapidly closes all open orders with a loss and opens new ones when a new trend arrives, trying to cover those losses. The robot uses reasonably limited Take Profit to guarantee rapid trading. Here's the backtest of this strategy with 90% modeling quality.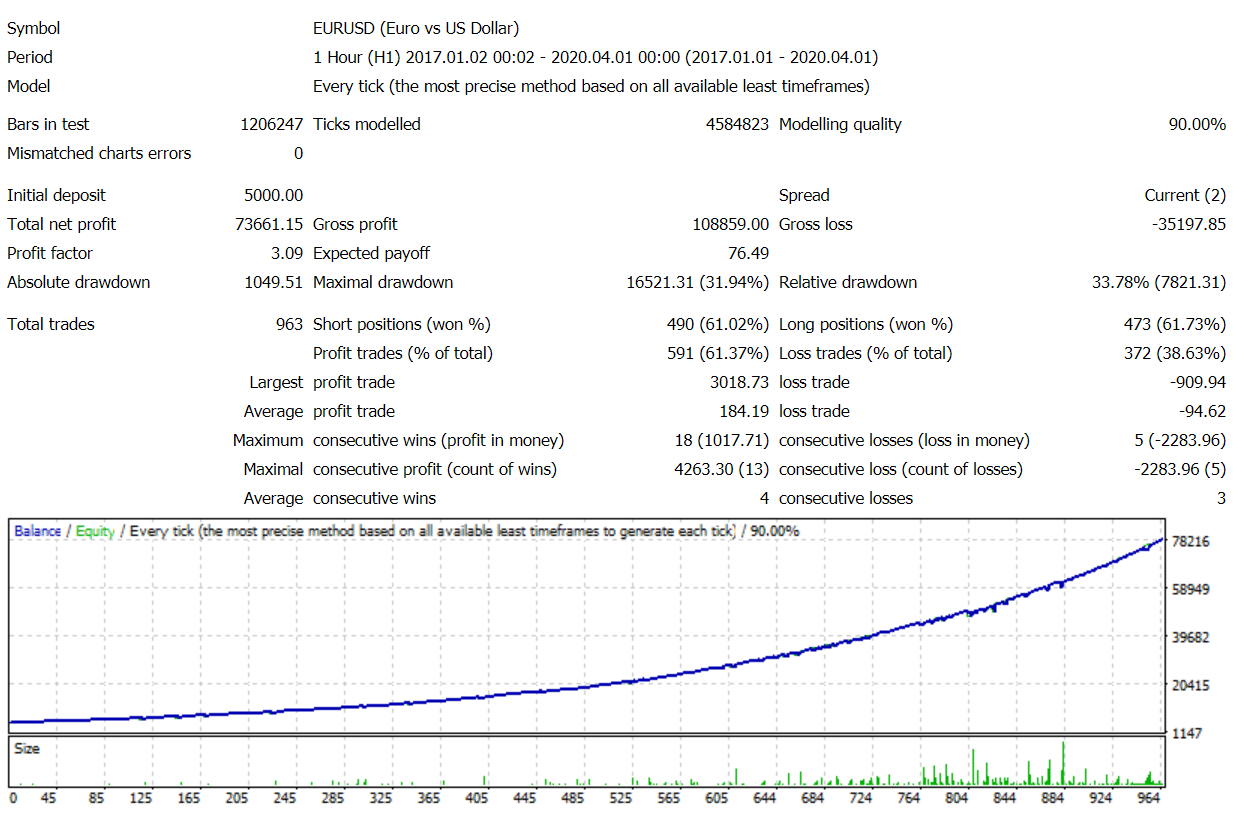 Trading Results
The vendor provides myfxbook verified live trading accounts running FXRapidEA Due and FXRapidEA Quattro. Started in December 2019, both of them are showing impressive results in terms of total gains. FXRapidEA Quattro managed to multiply the account by 1000% during 5 months of trading. During this period, the robot made 256 trades winning 66% of them.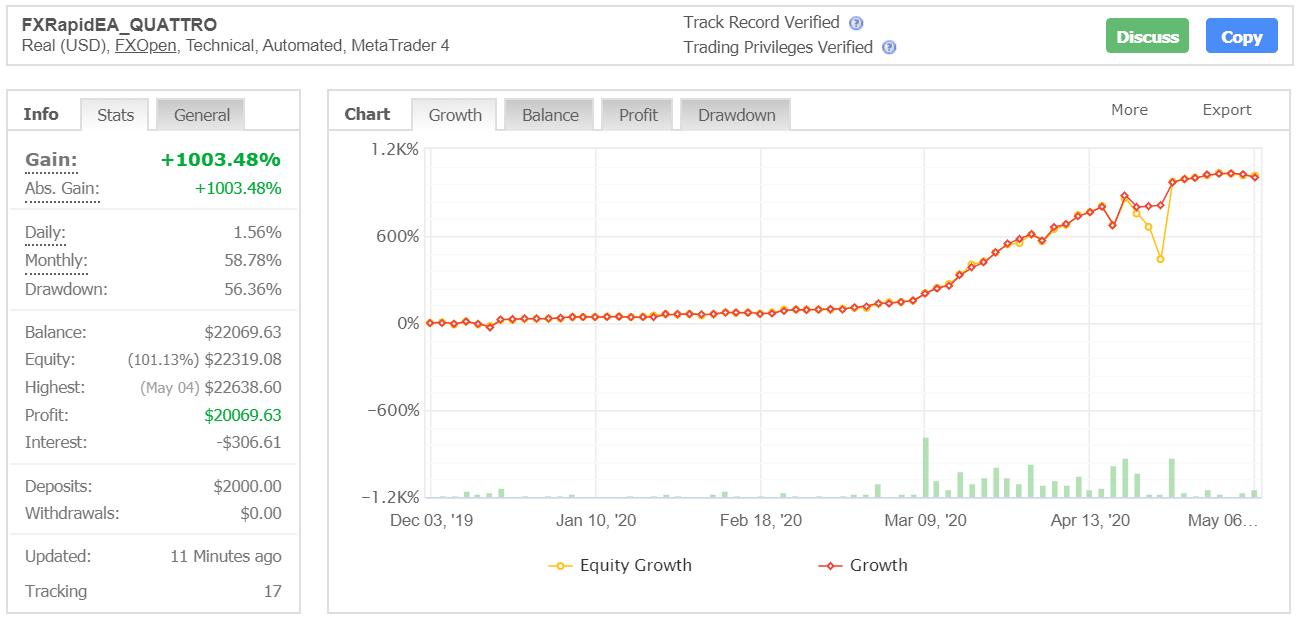 However, these results were achieved with a high level of risk. I think that a 56% drawdown is not something you want to see on your account. Therefore, it's recommended to set proper stop-loss levels.
---
Pros
Multiple currency pairs
Verified real trading results
Impressive gains on vendor's trading account
Cons
Huge drawdowns
Short live trading period
Lack of strategy explanations
Lack of customer feedback
Verdict
FXRapidEA is a profitable forex robot for a reasonable price that we are going to add to our watchlist. At this point, we have too little information. The main drawback of the product is that it's too young. We can't give it a higher score until we make sure it's possible to achieve similar results with low risk on a customer account.