Gold Trader is an Expert Advisor, developed by LeapFX. According to the description, the EA can make up to 45% profit per month only trading gold. According to the website, the EA limits trades to a few days at most, and locks in profits. It uses a high reward for low risk on each trade and works with almost any sized trading account. 
At first glance, the website looks amateurishly designed. The team behind Gold Trader EA has provided an instructional video for users to get acquainted with the gold trading scenario. They have also provided screenshots of real account performances. We've already reviewed some of the forex robots offered by LeapFX, including Arbitron,  Jet Trader Pro, News Action Trader, Econ Power Trader and The Wave Scalper, and they've got an average rating from us. Let's check whether Gold Trader can be one of the best forex robots or it's just another mid-range EA.
Product Offering
| TYPE | Forex Robot |
| --- | --- |
| COMPATIBLE TRADING PLATFORMS | MT4, MT5 |
| CURRENCY PAIRS AVAILABLE | XAU/USD |
| TIMEFRAME | Any |
| LEVERAGE | from 1:100 |
| PRICE | $247 / $497 |
| MONEY BACK GUARANTEE | Yes (30 days, full refund) |
Gold Trader EA is available in two packages. The one-time license is priced at $247 while the lifetime license is priced at $497.
Trading Strategy
Gold Trader EA has attempted to explain the trading strategy they apply. According to the website, they have found a "weird" trading signal that usually pops up every few weeks or every few days. Apparently, this makes it possible for a user to earn up to 45% per month, trading only gold. They have also explained divergence trading and have said that they have developed a unique combination of indicators that became extremely profitable when they diverged on gold, producing profits up to 45% on a monthly basis. 
It is difficult to understand the nature of the trading strategy from their explanation. All we know is it uses divergence trading and the aforementioned "weird" signal. 
Surprisingly, from a team that has provided a detailed explanation of the trading strategy, Gold Trader EA has not provided us with a back-test for an account. This is both strange and suspicious, especially at a time like this, where instances of frauds are still widespread. Prospective customers expect a level of transparency when they select their EA, which includes back-tests from an authoritative site. Unfortunately, Gold Trader EA does not qualify in this aspect.
Gold Trader EA Trading Results
Gold Trader EA provides screenshots to a real account hosted on myfxbook.com. However, on further inspection, we see that no external link has been provided. This practice is questionable.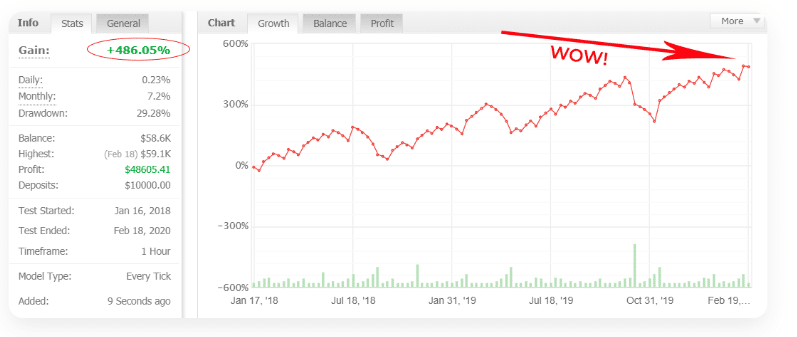 The above screenshot is provided on the website itself. This particular account appears to show a gain of 486.05%. It clearly states that this system isn't dependant on spreads, slippage, or execution times being low. However, we have no way to confirm any of this, due to the absence of a legitimate account on myfxbook. 
EAs that fail to provide substantial proof of their live accounts often resort to tactics such as providing screenshots without valid links. This is an attempt to fool prospective customers into purchasing their products.  There is ample proof that Gold Trader also falls into this category.

---
Cons
Backtests not provided
Cannot provide direct links to myfxbook accounts
Lack of strategy explanations
Verdict
After taking a look at the above points, it can be concluded that Gold Trader EA is not worth the money it is available at. They have failed to provide key indicators of legitimacy and proof such as reliable back-tests and live account statistics. The trading strategy is also not fully explained. Thus, Gold Trader EA lacks many important aspects that traders would desire and there are various other alternatives available at the same price level, which have proven track records.