The Skilled Trader is a brand-new, fully automated forex trading system that has been recently featured by LeapFX. They assure traders that their advanced system can manage to double one's trading account every few months without a risk of ruin. It's possible due to 3 secrets of profitable forex trading that the LeapFX development team has implemented into The Skilled Trader algorithms. The software is compatible with any Forex broker supporting automated trading on the MetaTrader 4 platform.
The vendor advertises The Skilled Trader as a beginner-friendly system as it doesn't require any settings adjustments. We've already reviewed some of the forex robots offered by LeapFX, including Arbitron, Gold Trader, Jet Trader Pro, News Action Trader, Econ Power Trader and The Wave Scalper, and they've got an average rating from us. Let's check whether The Skilled Trader can be one of the best forex robots or it's just another mid-range Forex EA.
Product Offering
| TYPE | Forex Robot |
| --- | --- |
| COMPATIBLE TRADING PLATFORMS | MetaTrader 4 |
| CURRENCY PAIRS AVAILABLE | EURUSD, GBPUSD, XAUUSD |
| TIMEFRAME | Any |
| MINIMUM DEPOSIT | $100 |
| RECOMMENDED LEVERAGE | 1:200 |
| FULL PRICE | $899 |
| MONEY BACK GUARANTEE | Yes (30 days, full refund) |
LeapFX offers a flexible payment system. There are three purchasing plans available:
3-month subscription: $247 for full access to the trading software with updates and support for 3 months;
One-year subscription: $497 for full access to the trading software with updates and support for a year;
Lifetime license: $899 for the trading software with updates and support for one live account.
It's quite a high price for the automated trading software market, even compared to other products offered by LeapFX. The Skilled Trader works on multiple currency pairs (3 major pairs at this moment, including Gold trading). It means that a trader has an opportunity to diversify risks and maximize profitability. The devs promise to add more supported currency pairs in the future. The software will be checking company servers from time to time for new pairs, algorithm improvements, and settings adjustments.
Trading Strategy
The Skilled Trader is an advanced trend-following trading system designed to identify pullbacks and trend reversals and make profits in a dynamically changing market. The LeapFX team was developing this robot based on three key factors:
Following trends created by big banks and funds;
Risk management that includes control over the number of simultaneously open trades, trade frequency, and market changes;
Adaptation to changes in the forex market cycle caused by global events and relevant news.
Trading Results
So, let's take a look at the real data. As proof of the system's reliability, the vendor provides one real live trading account verified by myfxbook. It was started with a $5000 deposit in October 2019 using 1:200 leverage provided by the FXChoice broker.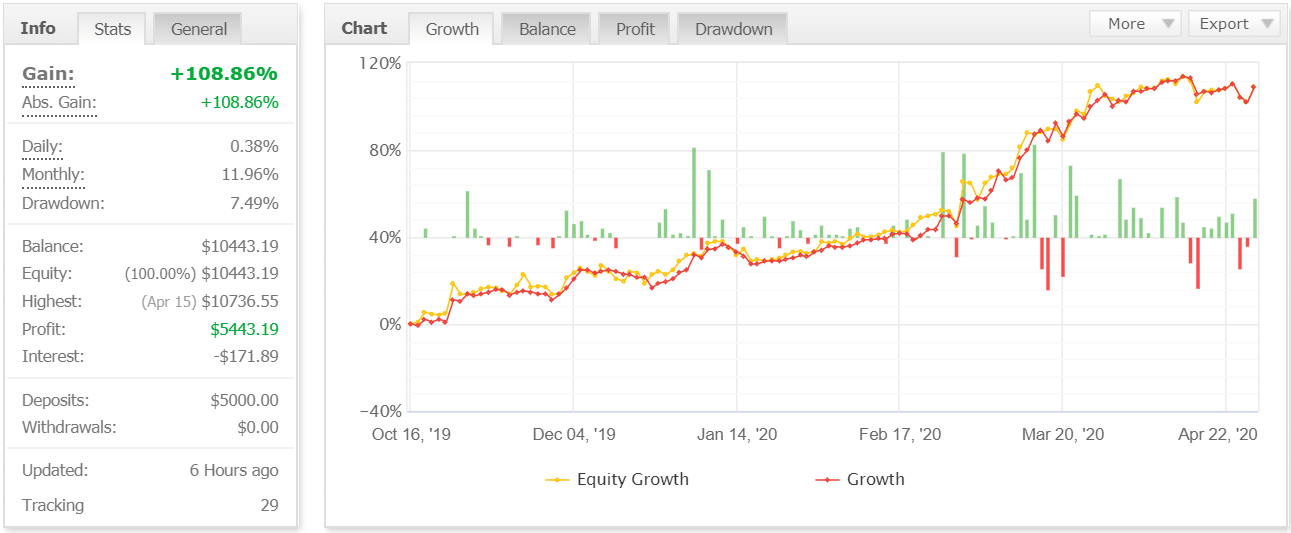 Since then, The Skilled Trader has managed to double the account showing 108% overall gain (as of March 2020). During eight months, the robot has made 480 trades, winning 60% of them, with an average win of 490 pips ($45). The best trade was 8622 pips ($372). The worst trade was -4781 pips (-$387). We can see such big numbers in pips because the software is trading gold. The average trade length is 1 day. The profit factor equals 1.71, which is a low-mid number compared to other forex robots.

The average monthly gain is 11.9%, which is quite impressive. However, the system is showing only 4.23% gain this month (as of 28.04.2020). It brings up some doubts about adaptiveness to the market changes claiming.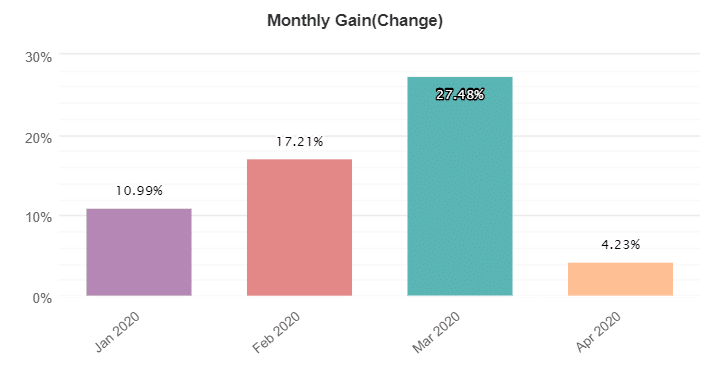 Customer Reviews
After in-depth research, we couldn't find any reviews from real customers who can share their experience of using this forex robot.
---
Pros
Verified live trading results
Relatively high profitability
Low-risk trading strategy
Free updates and support
Cons
High price
Short live trading period
Lack of customer feedback
Verdict
The Skilled Trader expert advisor has its fair share of merits and demerits on either front. The level of transparency they exhibit in sharing the trading history and impressive total gain for such a short period is commendable. However, our team is looking for a robot that can guarantee consistent profitability over the long run. Half a year period of live trading is not enough. Also, the system is quite pricey and lacks any reviews from real customers.